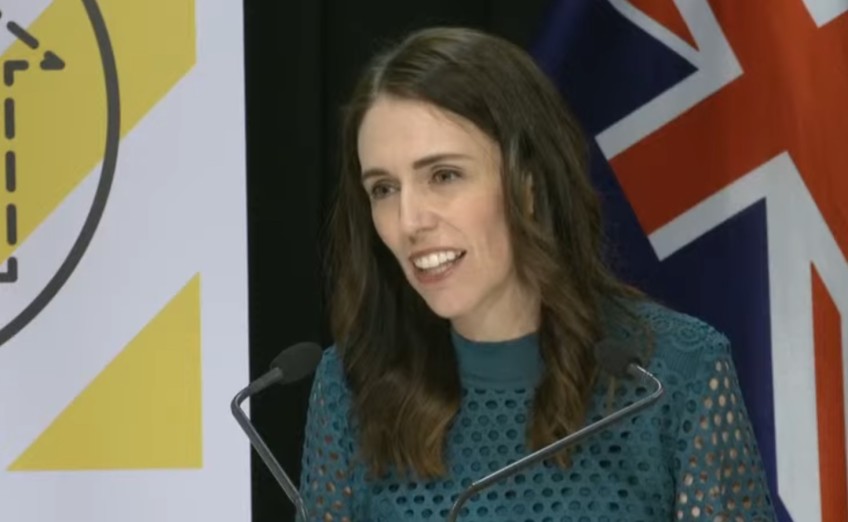 12 new Covid cases, self isolation pilot scheme announced
Sep 27, 2021
---
There were 12 new community cases of Covid-19 reported in Auckland today, the Prime Minister provided more details about a pilot scheme for business travellers to isolate at home and a Covid positive arrest disrupted police.
All but two of the new cases were epidemiologically linked to previous cases, the Health Ministry said. There are 13 cases in hospital - Six in Auckland, five in Middlemore and two in North Shore hospitals. Four are in ICU.
There are now a total of 1177 community cases associated with the latest outbreak of the Delta variant of the virus.
Director-General of Health Dr Ashley Bloomfield said progress was being made in containing the virus in Auckland.
He said the seven-day rolling average of cases had dropped to 15 this week, compared with 17 last week and 19 the week before.
Ardern confirmed about 43 percent of the eligible population were now fully vaccinated.
Policing has been disrupted in parts of Auckland, after a woman who was arrested and taken to Waitakere Police Station tested positive for Covid-19.
Thirteen police officers, including three arresting officers, are now self-isolating and being tested.
Waitemata district operations manager Inspector Jason Edwards said the custody unit at Waitakere Station was closed after Corrections notified the positive case yesterday.
Police also reported today that four people have been charged with breaching Covid rules since Auckland moved to alert level 3 last week.
However, they said in a statement they were "generally pleased with compliance" during the city's first weekend at level 3.
Meanwhile, Aucklanders are heading into what has been described as a "critical week" for the Covid-19 outbreak - with health experts warning it could go either way.
Cabinet will make a decision on alert levels next Monday - the first day of school holidays.
When asked by Checkpoint host Lisa Owen if Aucklanders could be restricted to the region even if the city moves to level 2, Covid-19 Response Minister Chris Hipkins said it was too early to make that call.
"I wouldn't want to draw a line in the sand either way on what we might do in Auckland at this point. There's still a bit of water to flow under the bridge before we can make those decisions."
However, he said he felt "optimistic" about case numbers trending downwards.
Home isolation pilot scheme announced
In today's post-cabinet media conference, Prime Minister Jacinda Ardern announced a pilot that would allow those travelling overseas for business travel to forgo MIQ and isolate at home.
The scheme opens for expressions of interest on Thursday.
Ardern said the pilot would be capped at 150 people, with a focus on businesses and employees required to travel internationally for work purposes.
The scheme will be combined with a monitoring and testing regime and will only be open to New Zealand residents.
Those applying will need to arrive in New Zealand between 30 October and 8 December, with final travellers leaving isolation by 22 December, she said.
Ardern said it was not the government's intention to offer self-isolation only to business travellers, but the narrow scope of the pilot was for safety purposes.
"The reason we are focused on work-related travel is because of the extra level of protection that having an employer with some skin in the game provides," she said.
Ardern said further down the track it may not be necessary for everyone to isolate for the full 14 days.
The news of the self-isolation pilot follows the release of a new booking system for managed isolation.
Today RNZ reported that hundreds of people who tried to get a room in managed isolation last week have given the new 'virtual lobby' system an overall rating of 3.6 out of 10.
Quarantine free travel was also announced for RSE workers, beginning on 4 October for Vanuatu and 12 October for Samoa and Tonga.
Workers must have had at least one vaccination and have their doses completed in New Zealand if they have not already done so.
They must remain in isolation on site at their workplaces until day five, and will be tested on day zero and day five.
Legal challenge against mandatory vaccination order dismissed
A legal challenge against the mandatory vaccination order for border workers has been dismissed by the High Court.
The applicant - an employee who was let go from her job with Customs because she refused to be vaccinated - brought the judicial review, which was heard last week.
She argued the Covid-19 Public Health Response Act did not allow for such an order to be made, and that the order was too heavy-handed.
In his decision, Justice Churchman disagreed with both the points, saying the order had been clearly and carefully considered by the government before it was made.
Vaccine mandates also came up in today's media conference.
Ardern said MBIE was working to provide guidance about the circumstances in which employers could mandate vaccinations with existing staff or new employees.
There were also questions about requiring vaccinations in certain circumstances, but access to essential services does need to be maintained, she said.
NSW outlines roadmap out of Covid restrictions
Over the ditch, New South Wales Premier Gladys Berejiklian announced today that the state would begin to ease lockdown restrictions from 11 October.
Once 80 percent of the eligible population is vaccinated, travel will resume through regional New South Wales and fully vaccinated people will be allowed to have 10 visitors at home. Community sport will also resume.
Restrictions will also be removed for fully vaccinated people attending weddings, funerals and hairdressers.
Unvaccinated people will only be allowed to attend places of worship.
A third stage has been set for 1 December, when it's expected the state will have reached 90 percent double-dose vaccination.
On that date, unvaccinated people will be subject to the same rules as those who've been vaccinated.
Masks will no longer be required indoors, and nightclubs will re-open.
Covid-19 pandemic cut life expectancy by most since World War II - study
The Covid-19 pandemic reduced life expectancy in 2020 by the largest amount since World War II, according to a study published by Oxford University, with the life expectancy of American men dropping by more than two years.
Life expectancy fell by more than six months compared with 2019 in 22 of the 29 countries analysed in the study, which spanned Europe, the United States and Chile. There were reductions in life expectancy in 27 of the 29 countries overall.
The university said most life expectancy reductions across different countries could be linked to official Covid-19 deaths. There have been nearly 5 million reported deaths caused by the new coronavirus so far, a Reuters tally shows.
"The fact that our results highlight such a large impact that is directly attributable to Covid-19 shows how devastating a shock it has been for many countries," said Dr Ridhi Kashyap, co-lead author of the paper, published in the International Journal of Epidemiology.

---