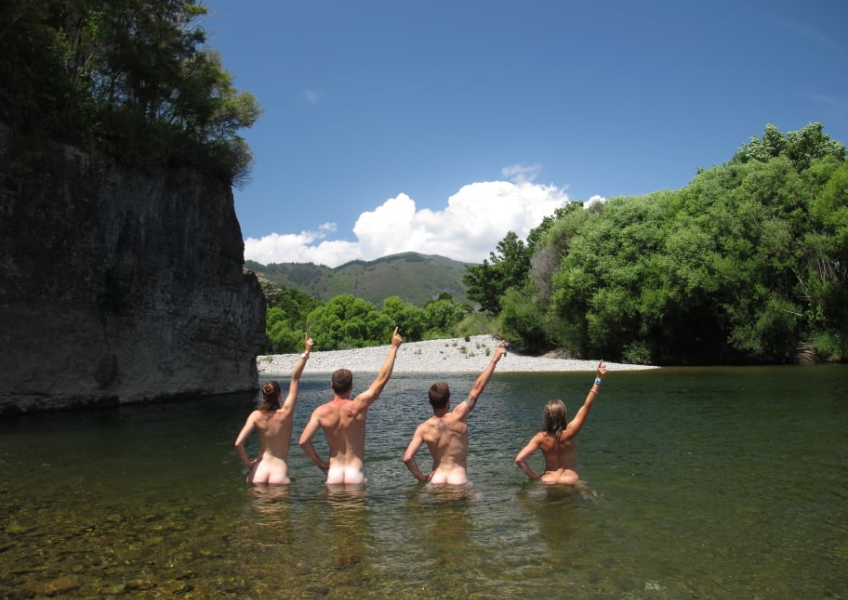 Get your kit off: this skinny-dipper is writing a NZ guidebook and is looking for models
---
Kate Uwins, better known as @naked_kate on Facebook and Instagram, is a self-professed traveller turned professional skinny-dipper. Hailing from Surrey, England, she has spent the last three years exploring Aotearoa and getting at one with nature. Now, she's writing a guidebook based on her experiences.
The guidebook is to be called, "Newd Zealand", and will put the spotlight on some of the countries best secret skinny-dipping locations.
"It all started with a friend of mine who wrote a New Zealand guidebook called NZ Frenzy and he had an idea to write a book about skinny-dipping in New Zealand. I'm a big lover of skinny-dipping - always have been, so when I met him, we talked about how this new idea for a travel book could become a reality and here we are."
"The book is about finding the spots around New Zealand that aren't already popular and busy; where you can find a little bit of seclusion and peace and quiet and just enjoy the natural environment in your natural state."
When asked if she had any tips for aspiring first-time skinny-dippers, Kate said, "Remember, nudity is not illegal in New Zealand if it is innocent and without indecent intentions. So even if someone does see you, you're not breaking any laws. Just don't do it on the lakefront in Queenstown on a hot day!"
Kate says New Zealand is a skinny-dipper's paradise, with hundreds of beautiful, secluded places across the country, perfect for a spot of naked swimming. "Obviously I think this country is just the best place in the world to skinny dip. You've got about a million beautiful places to go swimming; beaches, rivers, lakes, waterfalls. They're just around every corner and I still can't get over the colour of the water."
Our lack of predators is also a big plus. "There are no snakes, no crocodiles, nothing dangerous that's going to get you. It's not like in Asia or Australia where there are beautiful places, but you're always thinking about a snake coming to bite you."
"So yeah, when it comes to skinny-dipping, I think this country is basically asking for it", Kate laughs.
If you'd like to get involved with "Newd Zealand", head over to @naked_kate on Facebook or Instagram or email her at [email protected]


---