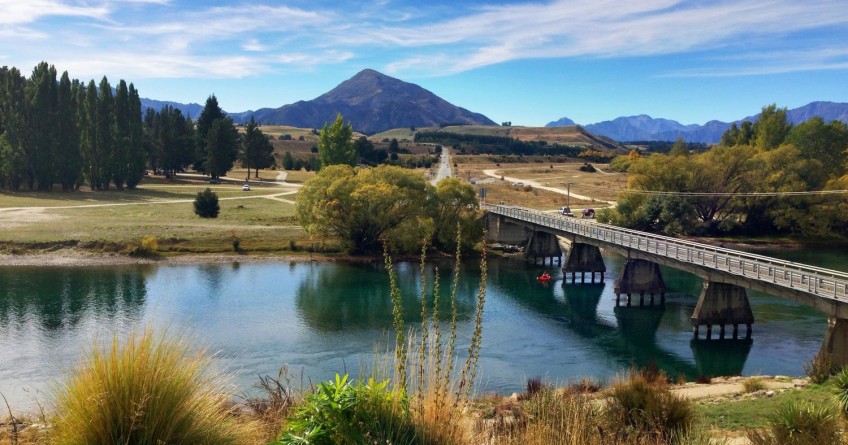 A brief history of... Albert Town
---
In the first of our local community series, "A brief history of...", Georgia Merton discovers what makes Albert Town - Wānaka's fast-growing riverside suburb, tick. Like Fusion on Facebook to follow the series.
Apart from the best almond croissants in town (Looking at you Pembroke Patisserie) and an overly trafficked, much-complained-about bridge, Albert Town can get overlooked in the general Upper Clutha conversation.
But, being the only crossable point on the mighty river, wee Albert Town was actually the first spot in the district to be settled. That was in the late 1850's, although Māori had been setting up summer settlements (kāinga) in the area well before that, fishing and hunting before carrying on their way to the pounamu rivers of the West Coast.
Albert Town was the main hub for the Upper Clutha
For a while there, Albert Town enjoyed its moment of glory as the main hub, largely thanks to a bustling post office and the presence of passing gold miners. Though its thunder began to get stolen around 1878 by neighbouring Wānaka (or Pembroke, as it was known then), Albert Town's history is speckled with characters and landmarks that have kept in firmly on the map.
River crossings are a pretty big deal, therefore so is Albert Town
Firstly, it's a river crossing, which makes it a big deal. The punts (flat-bottomed boats which ran like ferries, in case you're wondering) remained in operation until 1930 when a bridge finally got put in. The first paid puntman, James Templeton, had to walk between the Upper and Lower punts until they finally forked out for a bicycle for him.
"They'll never sell sections for that price!"
Punting wasn't James's only legacy to Albert Town, though. His great granchildren Bruce and Alison Hebbard built the Albert Town Tavern, which opened in 2001. According to Bruce, who still lives here and has seen people walk across the river in gumboots from his deck, the town's always been a hub - with house prices that raise eyebrows. "I remember grandad and his mates standing on the verandah, when there were sections for sale for 200 pounds, saying 'they'll never sell them for that price!"
"If it comes to me and it's broken, I can't make it any worse."
The Templeton's had already left a hefty mark by the time Bruce came along - James' eldest son Charles took over the family's blacksmithing business in 1913, and turned it into a legend. Farmers came from all over the district, and Bruce reckons there's nothing he couldn't fix.
He used to say, "If it comes to me and it's broken, I can't make it any worse." He must have been right, because Templeton and Sons Engineering is the oldest continually operating business in the Upper Clutha, and is BNZ's oldest customer in the country.
Meet Prince Albert, Queen Victoria's hubby
So, we couldn't do a brief history without mention of Albert - who was he, anyway? Well, the original river crossing was started by a guy called George Hassing, who decided to call it Albert Crossing after the Prince (Victoria's hubby). In 1861, by the time John Connell surveyed the area and named the district Newcastle, the locals were already calling their home Albert Town and wouldn't have a bar of it.
And that's a brief history of Albert Town, though spend a bit of time down by the old ferryman's cottage and we'd bet there'll be plenty more to discover.
Next up, Bannockburn! Follow Fusion on Facebook for more "A brief history of..."

---