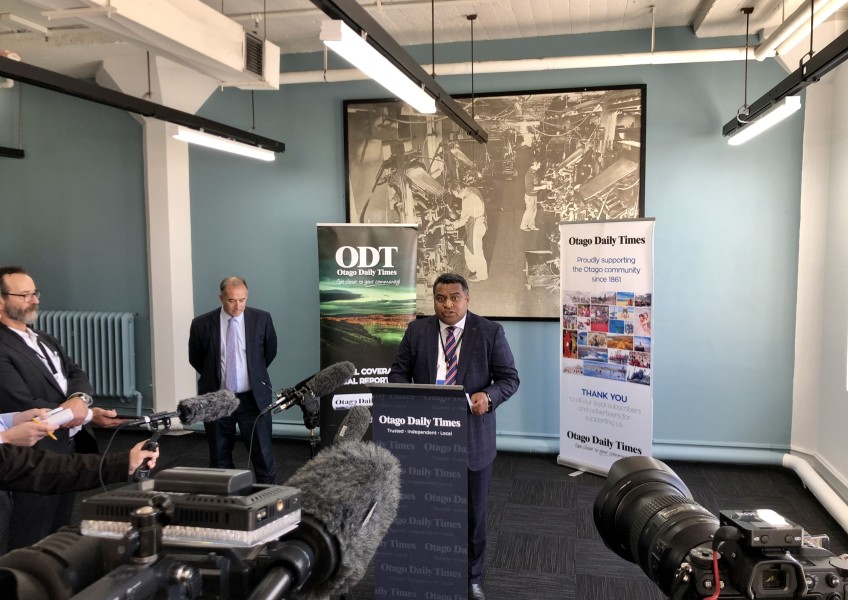 "Writing on the wall" for outdated media models - Minister.
---
A new government investment of $55 million for public interest journalism should be the catalyst for outdated business models to change, Broadcasting and Media Minister Kris Faafoi says.
Speaking to Crux in Dunedin, the minister said he hopes the fund, aimed primarily at boosting local journalism, should also encourage established media players to transition to a more sustainable model of funding news.
"That's a three-year window for those traditional media entities to look for new ways of getting revenue," Faafoi says.
Watch the full interview lower down on this page.
"Hopefully some of this funding will act as a catalyst for some of those bigger entities to say 'we can still do the journalism and have an insurance policy to change our business model as well'."At the moment the market isn't working, we've got to give media companies the opportunity to move to a model to make sure they're sustainable."
The $55 million over three years will be administered by NZ On Air to projects that media outlets can show fill a public interest service, and would not otherwise be produced without the funding, such as community reporting and investigations.
Faafoi said it'll be up to NZ On Air to decide how to allocate funding fairly between legacy media and newer digital platforms.
"Whether it be a new or existing entity that can see an avenue to get money to do more reporting than it is already doing, or one of the big players that might be moving to a different business model but needs some assistance, I think there's enough funding for NZ On Air to make decisions that will make a difference."
Faafoi unveiled a $50 million package in April last year to help media companies whose advertising revenues were hit hard by COVID-19, but the minister stresses that the problems in the media landscape predate the pandemic.
"The challenges have become a lot more acute post COVID and during COVID.
"Things look better than we expected 8-9 months ago but that doesn't mean the fundamental changes haven't disappeared."
He believes many media companies would admit that they should have moved sooner to change their business model.
"NZ On Air and the Government expects that if this money is time limited that we start seeing changes in behaviour from some of these entities and to be honest I think they know the writing is on the wall unless they do."
It's Faafoi's keen hope that regional New Zealand communities will benefit from this new funding, who he says have missed out on strong local content for the past 15-20 years.
"I think for them to know that their council rates are being put to good use, knowing what's going on in their rugby club, knowing if they have refugees coming into their community that they understand what's going on...All that public interest journalism is important.
"The devil will be in the decisions, but it means plenty of space for NZ On Air to make decisions for big and small."
In 2019, NZ On Air began funding a local democracy reporting programme, placing eight journalists around the country (now expanded to 12) to ensure coverage of smaller regions' district health boards and councils.
Here's the full interview with Minister Kris Faafoi.


---