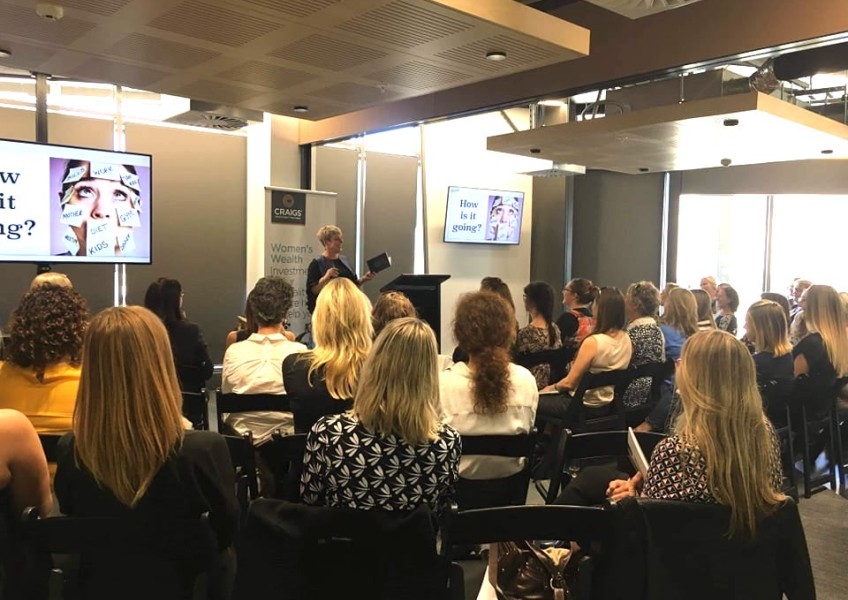 Women - Grab your Wealth by the Horns!
---
Evenings for women rarely revolve around money, but at Clare Phillips' Women in Wealth nights, they do. Phillips is on a mission to get women to make their personal finance a priority, and, in the process, to start backing themselves. After all, as she puts it, 'there's no tall dark knight galloping to come and save you.' 
Phillips is an investment advisor with two young daughters, and organises these events in Queenstown twice a year to talk about (and demystify) money. She focuses on a theme for each time, and at the last event, this was the gender pay gap.
"In 2018, it was 37% globally, which is huge. It's staggering, actually. There is no one country in the world where women are paid equally to men, which is again, staggering," she says.
Instead of despairing about the situation, though, Phillips is urging women to take matters into their own hands. After all, at the current rate we're going, Phillips says it will be another 200 years until our wages are equal.
On top of this, many (not all, but many) women take time out of their career to care for their kids, halting all contribution towards their financial future. We also tend to be the ones who care for elderly or sick family - a plus for the community but a blow to the personal finances. All things considered, this gap soon becomes a crevasse.
This is why Phillips' message is for women to take some initiative, and the earlier the better. "I hear all too often from my older clients, 'I wish I'd done this years ago.'"
"I want to help women to understand what strategies, tools and knowledge they can use to bridge that gap. To encourage them to do something now, even if it's only small, to start building up that financial independence."
To Phillips, this is just as much about women developing a sense of empowerment from doing something for themselves and their children, rather than doing everything jointly with a partner.
She tells women that as soon as they've got any spare capacity, take some action. This, however, is where a largely avoided (and ultimately crippling) question crops up: how much exactly is spare capacity? And behind that question lies the widely held perception that you have to be rich to be able to 'do something' with your money.
According to Phillips, you can start off with $100 a month, or a lump sum of $1,000. "As well as helping women with their finance, the holistic empowerment of everybody is actually important, letting people know that you don't need a hundred thousand dollars to start."
In fact, it doesn't even have to be a hundred bucks, and Phillips is not the only one flying the 'everyday investor' flag. There are now platforms, such as New Zealand company Sharesies, which make it possible to invest in their portfolios with as little as $5. In a bid to make this generation the most financially literate, they interview and feature investors from many walks of life, and break the Wall Street jargon down to plain language.
A lack of financial literacy and confidence are really only symptomatic of the true imbalances at play, and Phillips goes deeper than providing just financial tools and knowledge. "You have to value yourself enough in order to want to make plans for your future. That's why wellness has been a focus for our events, making sure you look after yourself, and give yourself time out. You've got to respect and back yourself enough to feel that you can go for that job, you can go for that lifestyle change you want, and you can achieve financial independence."
She says that we are constantly prioritising what's most important to us, and for women, planning for a financial future tends to get shunted to the bottom. Her message? Give this goal, your financial one, a deadline. Make a plan now, or set a date to seek advice from an expert.
The reason women don't prioritize money is a big topic to dissect. Clearly, the male provider narrative has been powerful, both in taking the financial responsibility out of the hands of women, and in placing it (with significant pressure) onto the shoulders of men. It's something that has interested Phillips throughout her 25 year career in the male-dominated world of finance. "What are the messages we're getting early on, and how does the male psyche work versus the female one when it comes to taking action?"
Whatever the reasons, Phillips says we've got to start talking about it, so we can start to change the messaging. In fact, she says that if we actually relaxed the level of taboo associated with talking about money in general, we could probably learn a lot more from each other, and would be more likely to take action.
Of course, when it comes to changing things at a corporate level, women do have some allies advocating from the inside. Rob Campbell, for example, chairs three of New Zealand's biggest corporates, and actively condemns the attitude that demands women only be admitted to the boardroom on 'merit'. This is an argument that has emerged after the pressure felt by big business to have more females on the board, and Phillips says Campbell is a vocal opponent.
"He's saying, 'Well, hang on a second. On whose merit? Is it the merit of the same pale stale male boards that we've had for 20 years?"
Phillips says merit should be on bringing a female viewpoint into the boardroom, rather than measuring how women have performed in a male-dominated world. With two little girls, she has plenty of motivation to focus on this as an area to make meaningful change.
"I've been very lucky to have had supportive and respectful bosses over my time, but it remains a male world," she says, "And the more we can become empowered as women individually, the more powerful the effects for the global situation."
Phillips says women just need to go for it. "Set some really good goals and go for them, whether that's career, money or lifestyle. There's nothing stopping us doing that. We just need to start believing that we can do it and share the tools amongst us to help us get there."
Main Image: Lisa O'Neill speaking at the last Women in Wealth evening

---