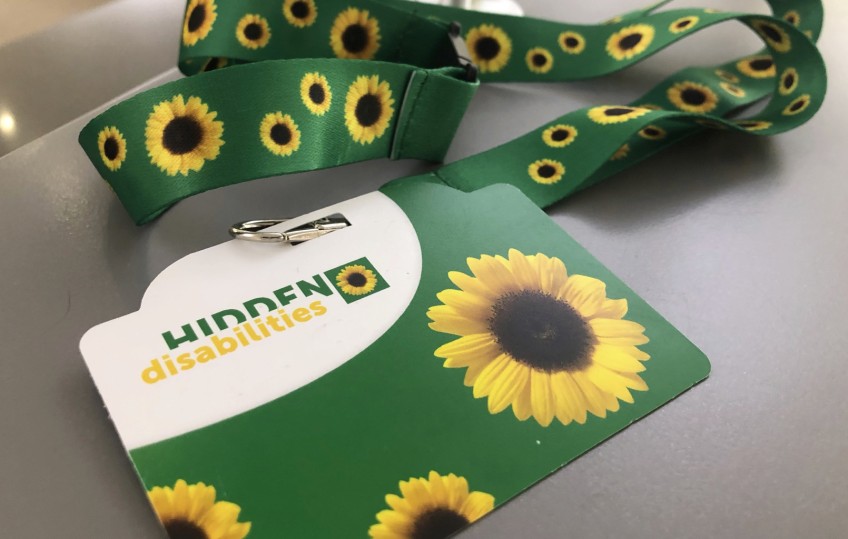 Woman with disability reduced to tears by Air NZ and Queenstown Airport
---
A woman with a neurological condition similar to Multiple Sclerosis says she was reduced to tears due to how she was treated by both Air New Zealand and Queenstown Airport.
Nikki has asked Crux not to use her last name, but she was wearing an internationally recognised lanyard that is specifically designed to alert people to a disability that is not obvious or hidden.
The Hidden Disabilities Sunflower scheme was launched last September by Queenstown Airport in a bid to make travelling through the terminal easier for people with disabilities. The international scheme was pioneered at the United Kingdom's Gatwick airport in 2016 and has since been adopted by more than 140 airports around the globe.
Nikki told Crux that she experienced major issues when leaving Queenstown for her home in Brisbane yesterday (September 9).
"I have come through Queenstown international airport this afternoon. I have a disability and have my disability lanyards clearly displayed.
"Not only did I feel humiliated, I was left in tears by the way I was treated.
"None of the security staff could identify the international recognised lanyard I was wearing.
"The security officer at the scanner machine asked me to stand and raise my hands above my head. I had to say to the gentleman I couldn't do this as I have balance issues, his response was to tell me to just follow the picture. I also have visual flow issues so when the machine would have spun I would have fallen to the floor."
This video explains how the Hidden Disability scheme is designed to work.
Nikki told Crux that on the flight into Queenstown on September 1 she received considerable assistance from Qantas staff both on the flight and when moving through the terminal, but that assistance was not mirrored on her flight home.
"Having a disability is hard enough but being subjected to ignorance and untrained staff that leaves a person with a disability humiliated and in tears, with fellow travellers offering assistance - It is very poor service from Queenstown Airport and Air NZ.
"I did request from the staff at security a seat to sit on when they repeatedly requested I take off my boots. No seat was given. I showed my lanyards - they didn't know what it was.
"Not one Air NZ staff member offered assistance before, during or after flight. Not a single airport staff member recognised the lanyard."
Queenstown Airport provided Crux with the following response from Glen Sowry, the airport's CEO. The airport also pointed out that the security operation is carried out by the Aviation Security Service, who manage passenger security screening using the AIT (whole body) scanners.
"Firstly, please pass on our sincere apologies to Nikki – we introduced the Hidden Disability Sunflower Lanyard at ZQN to support a seamless experience for those passengers requiring a little more help.
"We've actively promoted the Hidden Disability Sunflower Lanyard and the online training course since launching in September 2021 and strongly encourage all those working at the airport to complete it. It's fair to say there is more work to do.
"We will reinforce the training available and continue to raise awareness of the Hidden Disability Sunflower Lanyard with the agency and airline staff over the coming weeks."
Air New Zealand's chief customer and sales officer, Leanne Geraghty, made this statement:
"We recognise that traveling with a disability can be complex and stressful at times, which is why we are big supporters of the Hidden Disabilities Sunflower lanyard. Our teams complete training on how to recognise and provide support to those wearing the hidden disability lanyard.
"Unfortunately in some instances they can be hard to see or missed, particularly during busy periods, but this is a good reminder for our teams to keep an eye out and offer our support."


---