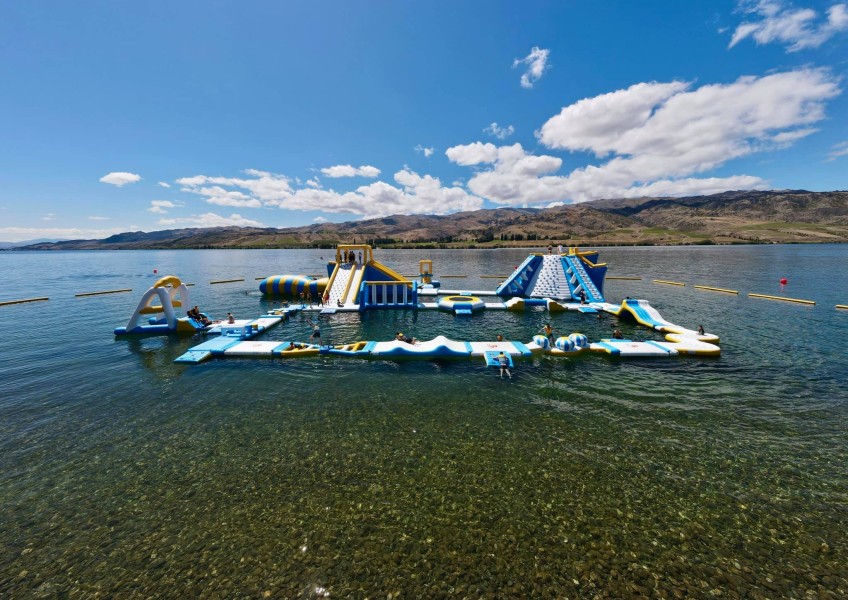 Water park to take over popular Lowburn bay
---
Cromwell's giant inflatable water park is set to take over a popular, sheltered swimming bay in Lowburn this summer.
A public swimming pontoon will be moved to make way for the floating business, and a portacom and shipping container planted on a picturesque picnic and walking spot.
Central Otago District Council and Toitū Te Whenua Land Information New Zealand (LINZ) have approved a request by Mana Water Sports Limited, which operates the Kiwi Water Park, to shift approximately 400 metres south along the Lake Dunstan foreshore towards town from its mooring point last season.
The water park will also double in size and authorities have given the greenlight for it to be open longer each day.
In a variation to a resource consent approved in October 2020 CODC has granted use of 15,000sqm of lake for the business, which can now open from 9am until 8pm.
A pontoon that is within a section of lake roped off for swimmers will be shifted to make way for the blow-up playground.
As part of its consent, the business is required to relocate the public pontoon as close as possible to its original site. But, regardless, it will be in the shadow of the park.
Users of the water park will still need to park at the Lowburn freedom camping and boat-ramp carpark – access is not permitted via the gravel road onto the finger of land that juts out to form the curve of the bay - and walk the approximately 300m to the water park's new resting spot.
The resource consent allows a fence to be built, with a gate, in consultation with Waka Kotahi New Zealand Transport Agency, to control vehicle access to the site.
An eight-metre by 15m toddler paddling pool will also debut at the water park this season, and will be located on the lake foreshore.
A volunteer group of lake guardians is concerned a public asset has been lost to a private entity without consultation.
Lake Dunstan Charitable Trust chair Duncan Faulkner says the new location of the park has taken away free public access to a highly-used, sheltered bay.
"It is disappointing that the wider community was not engaged with on this decision."
LINZ head of Crown Property Jerome Sheppard says LINZ is, effectively, the "landlord" when it comes to Lake Dunstan, and it has ultimate say on whether the water park can set up shop where it is.
As part of the process, consultants Colliers, on behalf of LINZ, liaised with the Lake Dunstan Charitable Trust, iwi, and other government departments and agencies on whether to give the water park go-ahead, he says.
Kiwi Water Park will be charged a fee by LINZ – details on exactly how much this is was unable to be provided to Crux at the time of publication.
Kiwi Water Park owner and operator Emily Rutherford is unapologetic, saying the patch of lake she's commandeered for her family business is relatively small.
"Lake Dunstan is 40km in length and we take up 150m by 100m of that.
"There is more than enough room for everyone."
The public swimming pontoon she'll be moving to set up shop is in bad shape, she says.
"It's on a slope and the middle is coming apart."
Ms Rutherford sought a more sheltered location for the inflatable park as strong winds at the former site, which is more exposed, forced her to regularly close and damaged the inflatable structure.
She'll be responsible for monitoring cars and clearing up rubbish, as per conditions of her consent.
"My staff did an hour of rubbish pick up in Lowburn every day last summer and the area was cleaner than it has ever been."
Over summer, the water park employs 20 fulltime staff as lifeguards and in customer service positions and uses local Cromwell contractors for any required work, she says.
The Cromwell community has embraced the park, she says.
"We have complete support by elected officials…we also have massive support from local businesses and also local families…we have had a large amount of repeat business."
A standard 90-minute play on the park costs $40.
Main image: The Kiwi Water Park at its 2020-21 summer season spot at the Lowburn freedom camping site (Photo Facebook/Kiwi Water Park).


---