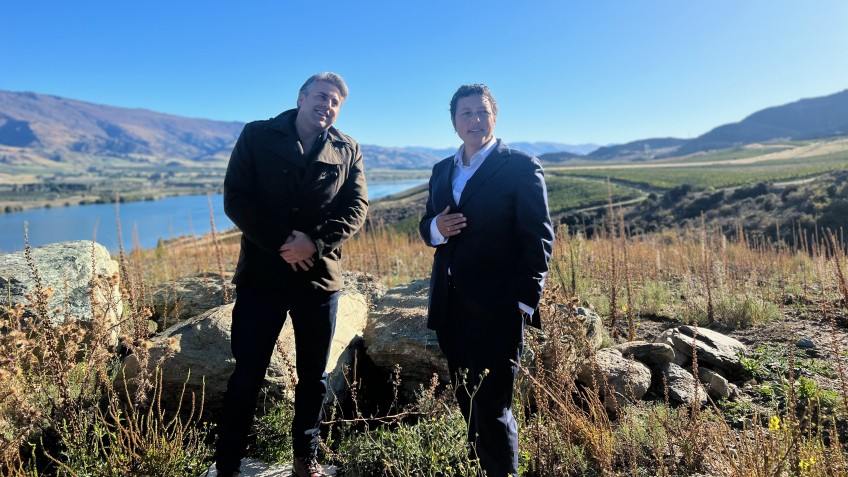 Wānaka's Silverlight Studios gets $4.5m in Government backing
---
Paris and New York aren't coming to the outskirts of Wānaka just yet but Silverlight Studios says it's planning to deliver three soundstages by the end of next year, and the Government is set to help them get there.
A funding announcement today by Regional Development Minister Kiri Allan has helped shore up what the studio's Mike Wallis is calling phase zero of his proposed multimillion-dollar film studio.
He says while the grand plan of having replicas of Paris, New York, Venice and a medieval village all set around an artificial lake still exists, the company has had to "pivot" in the shorter-term.
It's now seeking investment to build "two biggish and one medium" soundstages, which Mr Wallis says will fill an infrastructure gap in the region.
"There are certain projects that we're really keen to try and get in quickly. Phase one is a long build, whereas this is a quick build…we can get it up and running quicker."
The smaller scale first step is also a response to feedback from Wānaka locals who have expressed concern about the size and potential impact of the original planned mega studio, he says.
It's hoped the move will make the business "more compatible with the region", with "not too heavy an impact straightaway", he says.
"We can actually prove to Wānaka that it can work, prove the site. It's an easier, more palatable lead-in."
He says he's seeing excitement locally in the industry in response to his plans, and what's in store will attract overseas productions too.
"There is a lot of productions that happen in this region and there's nothing for them. This here gives them rain cover, it's big enough for an international large scale production, which is really our key market, anyway, but also the local market."
So, what projects are the in the pipeline? Mr Wallis isn't able to confirm if anything is, citing industry confidentiality as the reason.
"It's not that I'm trying to be secretive, but any enquiries, they have NDAs, they don't want anyone to know. It's a highly competitive market."
He's also unable to reveal exactly how much phase zero will cost and what amount of investment the company needs to achieve it. He did say it is obviously far less than the $280 million originally attached to the studio.
However, today's Government announcement will go some way towards greasing the wheels.
"This underwrite is to help that and facilitate that and provide confidence (to investors) in a very uncertain worldwide market," Mr Wallis says.
The government underwrite of $4.5 million will support Silverlight Studios with operational costs once phase zero of its project has been constructed.
This will be funded through the $20 million Queenstown Economic Transformation and Resilience Fund (QET), which aims to support established businesses with proposals not related to the tourism sector.
Minister Allan says Silverlight's plans will help to provide "some of that hard infrastructure that I know that the industry here has been hankering for".
She says it is a good fit for Government investment as the film industry locally is able to leverage of "the stunning natural characteristics of the region" and adds to sought-after economic diversification.
"We're incredibly chuffed to be supporting you...and I'm super, super pleased to see where this opportunity will take you."
Silverlight already has consent from the Queenstown Lakes District to kick off its soundstage project, which will include some associated support buildings, like a workshop.
In December 2021, Silverlight was granted resource consent for a mega film studio complex with accommodation on a chunk of land on the Luggate-Wānaka highway under the Government's fast-tracking legislation.
In January last year South Island Office (SIO), an investment group based in Christchurch, announced it had stepped in to buy the 322-hectare parcel of rural land Silverlight plans to build on.
At the time, SIO partner Rob Farrell was upfront with Crux about what brought them to the deal: SIO isn't in the business of making movies, the clincher for them was an "attractive" piece of real estate.
Main image: Silverlight Studios' Mike Wallis and Regional Development Minister Kiri Allan in Central Otago, Thursday, March 23, for the announcement of the underwrite of $4.5 million from the Government to support Silverlight's film studio plans for Wānaka.

---