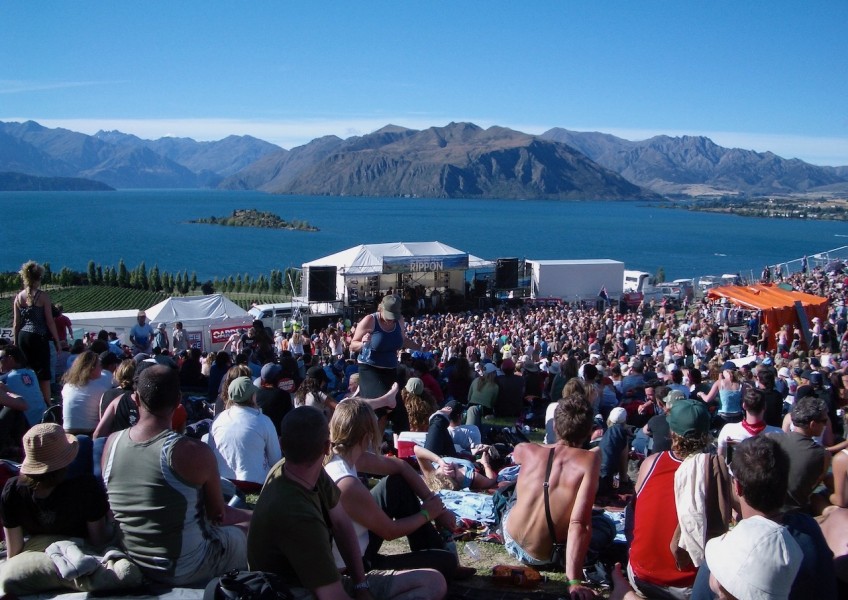 Wanaka's Rippon and Tuki festivals to shut down
Sep 02, 2021
---
From Lake Wanaka SounNZ Incorporated:
"Having run Rippon Festival since 1998, and Tuki Festival since 2014, Lake Wanaka SouNZ Incorporated is taking a hiatus this summer, while organisers look at re-shaping the much-loved event.
Director Lynne Christie will be stepping down to "leave a gap for someone younger and brillianter", but will take a guidance role during the handover process. Many within the community and around the country have put their hand up to create a smaller event in late 2022 under the Lake Wanaka Sounz banner, and submissions are currently being reviewed.
COVID-19 has certainly been a factor in the decision to take a break this summer, with Levels 2 to 4 making larger events impossible, while in Level 1, all festivals are now featuring almost 100% Kiwi acts.
The not-for-profit Rippon and Tuki Festivals have been championing Kiwi music since last century, with the aim to promote New Zealand music. Featuring acts like Kora, Unknown Mortal Orchestra, Katchafire, Ladi6, Shihad, Anika Moa, Shapeshifter, HDU, Chris Knox, The Black Seeds, Eru Dangerspiel, Fly My Pretties, Pitch Black, Fat Freddy's Drop, Pacific Heights, The Datsuns, The Phoenix Foundation, Hollie Smith, Che Fu, TrinityRoots, Blindspott, Street Chant, Ahoribuzz, Tiki Taane, Estere, The D4, King Kapisi, Scribe, Mel Parsons, Electric Wire Hustle, Alien Weaponry, The Clean, Nathan Haines, The Chills, Lord Echo, Marlon Williams, The Mint Chicks, Tami Neilson and oodles more, the festival has certainly done its part in showcasing emerging and legacy acts over 24 years.
Since Lake Wanaka SouNZ Incorporated started up in 1997, numerous festivals and events have been added to the cultural calendar in the South Island, giving patrons quality days out. Nostalgia, Electric Avenue, Relish, Festival of Colour, Rhythm & Alps, King Beats, Gibbston Concerts, and Top Paddock have all joined the fray in the last decade. Additionally, independent artist and band tours, along with wine, beer and food festivals within the region, convince the LWSI organisers that music-lovers will not be short of options, once Level 1 status can be reinstated.
Glendhu Station (Tuki Festival) land owner, John McRae says,"We love Tuki and the Aotearoa music scene, and cannot wait to see what the talented Tuki crew come up with".
The bi-ennial music summit YAMI (Youth & Adults in the Music Industry) is also run by LWSI, and will continue to provide the weekend of workshops, seminars and performances in May. Christie will continue to direct the summit which is held at Lake Wanaka Centre, and has featured Ladi6, Troy Kingi, Dave Dobbyn, Jon Toogood, Anika Moa, Warren Maxwell, Anna Coddington, Barnaby Weir and Julia Deans among others, as key tutors for music lovers keen on a career in the industry.
When asked what a new festival organiser would most need in stepping into the role, Christie recommends "guts...and a genuine love for music and its ability to bring people together". She makes mention of the "astonishingly talented" crew members and volunteers she has been lucky enough to work with over the decades, along with the phenomenal musicians, contractors and supporters.
After 25 years organising NZ-only music events, Christie acknowledges that original music of all genres in Aotearoa is absolutely thriving and "better than ever" in 2021.


---