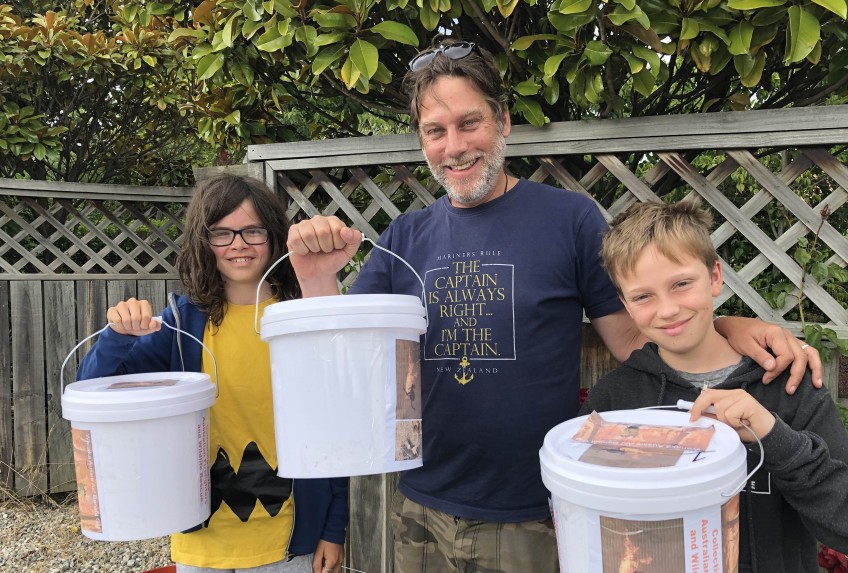 Wanaka's epic bushfire charity concert this Friday
---
Wanaka is set to be the first NZ town to hold a charity concert for the Aussie bushfires on Friday, and according to organiser and actor Jay Simon, the community support has gone absolutely mad.
"It's going to be epic. I've just walked the lakefront with my bucket and collected a few hundred dollars. We're going to have thousands of people down here!" says Simon, who was spurred into action by the smoky skies of New Year's Day.
It's the kind of display of community spirit that Wanaka is well known for, and judging by the interest so far, both the fundraising efforts and Friday's turnout are set to be massive.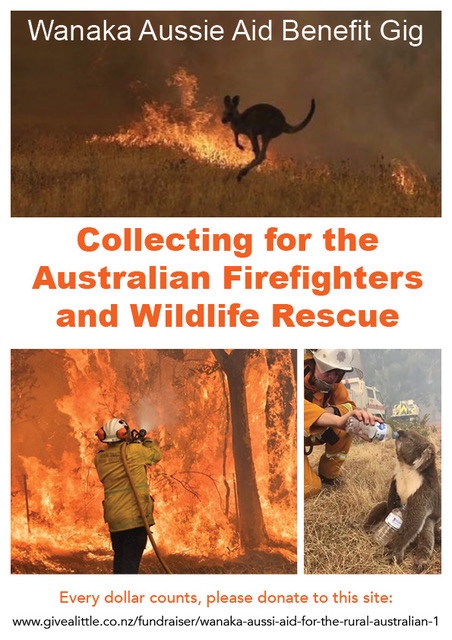 The gig will run all day from 10am until 5pm at Kai Whakapai, but Simon's been busy (with the help of his kids) making collection buckets and dropping them off at shops in town to start collecting ahead of time.
He was flooded with offers from local musicians and performers, so much so that he's had to limit each one to 20 minutes. "We've got an age range of 12 to 75 years, and the 75 year old's going to do a Johnny Cash number."
Aside from impressive spread of ages, the line-up also includes some big local names like Robert Glen and Tai Forrester, a choir from MAC, a jazz band and Wanaka Ukeleles.
Simon says he's had heaps of support from local radio stations, Mitre Ten and Paper Plus, and that the local police and firefighters are going to come and shake buckets on the day. "We've had a lot of Australians who are on holiday here get in touch and say how moved they are that we're doing something."
He says he was the most hated man in New Zealand after playing the dodgy villain in TV show Filthy Rich several years ago, but it's hard to imagine he'll have any haters after this.
"We all woke up on January 1st with all that smoke around us and I just thought, I want to do something about it. So we got cracking and organised a concert.
"I went to see Roger down at Kai because we wanted it to be central with foot traffic, and he agreed and immediately gave me a large donation and it's just gone from there!"
Half the proceeds will go to fund the firefighters, and half towards Australian wildlife, which has suffered the loss of billions of animal lives so far. Here's the link to the fundraising page.
Simon says while he's got family and friends in Australia, the action came from the concern that many Kiwis are feeling. "A lot of people want to do something but don't really know what to do. It's giving people an opportunity to contribute."
"We had a big fire here in Wanaka a few years ago and it wasn't just putting it out - once it's out it can reignite, and there are fires underground that can start. So this disaster doesn't end when the flames are out."
It's a horrifying situation, but Friday at Kai, according to Simon, is not going to be miserable. "Music's pretty universal; it brings people together, so we're going to celebrate and raise money, and show that we care.
"We rely on Australian tourism, we have a lot of Australian tourists here, and it's really important that we support our cousins over the ditch."
Main Image: Organiser Jay Simon, his son George and friend Riley Miller with some of the collection buckets they've made
You can make a direct donation here.





---