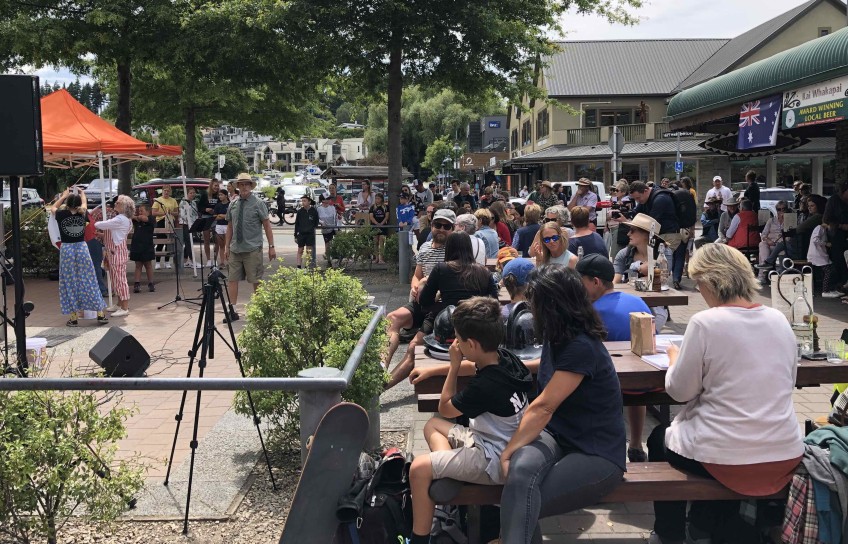 Wanaka's Aussie Aid gig raises $26,000
---
** Updated: The Wanaka campaign raised $18,000 today with a further $8,000 raised online. Donation link at the end of our story.
The Australian national anthem filled the streets of Wanaka this morning, heralding the start of the Aussie bushfire charity gig.
The boardwalk outside Kai Whakapai, already a watering hole on a sunny afternoon, has today become the stage for local musicians and eager volunteers collecting donations for the horrific fires our neighbours continue to fight.
Organiser and actor Jay Simon warmed up the growing crowd with a rendition of What a wonderful world, urging people to 'Stop, get your wallets out, give us your money!'
Simon thinks they've raised close to 10k so far, having dropped buckets off to shops and bars to start collecting earlier this week. Today, donations are pouring in, from passing cars and foot traffic alike, and though he doesn't want to limit it with an estimate, Simon has his sights set high. Funds are going to support both the wildlife and the firefighters.
The crowd continues to grow, the music is pumping and there was dancing in the street before it hit midday. If you're in Wanaka and you haven't already, it's worth getting down to Kai to join in and donate before it all finishes up at 5. If you can't you can still donate online here.


---