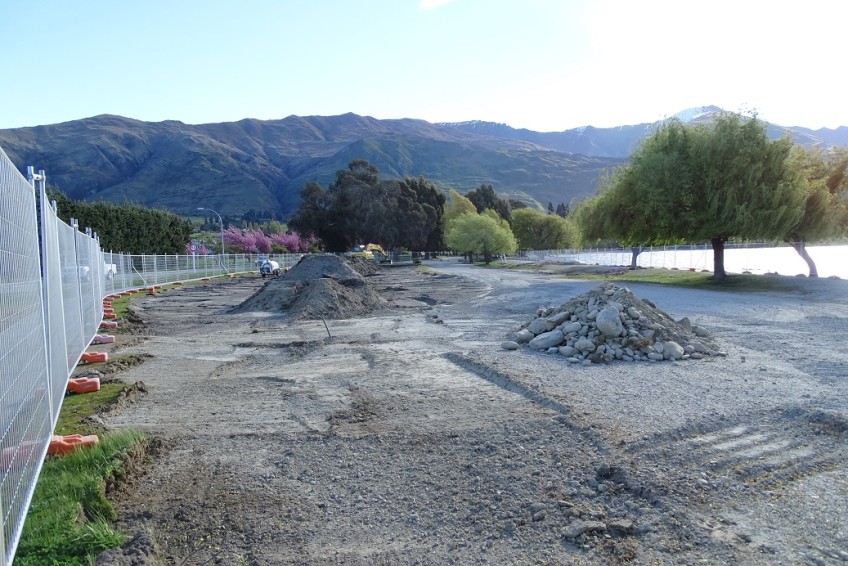 Wanaka lake front - massive project Monday. QLDC media release Wednesday
---
In a blinding piece of miscommunication the QLDC communications team has put out a media release detailing a major Wanaka project that actually started over 48 hours ago - on Monday.
Many Wanaka residents will have noticed that the waterfront is currently being dug up on a big scale. This is an $800,000 car park in one of New Zealand's most sensitive scenic locations.
Crux Wanaka reporter Kerrie Waterworth asked the QLDC what was going on yesterday morning. Their reply suggested that we photograph the signage on the construction site fence for information. This has to be one of the most unusual pieces of communication that has been emailed to a journalist.
To make matters even more bizarre, the QLDC comms team posted an amusing Facebook post about the work some five hours after the Crux Tuesday enquiry that left QLDC Wanaka Councillor Quentin Smith having to handle an avalanche of negative public reaction.
Then, at 3.30 pm this afternoon (Wednesday) QLDC put out a media release explaining what was going on. Without wanting to be in the least bit critical, it might make sense for our council to announce detail of work on this scale before it starts. Here's a link to the full waterfront development plan from 2016 - full of the usual expensive sketches.
Is it possible the council communications team was hoping nobody would notice the $800,000 lake front car park? Or did they hope it would be less controversial by not drawing any attention to it?
Here's the full QLDC media release.
Wanaka Lakefront Development Plan gets underway with Mt Aspiring Road Car Park
"Work on the Wanaka Lakefront Development Plan began Monday 8 October with an initial project kicking off to establish the Mt Aspiring Road Car Park construction site.
The car park is set to be the southern bookend to the central lakefront development, providing a mixture of 68 parking spaces integrated into new landscaping of large lawns, and a future promenade for pedestrians. The project also features a new toilet facility with four cubicles, one of which will be dedicated to disabled users.
With a view to encourage better access to Wanaka's lakefront for pedestrians in latter stages of the Lakefront Development Plan, Queenstown Lakes District Council's (QLDC) Community Services General Manager, Thunes Cloete said it was important to start the project delivery with the Mt Aspiring Car Park.
"The overall aim of the project is to allow this space to be better utilised by pedestrians and cyclists, which means removing vehicles from grass areas along the lakefront. The community has made it clear the lakefront should be for people, not cars, but we recognise there is still a need to provide parking access. Therefore we're aiming to at least retain the same capacity in the vicinity of the lakefront by the end of the work," he said.
"We've started construction on the Mt Aspiring Road Car Park knowing future steps in the Wanaka Lakefront Development Plan will see some current parking removed from other parts of the lakefront."
QLDC Councillor and Wanaka Community Board Chair Quentin Smith said he is looking forward to this area being dominated by people walking, swimming, picnicking and cycling rather than the row of vehicles that currently exists for a large part of the year.
"The Wanaka Community Board has been very close to the Lakefront Development Plan process and has been a strong advocate for changing the focus of the lakefront reserve from parking and vehicles to people and green space. We're really excited to finally see dirt being turned and this represents the beginning of a long project to improve this space."
"We're taking care to ensure that we get the balance right between creating a green space reserve that enhances peoples' enjoyment of the lake and the amazing view, while still servicing the increased demand for parking near Wanaka's Town Centre," Mr Smith said. "Kicking things off with the car park in this location will allow us to remove parking and create a great 4m wide pedestrian and cycling "boulevard" towards town from this site. This will be further balanced by roading, transport and parking changes that come via the Wanaka Town Centre Masterplan."
The Mt Aspiring Road Car Park has an approximate cost of $800K and is within the allocated budget, with $700K of that figure budgeted for construction.
Work on the car park is planned for completion by Christmas in 2018."
Main Image: Work underway on Wanaka's lakefront.


---