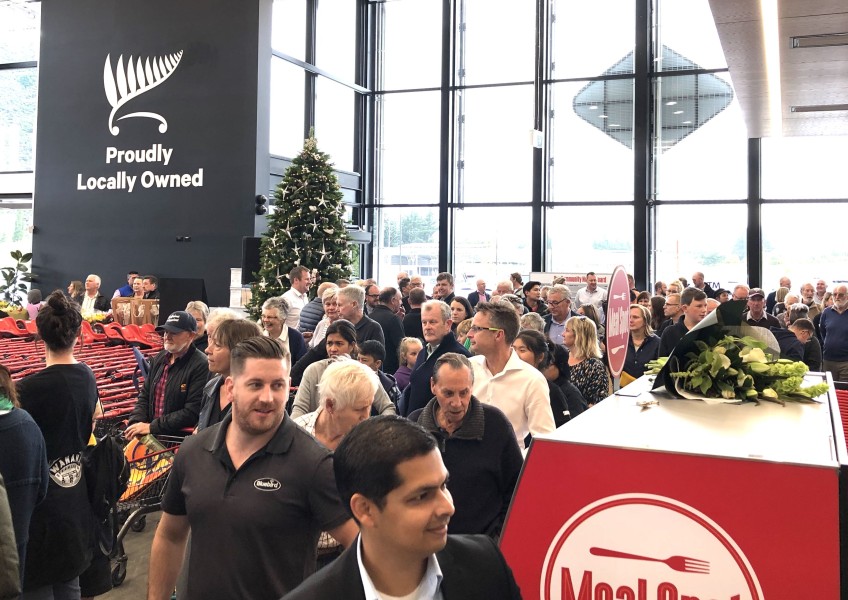 Wanaka graduates to a whole new world
---
The attention of many Wanaka locals was diverted away from the level of the lake and towards Three Parks today, or at least for the morning.
It was the opening of the New World on Ballantyne Road, and by 8.30am there was a hefty crowd gathered. They were there to watch the ribbon be chopped and the cake be cut, and get some early access to the first major retail opening of the Three Parks development.
It was hard to deny the excitement in the air (which may have had something to do with cake for breakfast), and while it's understandable, it did serve to raise an interesting question. Wanaka, or some of the community, does have a history of resisting certain types of development (fast food chains, for instance) - so what makes this different?
Quentin Smith, QLDC councillor and fellow early-morning shopper says while he's heard a little bit of that rhetoric, this is a core service and he thinks it's generally pretty positive for the community. "It's different to a fast food outlet, or a Warehouse or Kmart - they've got a completely different appeal."
He says it's answering the needs that a growing town has. "People will be coming here two, three, four times a week, so it's a regular haunt. There's more parking, more space, less congestion."
Smith says it will change things in town though, for sure. "When I go to New World I usually visit two or three shops in town, and if I come out here I won't be doing that, so that's interesting."
Long-time locals can get a hard time (deserved or undeserved) for being resistant to change, but 69 year old John Turnbull says the new supermarket is fantastic.
"I've been here for '88, and been waiting for Three Parks to open for twenty years! It seems to have been quite slow coming," Turnbull says.
"I'm really looking forward to more car parks, more space inside, less congestion in town. I hear it's the biggest New World in the South Island and that's exciting for me."
The opening is certainly the end of something that's pretty significant in Wanaka - the guarantee that your trip to the supermarket will double as a social occasion.
"I suppose it's one of the positives and challenges that come with growth - you get more opportunities but it might come at the expense of the local personal feel," says Smith.
Across the road from the new store is the growing shell of what's soon to be Wanaka's second Mitre 10. The new developments leave little question as to who holds the retail power around here, but from the reception this morning, they're welcomed by many.
And, who knows, perhaps a trip to the supermarket where you don't see half the people you know might suit some of us a little better.

---