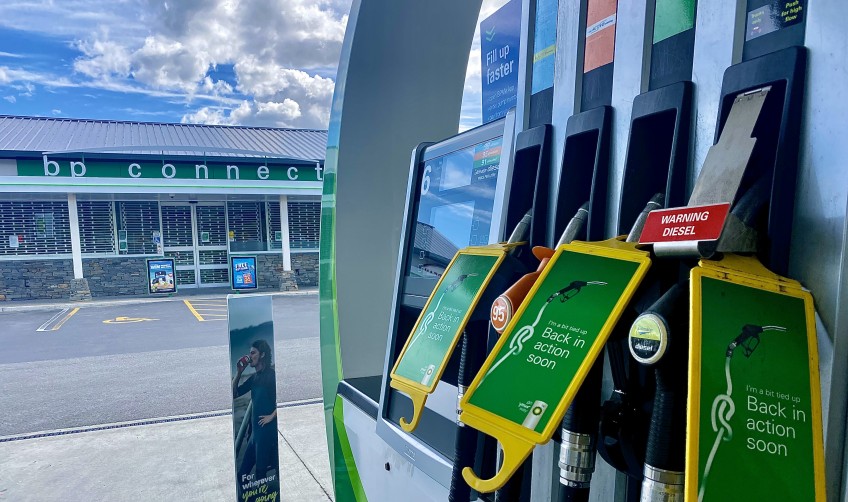 Wānaka BP closes due to staff shortages
---
Hundreds of motorists seeking petrol today from Wānaka's BP station near the Three Parks roundabout left without a fill-up with the business shut and unstaffed for much of the afternoon.
Crux Community Bulletin editor Nikki McKay was one such would-be customer.
She says she went with the intention to refuel this afternoon on the way to school pick-up.
Instead, she discovered the station completely empty of staff and the petrol pumps turned off.
"While I was there 15 people drove in and drove out...it's a huge loss for them."
There was a sign on the shop's front door telling customers "due to staff shortages" they should use the night pay window.
However, on inspection, Ms McKay found there was no one staffing the window.
"I've been there before when they've had staff shortages and they close the shop and use the night window. But there's always someone there, and obviously the pumps are turned on, so you can fill up."
On the forecourt, she spoke with a number of other Wānaka locals confused by the unexpected set-up.
"Everyone was quite shocked to find not only was there no staff there but the pumps were totally turned off, so you couldn't even pay at pump."
She's seen staffing shortages affecting hospitality outlets in town, and over the hill in Queenstown and Arrowtown, but going without petrol is another thing all together, she says.
Wednesdays are generally popular days for refuelling for BP regulars, who can fill up for 10 cents less a litre.
Crux has approached BP New Zealand's head office in Melbourne for comment. This afternoon, no one has answered the phone at the Wānaka BP.
Main image: Wānaka's BP fuel station on Sir Tim Wallis Drive was unexpectedly closed on Wednesday, November 9, 2022, with signs alerting would-be customers to staffing shortages.


---