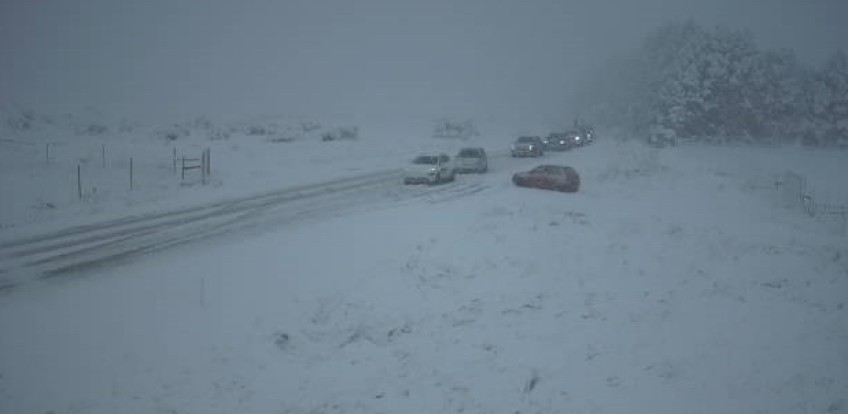 Drivers warned: snow's settling on southern roads
---
Update, 11am Thursday, May 11: The Crown Range has reopened but chains must be carried. Expect ice and grit. Plus, there's more snow in today's forecast. An alternative route between Queenstown and Wānaka is State Highway 6 via Cromwell.
Approximately 10 centimetres of snow has settled on some Southland highways this afternoon and authorities are warning Central Otago the cold front is headed this way.
State Highway 94 between Mossburn and Te Anau is blanketed with snow and Waka Kotahi says while it remains passable people unfamiliar with driving in snow should avoid travel.
"Some drivers with little experience of driving in snow have got stuck already today and needed help," a statement from the agency says.
On the road to Milford Sound, motorists are advised to carry chains between the Hollyford turnoff and The Chasm.
Meanwhile snow is falling in parts of the Queenstown Lakes District and forecast to continue into tomorrow.
In a Facebook post just after 4.30pm, the Queenstown Lakes District Council has advised motorists planning to travel over the Crown Range tonight or tomorrow morning to be prepared with snow chains.
"Temperatures are dropping fast up on the Crown Range, and chains should now be carried by anyone planning on using this route tonight and tomorrow morning."
Forecasts expect snow showers above 500 meters with the chance of three to six centimetres of snow to accumulate above 800 metres on the Crown Range until early Thursday morning.
"So make sure your chains are packed in your car and you know how to put them on! If you don't have a set or you are unsure how to fit them, please use the alternative route via State Highway 6."
Waka Kotahi expects road conditions to improve as Thursday unfolds, as fine spells and improving temperatures are on the cards.
Waka Kotahi is advising caution on four other sections of highway in the district that have a moderate risk of snow.
Crews are ready to apply grit for better traction where it is needed early tomorrow on State Highway 6 between Frankton and Kingston, State Highway 8 from Tarras over the Lindis Pass, State Highway 85 between Kyeburn and Ranfurly and State Highway 85 between Ranfurly and Hills Creek.
Metservice has issued a heavy snow watch for parts of the south, cautioning of snow on the hills and mountains of the Mackenzie Country, northern Southland, North Otago, Dunedin and Clutha.
The snow is likely to be above 400 metres with the heaviest above 700 metres, it says.
Main image (Waka Kotahi): Some drivers found themselves stuck in snow at Gorge Hill on State Highway 94 in Southland today.

---