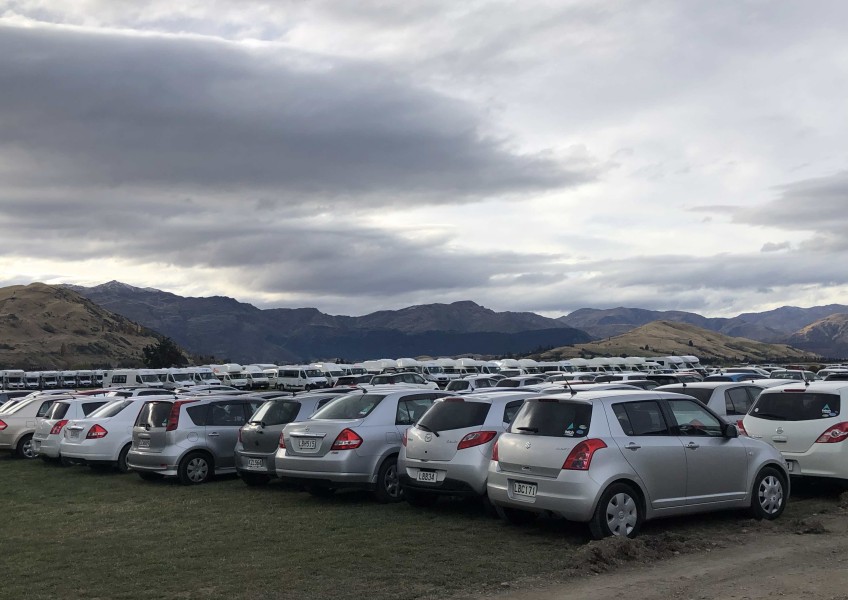 Updated. QLDC - Rental car stockpile "needs resource consent"
---
Update: Queenstown Airport Corporation has told Crux that the land featured in this story belongs to Remarkables Park Ltd. (Alastair Porter/RPL). RPL boss Ross Copland has told Crux that he is "in meetings all day" and hopes to get back to us tomorrow (Friday January 24th). Queenstown Airport Corporation says it acquired Lot 6 from RPL back on November last year, but says that Lot 6 is not being used to store cars.

The massive stockpile of rental vehicles stored by Queenstown airport's main runway needs resource consent according to the Queenstown Lakes District Council, but they can't tell Crux if such consent exists or has even been applied for.
Much of the land is understood to form part of Lot 6 that is in the process of changing hands from property developer Alistair Porter to the Queenstown Airport Corporation.
For a number of years, thousands of rental vehicles have been stored on the land as buffer stock for the many rental car companies operating from or near Queenstown Airport.
Crux asked QLDC on Monday if the activity needed resource consent, especially as the vehicles have become a dominant feature of the "scenic" landscape greeting all air passengers flying into Queenstown. It's an airport approach that has won an international reputation for being stunning and beautiful - apart from the huge rental car "dump" that the tourist marketing machine tends not to feature.
Here's the full response from QLDC.
"A resource consent to store rental cars in this location is required. However, while confirming whether a resource consent is held is normally an easy search process, we currently cannot confirm this as our records are being electronically remapped following the recent creation of new land titles on the site."
QLDC told Crux that the next step would be to trawl through all of their records trying to see if any of the rental car companies in fact holds resource consent, a process that is "likely to take quite some time."
Crux has approached Alastair Porter's company as well as the Queenstown Airport Corporation to see if either of them holds, or has applied for, resource consent.


---