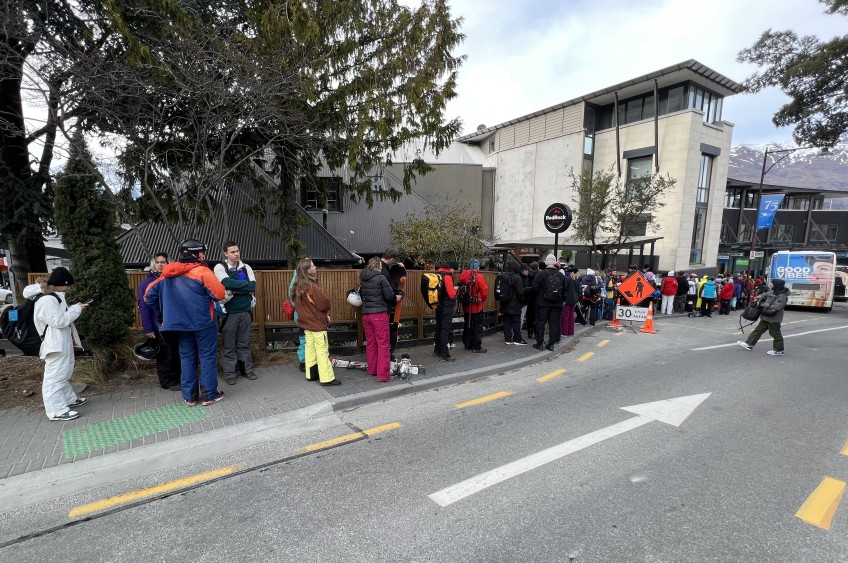 Transport crisis bites for NZ Ski
---
Problems with bus transport and driver availability are starting to bite for NZ Ski with hundreds left waiting in central Queenstown this morning for buses that could not meet demand.
Crux spoke to some of the people waiting at 10.00 am who shared their frustration.
One woman, who was visiting from Australia, said she was a regular ski traveller to Queenstown but would not come again. She'd been waiting since 6.30 am to get onto the slopes and still had a half hour wait at 10.00.
"They are not delaying the start of lessons until customers can get up the mountain. I had a lesson booked yesterday and missed the first 30 minutes due to bus delays. I won't be coming back to Queenstown."
Another Australian visitor said that he'd had extensive problems getting up the mountain but had received refunds.
"I had a hotel pick up booked – but that just did not happen. It's been bad but I have got some of my money back. It's all very frustrating but it won't stop me coming back to Queenstown next season."
Chief Executive Paul Anderson told Crux two weeks ago that the company was putting in orders for new four-wheel drive buses that would arrive next year.
Car parks reached capacity and access roads were closed "three or four times" across The Remarkables and Coronet during the peak of the July school holidays, Mr Anderson told Crux.
Bus driver shortages are also causing problems across the Orbus network, run by the Otago Regional Council.
Further north, councils in Auckland and Wellington are now increasing the hourly rate paid to bus drivers in an attempt to ease transport problems. An Auckland Council spokesman has said that $30 an hour for bus drivers is a rate that might need to happen in the near future.
NZ Ski issued the following statement to Crux early this afternoon.
"NZSki's Queenstown Ski Bus to Coronet Peak and The Remarkables has had a busy season so far with high demand from visitors and locals, especially during the recent school holidays. NZSki operates a fleet of 31 buses and shuttles in Queenstown but like all businesses has been affected at times by staff absences due to COVID-19 isolation requirements.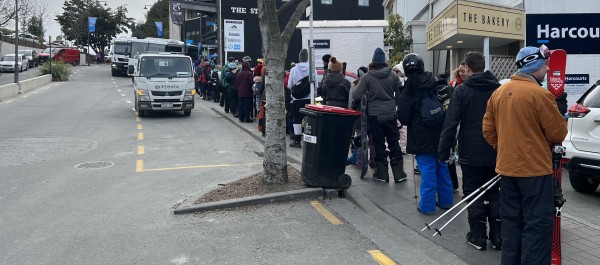 "Coupled with high demand to experience the incredible snow conditions winter has provided, this has led to longer-than-usual wait times for guests using the Queenstown Ski Bus. Due to high demand, reservations must now be made online prior to 8am on day of travel, with the exception of the pre-existing Ski Bus ticket holders, the Hotel Bus service and Season Pass holders.
"Guests can see availability for the Queenstown Ski Bus service when booking online and/or at The Snow Centre through the Reservations team. NZSki is encouraging guests who have reserved snowsports lessons to arrange private travel or book via the Hotel Bus service. If this is not possible, guests are encouraged to arrive before 7.30am on day of travel to depart on the first Ski Bus. If guests are delayed due to the Ski Bus service, the Guest Services team work to accommodate their bookings."


---