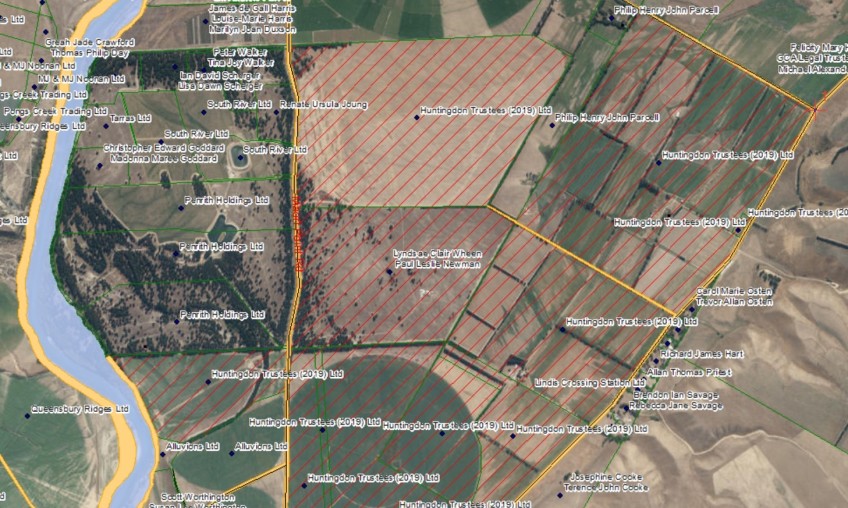 The mystery man behind $45 million of Tarras airport land purchases ** Updated.
---
See important story update below **
Tarras residents have started to mobilise against a Christchurch airport proposal to build a major international airport next to the small town.
One resident has assembled a map, supplied to Crux, of all local land purchased by Huntingdon Trustees (2019) Ltd. The company has only one shareholder and one director, Mark Dineen, an agri-business lawyer based in Christchurch.
The map of Huntingdon Trustees land purchases matches an outline of the proposed airport as supplied late yesterday by Christchurch Airport. The airport says the investment so far is around $45 million. A detailed map showing each of the Huntingdon land purchases can be viewed here.
When contacted today by Crux Mr Dineen said he would not confirm that he was acting for Christchurch Airport. "I'm sure you understand how things sit, I can't comment at all." Crux asked a number of times if Mr Dineen was acting for Christchurch Airport but received no confirmation.
Mr Dineen, acting for what was then Goodman Tavendale Reid Law, made a successful bid back in 2014 for a 1245 hectare Canterbury property previously part owned by Allan Hubbard in a deal reported to be worth a total of $65 million. Mr Dineen refused at the time to reveal who the buyer was but did disclose it was a New Zealand buyer. Mr Hubbard died after a car crash in 2011 but before his business collapse he was described as the most powerful businessman in the South Island.
Mr Dineen's LinkedIn profile includes the following description:
"Mark is highly regarded in the rural sector and frequently mentioned as the lawyer you want to have on your side. He is respected not just for his technical skills but also for the intuitive understanding he has of his client's position, his robust negotiating skills, and his resolute determination to get the very best outcome for the clients he represents."

"Mark's core expertise is around how the law applies to property based businesses and their owners. With a previous career in the agricultural industry, Mark is highly attuned to the issues facing those whose livelihood relies on the land."

"With a strong sense of community, Mark willingly contributes his professional expertise to a number of organisations. He is currently Chairman of the CRFU Disciplinary Committee and a member of the Canterbury Triathlon Executive."
In a separate development, the owners of Maori Point Vineyard are calling for a public meeting in Tarras in order to "take control of the consultation process" with Christchurch Airport. John Harris and Marilyn Duxson say they want to invite the following parties to the meeting:
Christchurch Airport Chief executive: Malcolm Johns
Christchurch City Council Transport and Infrastructure Committee Chair
Christchurch City Council Climate Change Committee Chair
NZ Treasury Airport Management representative
Local M.P. Jackie Deane
Government Climate Change Minister, James Shaw
O.R.C. Chief planning officer
The proposed meeting agenda issues fundamental challenges to the Christchurch Airport process.
Outline of proposal, timeline, hours of operation, flight movements
The big picture, justifying three large airports within 50 Km of each other
Christchurch airport self-describes as being "a land development corporation who happen to own an airport": details of planning for land use. Residential, light industry, road transport hub, accommodation and retail, changes to roading, provision of new infrastructure including sewerage, water, electricity, data services.
Definition of who drives the planning; partitioning responsibility between Airport Corporation and ORC. An outline of the new revised District Plan, taking into account the airport.
How this fits with national government planning for New Zealand's transport and tourist needs.
How this fits with national planning to mitigate climate change.
The short-term and longer-term effects on the Tarras community.
Social media comments and emails received by Crux indicate what may be the start of a structured Tarras campaign opposed to the airport development.
The Christchurch Airport management has said they will organise a meeting with the community next week.
Crux has approached Christchurch Airport for comment on these and other issues.
*** Update: Christchurch Airport has released the following statement to Crux confirming that Huntingdon Trustees (2019) Ltd is acting for them in the purchase of land near Tarras:
"We can confirm the land was acquired in the name of Huntingdon Trustees (2019) Limited, to ensure the required confidential conversations with each of the landowners was able to occur. With the exception of one block, which needs to complete an administrative step in relation to electricity services, these blocks have now been transferred into Christchurch Airport's name.
"Christchurch International Airport Limited is an independent commercial entity and the steps taken so far are well within our board's delegations. Our Board has regular conversations with our owners about our strategic priorities and those discussions will continue."
Read: Tarras: a tiny town in airport shock.


---