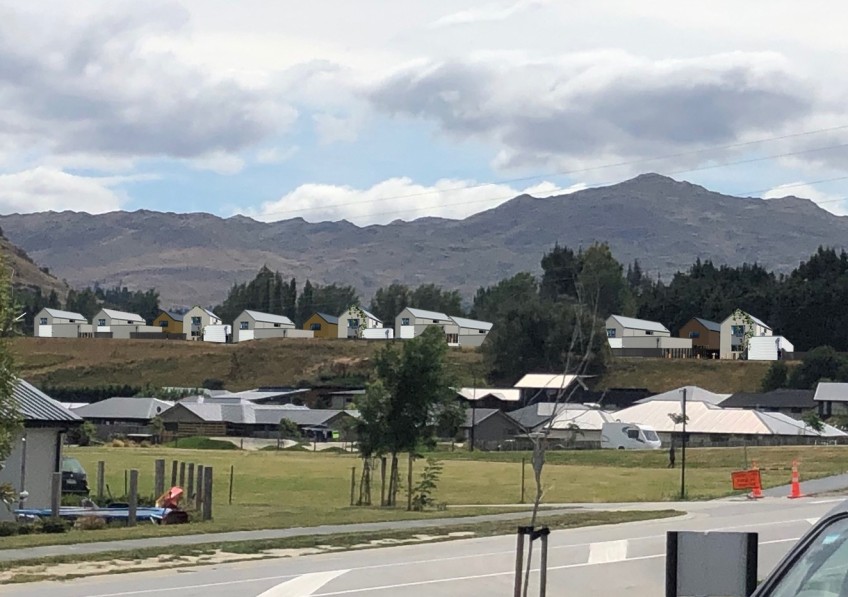 Subdivision madness? First shots fired in Laurel Hills opposition
---
A group of Shotover Country residents has launched their opposition to a proposed new subdivision only days after the project was announced.
The group has released an image of what they believe the new houses will look like (see main image above) from Shotover Country. They claim the houses will block light, create even worse traffic congestion and overload the already stretched Shotover Primary School.
Here's the main image without the addition of the Laurel Hills houses, for comparison.
The Shotover Primary School is already on track to become the biggest in the South Island when the school is extended to take the current roll of 650 to 900.
Laurel Hills Ltd proposes building 156 new houses between Shotover Country and the Shotover bridge, with an entrance just off the extremely busy Stalker Road.
The new protest group, that at this stage wants to remain anonymous, claims the new subdivision could add an extra 300 students to the Primary School and up to an extra 300 cars to the daily grid lock that is becoming an everyday occurrence on State Highway 6 into Queenstown.
The Government has offered a $24 million loan to improve roading infrastructure along Ladies Miles/SH6, but opponents say that multiple developments along this busy stretch of road will bring the area to a standstill, to an even greater extent than is currently the case.
Mayor Jim Boult told a recent Crux forum that development in the district will need to slow down or even stop in order for road infrastructure and environmental issues like water quality to be improved.
Here's a link to full information about the new subdivision as well as the opportunity to provide feedback to the QLDC consent process.


---