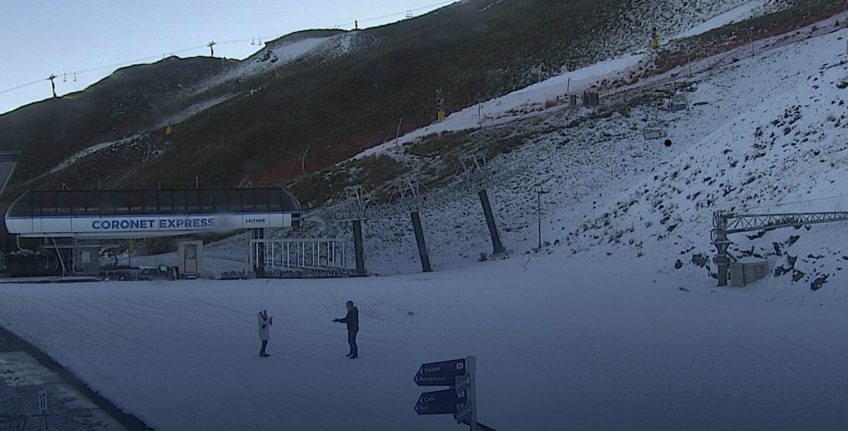 Snowmaking in full force as ski fields race to open
---
Southern Lakes ski field operators are optimistic about at least partially opening within the next week, despite webcams showing more tussock than snow at present.
Snowmaking is in full force at Coronet, Cardrona and Treble Cone as operators race to prepare for the expected onslaught of tourists when the Australian school holidays start next week.
Coronet Peak has been operating its 217 snow guns at every chance it gets, which has been hit and miss due to fluctuating temperatures, NZSki CEO Paul Anderson says.
"We're just in that temperature flow where we'll get some good snow making, then it'll warm back up a bit and we'll have to shut the guns down again," Anderson says.
"But we've been taking absolutely every shot we've got."
Anderson hopes to have Coronet Peak partially open by the weekend, and at least the learners area at The Remarkables by Wednesday.
"We'll probably get a bit of snowmaking done over the next 48 hours, but then on Wednesday we get a bit of warm westerly before it swings back to the south," he says.
Staff at Coronet and The Remarkables are currently undergoing training, and Anderson says they'll provide lunches and staff activities to keep them engaged until the lifts are turned on.
Anderson reckons Saturday night will bring the first decent snow dump of the season.
"It looks like we're going to get a nice wintery south southwesterly flow, which will really make things crank."
Cardrona opened its learner slope on Monday and has a handful of rails available off the bottom of McDougall's Chondola, which should be open to skiers and riders later in the week, GM Bridget Legnavsky says.
Leganvsky says like Coronet their snowmaking is also being interrupted by rising temperatures and humidity, but they hope to resume snowmaking with their 65 snow guns on Monday night.
The snow in the forecast for later in the week will more likely benefit Treble Cone than Cardrona because it's northerly, she says.
Staff at Cardrona have been rostered on to cover the partially-open main basin and have been in training, which they receive some payment for, Legnavsky says.
She added staff had been sent on trips to Milford Sound to let them see some of New Zealand before the season kicks off.
Due to the border closures Cardrona has a shortage of high end instructors which will impact the offering for Aussie tourists, Legnavsky says.
"If we do get busy, which we expect to when the snow comes and the Australians come, we will be very limited as to what we can deliver for the ski and snowboard school."
Since ski field operators have to cover the cost of Managed Isolation, they've had to be very specific with which roles they bring in from overseas, she says.
Cardrona and Treble Cone have been able to source their snow safety and patrol team domestically, but they've had to bring in high end groomer drivers including the Olympic halfpipe shaper, the Olympic slopestyle course designer and a very experienced driver for the steep slopes of Treble Cone.
They've also brought in 15 high-end instructors for the top end of the ski and snowboard school.
"We are just focused on our team and preparing them for the Olympic games," Legnavsky says.
"We've got medal potential in the New Zealand team and we will support that 100 percent."


---