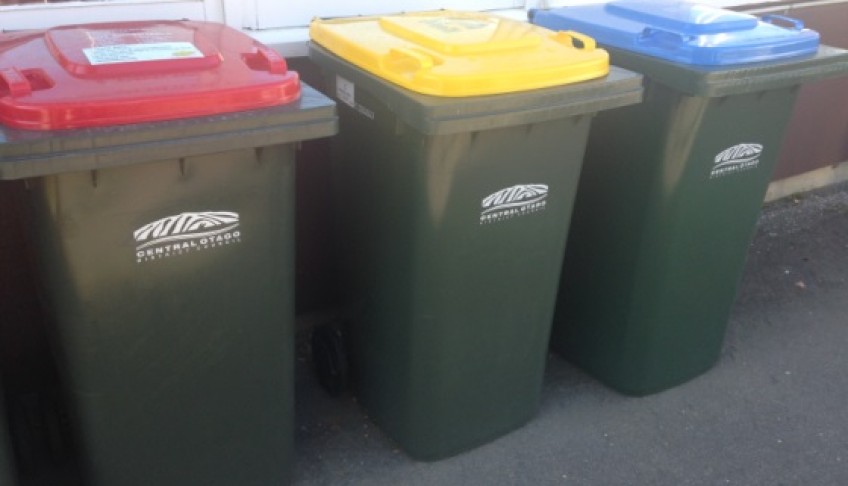 Rubbish Revolution - QLDC confirms new 3 bin recycling plans for 2019
Jun 26, 2018
---
The Queenstown Lakes District Council will vote this week on adopting a new three bin rubbish and recycling policy. Thursday's council meeting will be asked to adopt a plan that will help fix an inconsistent and often criticised current approach.
If the council votes to accept the plan then new contracts will be in place by July next year, as indicated two weeks ago by Mayor Jim Boult in his video answers to questions posted by Crux readers online.
QLDC's General Manager of Property and Infrastructure Peter Hansby said today that the council wanted to respond to public feedback that indicated rubbish and recycling needed to be better managed.
"Our communities care deeply about their environment and we're listening to their feedback that we need to make improvements to the way we manage waste" he said.
From 1 July 2019, properties in Queenstown and Wanaka will have three wheelie bins. One for waste to landfill, one for glass recycling and the final bin for mixed recyclables. Residents will have a waste bin collected weekly, and a glass bin and mixed recyclables bin collected on alternative weeks.
Mr Hansby said the new system supports the preferred Waste Minimisation and Management Plan programme of focussing on glass and organics, with the ability to bring in an organics collection at a later date.
"Currently, glass collected in the Wakatipu ward is sent to landfill because it is mixed in with other recyclable material making it very difficult to recycle. While there's more to do, the new three bin system will mean glass can be collected separately making a huge step towards improving this situation."
"We will support the new approach with an increased focus on education to significantly reduce the amount of household waste being generated and increase what we divert from landfill and recycle."
"Currently we have an inconsistent approach to collections across the district. The new approach significantly reduces the risk of injury, removing the need for our crews to physically pick up heavy bags and crates," Mr Hansby said.
The new waste contract will go out for tender next month with a decision due to be made prior to Christmas.
The Central Otago District Council already operates a three bin system - see main image.
Watch: Jim Boult previews the new three bin system in his Crux video answers.


---