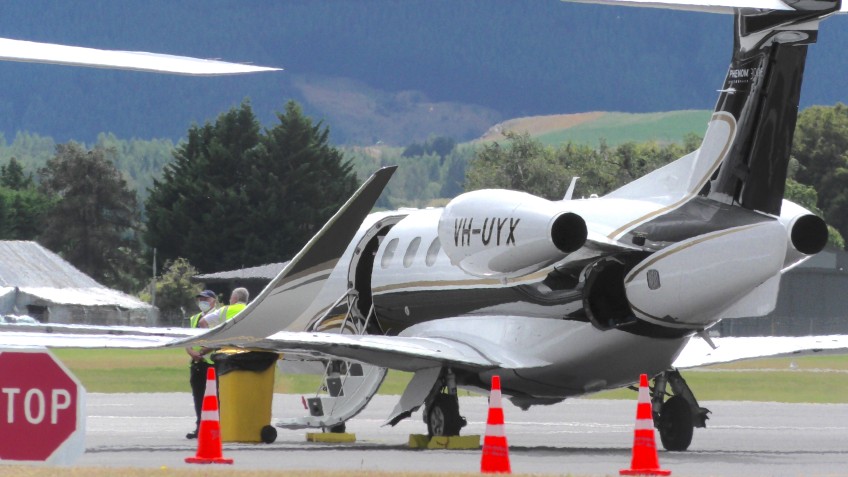 Q'town repatriation flight - one passenger to Sydney in private jet
---
Covid repatriation flights have become relatively common - but not usually for just one passenger in a $10 million private jet.
That was the case yesterday as an Embraer Phenom 300 jet owned by Special Mining Services Pty Ltd of Glenorie NSW flew into Queenstown around midday direct from Sydney to collect one unnamed passenger. The jet was on the ground for half an hour before heading straight back to Sydney.
Queenstown Corporate Jet Services (QCJS), the company that handles private jet traffic into Queenstown, was able to confirm that no passengers got off the aircraft in spite of a Crux reader at the airport saying that three people disembarked.
Crux has been asked on a frequent basis whether private jets are exempt from, or avoiding, New Zealand Covid public health restrictions and managed isolation requirements.
QCJS Queenstowm Manager Vickie Hill told Crux: "We do not take our job lightly and we are responsible and professional. This responsibility during COVID 19 has been extended to our Community too. We would not do anything that would compromise our Airport Community or the greater Community."
No less than ten Government and corporate agencies were involved in approving the Sydney flight yesterday including Queenstown Airport Corporation, Southern District Health Board, ITOC, NZ Customs NZ Immigration, Australia Border Control Intelligence Team, ITOC operation, MQS and IBOCHC.
The SDHB has told Crux that this is the first repatriation flight out of Queenstown in 2021. They issued the following statement:
"This flight involved a private jet with one pilot and no other crew.
The Pilot disembarked onto the tarmac for the pre-flight inspection and refuelling of the aircraft.
Ground staff were required to wear PPE and maintain physical distancing of 4 metres.
The Australian Pilot had no physical interaction with anyone in New Zealand. The Pilot re-boarded the plane and took the passenger with him to Australia.
Southern DHB was satisfied that appropriate public health measures were followed."
The Queenstown Airport Corporation issued this statement to Crux:
"As an aerodrome operator QAC is responsible for maintaining stringent levels of health, safety and security. We take a highly collaborative approach with our staff and airport community to ensure safety and security protocols are upheld.
The majority of private jet movements in and out of Queenstown since the closure of international borders have been domestic. A very small number of trans-Tasman repatriation flights have carried passengers from New Zealand to Australia. No passengers were brought in to Queenstown on these flights. In these instances QAC, border agencies, SDHB, and Queenstown Corporate Jet Services have worked together to ensure that all COVID-19 health and safety protocols are strictly adhered to."
Main Image: The Sydney jet on the tarmac in Queenstown yesterday afternoon.


---