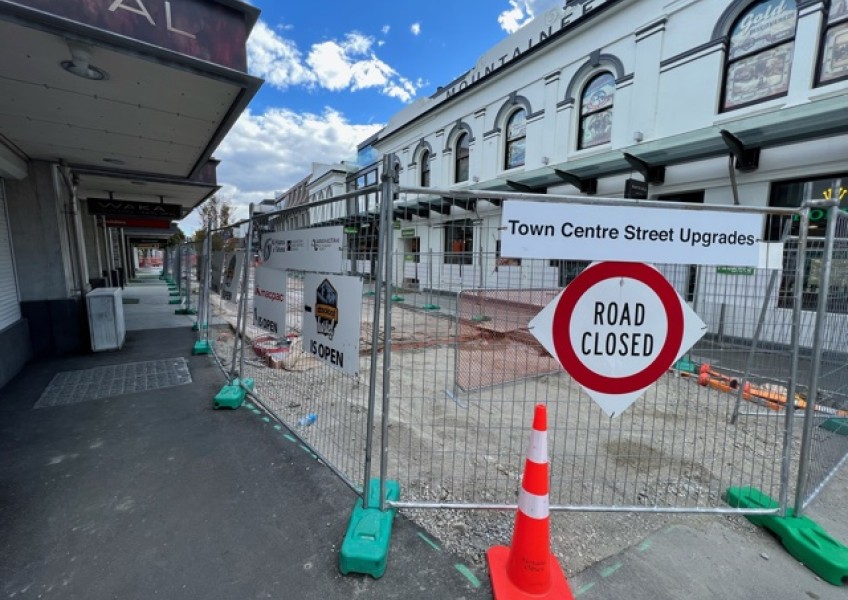 Q'town CBD disruption until December as borders open
---
The country is gearing up to reopen its border to international visitors but, with multiple roads in the downtown ripped up and fenced off, many are asking if Queenstown's risking not having the welcome mat ready.
In November, Crux talked to retailers fed up after months of dust, construction noise, fences and restricted routes for pedestrians on their doorsteps.
Nearly four months on, stores in the path of the town centre street upgrade project are still doing it tough, with a long schedule of continued construction work still ahead.
On upper Beach Street, Lucy Hunt, the co-owner of The Remarkable Sweet Shop, says it still looks like a "war zone" outside her shop.
Back in November, Crux spoke with Ms Hunt about the constant dust and noise from the street works, forcing her staff to near-shout to be heard by customers and clean the outside of the shop up to three times a day.
Now, after a brief tools down for the peak of the summer holiday season, not much has changed, she says.
"And, I suppose it's impacting our shop more now because it's right outside the door.
"It's just noisy and the walkway past the shop's really narrow. We're definitely feeling it."
She spoke with council last week for an update on when it may be back to business as usual, for her stretch of Beach Street, at least.
"They are aiming to be out of Beach Street by sometime in July.
"It would be great if at least the fencing and things can be down before the winter visitors arrive.
"But, all we can do is wait and watch. We don't really feel like we've got any control over it."
She's been told some work outside her shop will be done overnight, which is good news, she says.
"That minimises the impact."
QLDC has today confirmed to Crux footpath excavation and re-levelling along upper Beach Street over the next two weeks will happen at night, to minimise disruption to some businesses.
When the fences do finally come down, Ms Hunt says she's not expecting a huge transformation.
"I mean, when I saw the plans, I thought it looked a bit the same.
"But look, it's going to be good as soon as it's open to pedestrians – anything will be better, really."
Around the corner on Rees Street, Ugg Queenstown assistant store manager Geoffrey Yang says, for now, shoppers still seem to be easily finding their way to the business, and that's a good thing.
It's helped by there being good pathways leading to the shop, and having them clearly signposted, he says.
His biggest concern: noise.
He's been working in luxury goods retail for a number of years, and reckons the sound of workers and diggers will be jarring and annoying for shoppers.
He's been kept well informed of what's going on and feels positive he'll see improvements outside the shop when it's all complete, he says.
"Sometimes I've felt like the road hasn't been that neat or that flat, so it's really exciting to have the upgrade.
"The streets that have already been done, they look amazing.
"The project will give tourists a better experience of Queenstown."
When Crux talked with Oakley store manager Sian Leitch in November, the construction epicentre was right outside her door on Beach Street, and it was a mission for would-be shopper to access the store.
Although the core of construction work has drifted down the hill, things are still pretty chaotic for her, she says.
"Outside our shop they've got all the tiles and stuff stacked up.
"And from either end of the street it doesn't look that great, to be honest. It just looks like giant orange fences everywhere."
Just like when we spoke in November, Ms Leitch is finding progress to be frustratingly slow.
"Last week, I was off. And before I went away they said they were going to start paving outside of our shop.
"I was expecting to come back and be like 'Oh, cool, that's exciting.'
"Nothing's been done since then. It looks exactly the same as when I went left."
She's at the point where she doesn't have much faith in the timeline updates she's regularly receiving on the project, she says.
"Don't tell me the dates, if you're not going to get it done on time. I don't really care. I'd rather have no expectations than expect it to be finished on a day and it's not done."
She's crossing her fingers that when it's all done, that'll be upgrades ticked off for a good time to come.
"Hopefully they've done everything right, so they don't have to come back for a really long time, you know?"
Queenstown Lakes District Council's property and infrastructure boss Peter Hansby says there's plenty going on to interfere with the project's progress, but maintains things are still tracking close to schedule.
"Work has been progressing well in the context of a very challenging environment given last year's lockdown, the challenges of a tight labour market, shipping delays with construction materials, and managing staff isolation during the current Omicron outbreak.
"Such challenges are common to similar projects across the country."
When pushed for specific updates on some publicised project deadlines, Mr Hansby did provide them.
"The lower section of Beach Street was originally planned to be complete by the end of March.
"While we acknowledge there have been some delays in finishing the surface, we're pretty close to that target and now expect completion late April.
"The upper section of Beach Street has been challenging at times as we've worked around the constraints of the O'Connell's Mall redevelopment.
"Paving is underway in the section from Cow Lane up to Camp Street and we anticipate that area to be largely complete in May.
"Work on the section of upper Beach Street from Rees Street to Cow Lane has just commenced with planned completion in July."
Work on Rees Street, scheduled to start in February, started last week and will continue until December, he says.
He knows it's not easy for businesses in the midst of the work, and council is working closely with them to work through any issues, he says.
"Maintaining access to the town centre is crucial and, while the construction is significant, we are working very hard to ensure that people can get into and around town."
He reckons the current upheavals are worth it to both refresh and future-proof the downtown.
"In addition to the visible work that will modernise downtown Queenstown - improving accessibility, increasing active transport options and providing a much improved environment for locals and visitors to enjoy - there has also been a significant amount of work underground.
"Whilst the public won't see this, the work is essential to future-proof the town's essential services like three waters."
The total budget for the street upgrade programme is $60 million, which includes $35 million from the Government's shovel-ready fund, with the remainder from QLDC.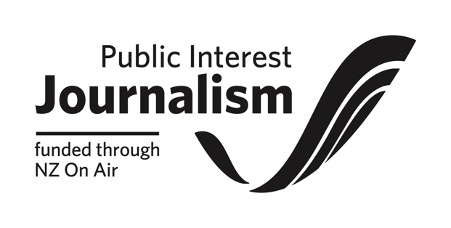 ---