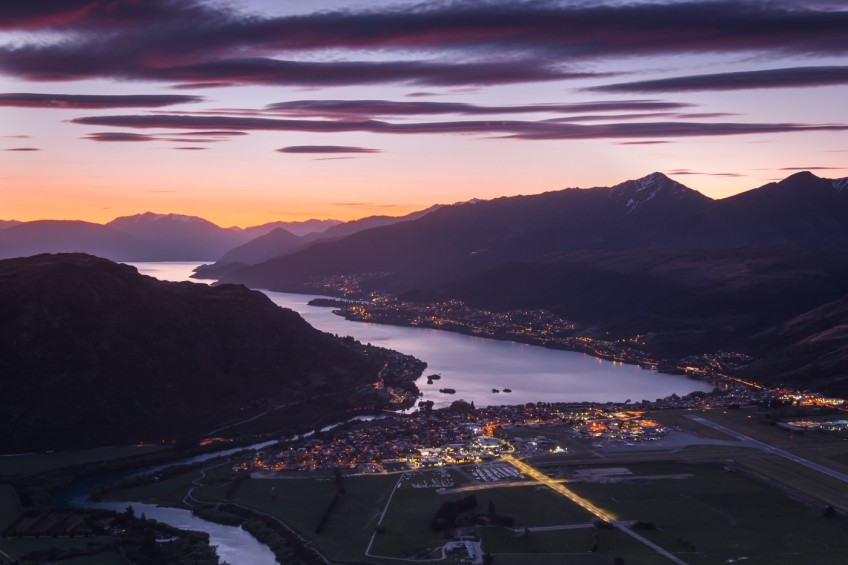 QLDC's airport survey release slides back - again
---
The much vaunted report that was supposed to guide future airport expansion will now not be released until the middle of June. QLDC says the consultants producing the report, MartinJenkins, have struck "operational problems" linked to Covid-19.
Crux was told on May 11, just 10 days ago, that QLDC was "still intending to release the report later this month (May 2020) as planned." The council's full response to Crux questions today about the report release date being changed is published further in this story but they have explained the new date as "we thought we had advised about the date change." Crux can find no such advice.
Originally the report was due out in March this year so that it could inform the council's consideration of the Queenstown Airport Corporation's Statement of Intent (SOI).
The SOI was instead adopted by council in controversial circumstances last month, against the views of over 80 public submitters who opposed adoption of the SOI that gives theoretical permission for further airport expansion work. QAC has however given an undertaking not to carry out any further expansion work.
Previously Crux has asked if the report is being reviewed or edited by QLDC prior to being released to the public and the answer as been an unequivocal "No."
However councillor Niki Gladding has asked the council to share the raw report data so that the community can be confident that the correct conclusions have been drawn. This request was refused by QLDC CEO Mike Theelen on the grounds that the data only "contributes" to the report's conclusions and it would be potentially misleading to interpret any data in isolation. Mr Theelen also told Councillor Gladding that the airport expansion document was "not a survey or a poll."
Councillor Gladding has now filed a LGOIMA offical information request to access the data.
Reacting to news of further delays in the report's release Mark Sinclair, deputy chair of the Protect Wanaka lobby group, told Crux "We have numerous concerns about the way the work was conducted by MartinJenkins early this year, and we have placed those firmly on record.
"We understand that QLDC has needed to divert its focus to district-wide Covid-19 issues. Presumably the consultants employed at great expense to the district's ratepayers to deliver these independent reports should have been working to get them in on time, to the original timetable. Community data was all gathered well before lockdown, and the original completion deadline was towards the start of lockdown. So it's disappointing to hear of these unnecessary delays.
"We're interested to see the reports, but our expectations are fairly low."
Cath Gilmour of the Protect Queenstown group told Crux: "If they use this delay to produce a robust, objective and well-informed report fully and fairly incorporating community feedback, that would be great. I think the biggest issue is lack of trust - of the MartinJenkins report and flawed process, and of council's communications with our community.
"People around the world are pointing out this is the time for a reset, to ensure that post-Covid recovery sets communities, economies and environment in the right directions long-term. Several councillors have said publicly that "business as usual" is not an option.
"So the bigger question is whether our councillors will use the time between now and QAC's October SOI deadline to find out from the community what we want from tourism, what will benefit us all.
"Because if not, all the updated reports in the world won't lead us where we want to go. Being an optimist, I'm looking forward to this conversation being timely, meaningful and heard."
Councillor Gladding expressed a similar view. "We don't need a rushed, mediocre report underpinned by 'pre-COVID' growth projections, so a delay makes sense. I'm expecting value for money - a stellar report that fully takes into account the impacts of COVID-19 and Climate Change, and the opinions of our communities. In other words: good things take time but it had better be excellent!
"Also, it's important to remember that this report doesn't decide the future of our airports - it's just one piece of information for councillors to consider."
Here is the full text of the QLDC response today in response to Crux questions about the report release date.
"Mid-June remains the target** for the report's delivery. Along with many other organisations, MartinJenkins has had its own challenges working through the COVID-19 effect, both on the report and its own operations. Most organisations have faced delays due to the lockdown and MartinJenkins is no exception.
"Airports have nearly ground to a halt, with current predictions it will be some years before pre-COVID flight numbers are seen. With this in mind, plus the adoption of the SOI (with the modified one not due until October), time pressure is not as critical as it may be under normal circumstances.
"Crux's comment about community trust is, of course, its own opinion. People have been focusing on responding to issues around COVID-19, including job losses and accessing or providing access to basic welfare needs such as food, accommodation or heating. Given the upheaval the country has been facing – the effects of which are far from fully understood – we believe most people will understand the small delay in the report's publication."
** Crux can find no record of a mid-June planned release date. When challenged, the following QLDC response was received.
"We thought we had advised about the date change – just to reiterate, the new ETA is now mid-June. Like many businesses, MartinJenkins has had challenges to operational matters brought about by remote access."

---