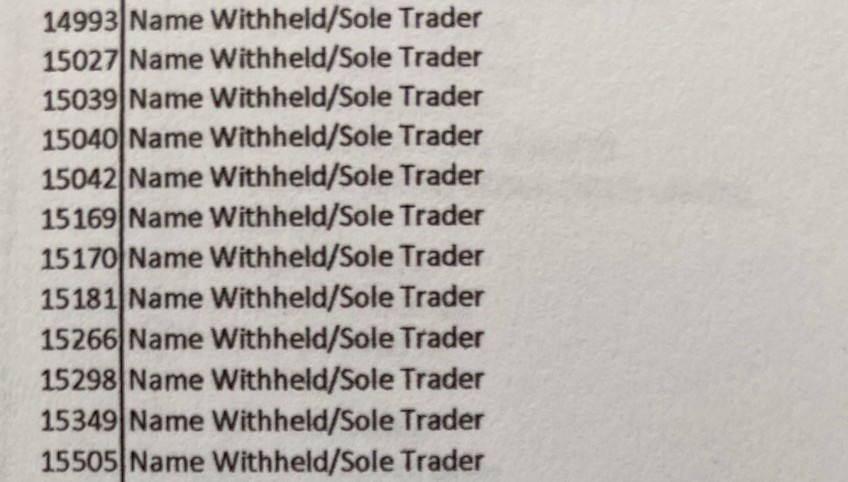 QLDC contractors - $388,672,685 in 3 years. We focus on ZQN.7
---
After three years of official information requests, QLDC has released to Crux a detailed list of how they spent ratepayers money on consultants and contractors – but the data still excludes a large number of payment details. The total spend is $388,672,685 over three years.
The period covered by the data is from July 2016 to December 2019. The data was supplied to Crux in PDF form using an extremely small font. It's taken weeks to decipher the information and research some of the names on the list.
This story is only a preliminary analysis, but we selected one QLDC supplier at random – ZQN.7, the last alphabetical listing in the data set – and the results are intriguing - see details below. We invite our readers to check out the list themselves and get in touch with any particular feedback or observations. Needless to say, we are going back to QLDC for more information.
Reporting on the activities of the QLDC in Queenstown is getting increasingly difficult. We mention this only because the information in this story has been obtained through years of official information requests and council rejections. The council has tried to charge Crux over $1,200 for this information and then, when we refused, they have provided a number of sets of incomplete data – using what might be described as "every trick in the book" to block and hide information that should be in the public domain.
This is detail of our money – the ratepayers and residents money – and how it is spent.
Many of our elected councillors will find these numbers surprising. That's because decisions about this level of spending are made by council managers. Our elected councillors generally sign off on broad policy matters – but this $388 million has been allocated to different companies and individuals by council staff. We are assured by QLDC that proper contracts are in place but it is worth bearing in mind that purchase orders have not always been used by QLDC and many aspects of the QLDC finance system have not kept pace with modern accounting practices.
In order to get this information we had to refine our requests to exclude everything under $25,000 per annum per contractor.
QLDC also removed details of a large number of contractors using this explanation:
"Note: For privacy reasons, contractor names for any sole traders or self-employed workers that use their own personal name as the company name have been withheld."
Crux does not understand or agree with this decision and will challenge it via the Ombudsman's Office in due course.
Please note that our analysis is limited and our ability to classify each supplier has been made difficult by having to agree to a QLDC condition that contract/transaction details are excluded from the data set. We have generally ignored most payments under $150,000 in the data set unless they seem unusual or noteworthy. Crux regrets having to use this subjective approach, but invites readers to look at the data set themselves and share feedback/observations. We are more than ready to be corrected if we have made an inaccurate assumption due to the limited information supplied by QLDC.
Where your money goes.
In brief, it's a very good time to be a lawyer, a roading contractor, a planning consultant, someone who looks after trees or someone who sells postage, office furniture and electricity to the QLDC.
$122 million went on roading contractors and builders, with another $49 million to the planners and consultants who support that type of project. Note that the QLDC can recover some of the consulting costs by on-charging to clients who are running building projects.
For every $3 spent on roads there was $1 spent on planning consultants - but often the two roles overlap. We had difficulty separating them

The lawyers do well – this is just a list of the most prominent people getting paid for legal services. Three large accounting firms, Deloitte, Ernst and Young and KPMG were paid a total of $1,434,262 between them.
People who look after trees seem very popular with council staff. We all love trees, but this does seem like a lot of cash to look after them – or cut them down, especially when the Otago Regional Council is supposed to take care of Wilding Pine control. There were also payments totalling $3,106,535 for what we assume is fertiliser from one supplier - A B Lime.

Council travel and entertainment is a big number - $2,645,432. We are not suggesting that $1,716,503 was spent on council staff portable toilets – but we were not sure what these were used for, so we put them in this category.
Given that the council has around 400 employees, the spend on their own offices, printing, supplies and furniture seems very high.
A big investment was made on training and strategy advice for senior managers. We take a detailed look at ZQN.7 at the end of this story.
Someone might want to take a look at the council's phone and power bills.
The council's media spend was high, but the Wanaka Sun can be pleased with their share of the QLDC pie.
QLDC spent $1,083,929 on their leased vehicles and $212,500 on parking them in the Queenstown's Man Street car park.
The tourism sector does very well with ratepayer support but note that a high proportion of this contribution does come from a specially targeted commercial rate.
The two Chambers of Commerce get a decent amount of ratepayer support with $296,462 going to Queenstown and $79,875 going to Ignite/Wanaka.
A decent chunk of our cash is spent on waste services and water.
Finally, there's a big group of other councils, Government agencies and external organisations that get $30,946, 418. NZTA is paid their (Government) share of roading projects but other payments in this category warrant further study – such as the payment to Westpac bank of $2.8 million in carbon credits – and $701,000 to Wheelers Book Club (we assume this must be for library books.) Also – the Walk in the Park project is fine, but does it really need to cost $159,000? Alastair Porter and Sir John Davies (Remarkables Park and Trojan Holdings) also get paid – but we don't yet know what for – as with $300,745 to Skyline Enterprises and $249,000 to the Queenstown Airport Corporation.
ZQN.7 - and Ruth "Ruthless" Stokes.

We promised at the start of this story to take a deeper look at one randomly selected supplier. We settled on the mysteriously named ZQN.7 as it was the last on the alphabetical list supplied by QLDC.
This company was paid $505,285 during the last three years - $388,133 in just 12 months between mid 2018 and mid 2019. The company has no website.
The two director/shareholders of ZQN.7 are Antony and Ruth Stokes. Antony Stokes looks to be involved in various salmon farming businesses, but Ruth Stokes seems to be the person nicknamed "Ruthless" due to her controversial and feature-packed career in Local Government.

Mrs Stokes has commercial and public management qualifications from Victoria and Auckland Universities. After rising through the ranks of Auckland Council, KPMG and Westpac Bank in strategic and financial roles she ended up in Queenstown as Chief Executive of QLDC controlled Lakes Leisure in 2012. QLDC was the only council in the country to run regulatory activities through a Council Controlled Organisation and a subsequent report pointed to high governance costs linked to Lakes Leisure.
Then QLDC CEO Adam Feeley (a former non-executive, non-shareholder director of consultants Rationale - paid $2.6 million in our report above) shut down Lakes Leisure – with multiple job losses. Ruth Stokes, according to reports at the time, has been told she could re-apply for another council position – a fact that caused anger amongst other Lakes Leisure staff who were left without a job.
Mrs Stokes in fact went on immediately to become General Manager Operations at QLDC – a job she held until January 2015.
She then moved to the Dunedin City Council, perhaps anticipating Adam Feeley's fall in a series of disagreements with Mayor Vanessa Van Uden, who had become a critic of Feeley's handling of Lakes Leisure and his attempts to tighten loose financial and governance controls at the council – using his Serous Fraud Office experience to engineer big changes. Changes that were never finished.

It was in Dunedin that Ruth Stokes gained her nickname – "Ruthless." In fact, it went further than that. The ODT reported one Dunedin Council staff member saying, "Speaking for myself, I'm absolutely shit scared of the woman."
Interestingly Ruth Stokes replaced Tony Avery, now QLDC's Planning boss, who left the Dunedin City Council in the wake of the $1.5 million Citifleet fraud. In her DCC job she controlled $2.1 billion of ratepayers' money as head of Infrastructure, on a salary of over $200,000.
In the midst of staff issues and grumbling about Mrs Stokes' tough, no-nonsense approach she resigned in December 2017, citing "personal projects" in the pipeline. Mayor Dave Cull said "I, to some extent, feel sorry for her ... I think she, under extremely difficult circumstances, was doing an exceptional job." Some of her ex DCC staff were less positive, one being quoted by the ODT at the time as saying ''All the staff just get thrown under the bus. Many of us were left feeling slack and useless.'' Ruth Stokes was interviewed by the ODT in May 2016.
ZQN.7 was formed on February 21st, 2018 only two months after Ruth Stokes left the Dunedin City Council. By the end of June 2018, only 3 months after ZQN.7 had been incorporated, QLDC had handed over $63,180 in consulting fees – around $20,000 a month. Then in the 12 months following, ZQN.7 was paid $388,133 – equivalent to $32,344 per month or around $1,600 a day.
This is how Ruth Stokes describes the work on her LinkedIn page.
Between July and December last year ZQN.7 was paid a further $53,972.
A quick search of company records shows that Ruth Stokes owns 50% of the shares in ZQN.7, with the other half being owned by husband Antony. The company records show three addresses in Queenstown: 15 Advance Terrace, Arrowtown, 37 Suburb Street and 12 Pritchard Place, Arrowtown. None of these addresses shows either Mr or Mrs Stokes as being either the owner or the ratepayer. However, ZQN.7 is listed as the applicant for resource consent for a multiple residential/visitor accommodation unit at 3 Turner Street Queenstown, with the loss of one mobility car park.
The resource consent for the property just above the QLDC's Gorge Road offices was granted last year, providing overnight accommodation for up to 20 people in four units.
Crux has asked QLDC for details of the consulting contract with ZQN.7 and details of what the work involves. Ironically, if Ruth Stokes had used her real name in sending invoices to QLDC, her details would have been hidden under the council's "Privacy" ruling - a ruling that, in any case, Crux will be challenging.
Could ZQN.7 be linked to the Queenstown Airport Corproation's expansion project, with the "7" referring to 7 million passengers a year? We will find out.


---