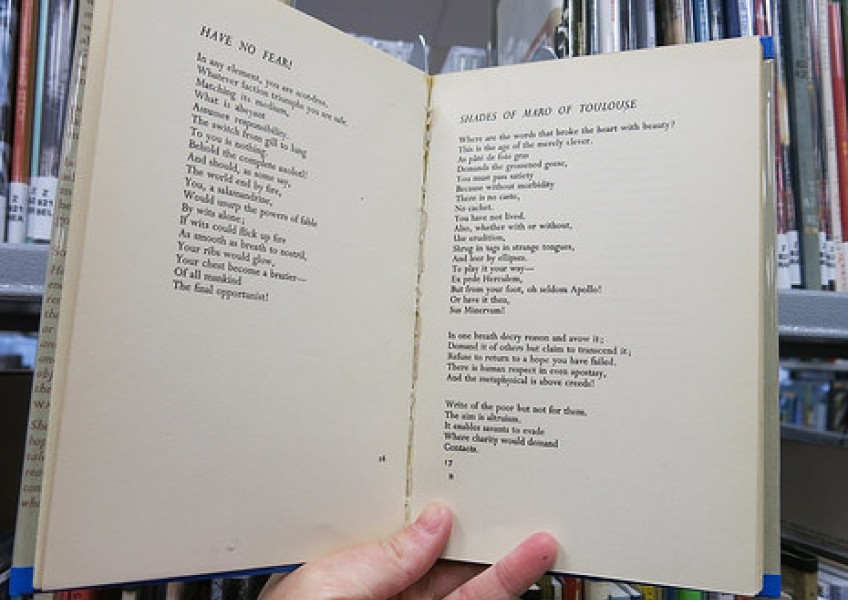 Poetry - making our troubled world a better place
by Laura Williamson - Sep 03, 2018
---
Crux's arts writer, Wanaka's Laura Williamson, tells us National Poetry Day brought a taste of the verse-quake to our region...
For the 21st time last month, the Phantom Billstickers National Poetry Day took place across New Zealand, and while fewer people were smashing yardies than at your typical 21st, it was a banger.
Held annually on the fourth Friday in August, National Poetry Day sees the whole country aflutter with words, with open mics, poetry competitions, readings, broadcasts and workshops celebrating that perfect distillation of language that is the poem.
The 2018 National Poetry Day was the largest yet, which is great, because with the way things are going with the world these days, I say the more poetry, the better.
More than 135 events took place, including a 'Poetry Fridge Door and Poetry Generator' in Nelson; Christchurch's saucily-titled 'Speed Date an Editor' (forget Tinder, show me a well-placed semi colon and I'm yours); poetry on patients' lunch trays at Dunedin, Wakari, Southland and Lakes District Hospitals; and something called the Great New Zealand Prose Deletion, for which writers deleted most of the words from published pieces of writing to make poems from what was left.
Then there was the lovely fellow in Taranaki called Pete who spent 24 hours doing poetry-related activities with a focus on mental health. He carved a poem onto a log and dropped it in the sea, which, truth be told, brought a trickle to my eye when I read about it.  
In Wanaka, we were one of the lucky communities to be chosen by the poet David Merritt to be part of his #poetrybrick project. David sent 25 "poetry bricks" out to 25 locations, including Wanaka Wastebusters. Each brick contained 23 poems, and recipients were welcome to do what they pleased with them – pass the poems around, read them out loud, display them, dance to them, make origami/poem hybrid robots (please send me one if you did this).
It went off like a windsock in a nor'wester. All around the country, people - normal people - were reading David's words - to themselves, to each other, on social media - and getting visibly excited about the whole thing. I don't blame them. This sort of thing is the exact opposite of the English classes I remember from school, which mostly involved reading Keats' 'Ode on a Grecian Urn' 178 times, gawking at a tall boy named Brad, and memorising the definition of onomatopoeia for tests. As if onomatopoeia was going to help me succeed in life. Or with Brad.
The poetry brick is also the opposite of a traditional print lots/sell lots publishing model. David makes each of his poems into small single-poem "books" out of recycled materials (banana boxes, old book covers), and a rubber stamp alphabet set – each is its own object. As well as putting them into bricks, he sells them from street-side tables; I bought a bunch from him in Courtenay Place a few years back, and they sit proudly, displayed in a toast rack, on my kitchen table. (I still have my high school poetry anthology too; it's nowhere near my kitchen table.)
Former Poet Laureate Bill Manhire, speaking on RNZ's Lately with Karen Hay, raved about the bricks, noting they are self-published, but hastening to add they are "actually good poems", a nod to a stigma surrounding self-published books. It's a stigma that is starting to evaporate, as it has in the music industry, where musicians have taken the potential of technology – YouTube, Instagram, Garage Band – to make and distribute art without needing, or wanting, the involvement of record companies.
It's not that I want the print industry dead, but that alternatives are popping up everywhere at a time when there is nothing short of a verse-quake happening in New Zealand is not a coincidence.
Bricks and prose deletion aside, this is no more evident than in the slam scene. Slams are live competitive poetry events which are taking off, especially with young people who love the rowdy atmosphere, the permission to say bad words, and the more-than-tentative links to super-cool stuff like rap battles. An established poet once told me, "I can't enjoy them, the quality of the work is so … poor", but of course she was missing the point. Poetry, and all art, should not just be about quality, or what has come before and been judged to be good, but about expression – guts laid bare on the page and bravado on the stage expression.
New Zealand has a national back-catalogue of poetry that is extraordinary – Fleur Adcock, Hone Tuwhare, Jenny Bornholdt, Alistair Te Ariki Campbell, Allen Curnow, James K Baxter and on and on and on – but a publishing industry, like the music industry, has gatekeepers, and in a country the size of New Zealand, those gatekeepers have been few.  
It makes you wonder what we have missed. David Merritt is a hint, as were the poetry slams, fridge doors, word-slathered lunch trays and Facebook livestreams we saw across Aotearoa on August 24. The voices of many people, words unfiltered, celebrated, and treasured, just because someone put them out there.
Laura Williamson is a writer and editor based near Wanaka. She is the co-writer of The Blue Moments Project song and spoken word cycle, and her book "The Bike and Beyond: Life on Two Wheels in Aotearoa New Zealand" is out now as part of the BWB Text series from Bridget Williams Books.

---