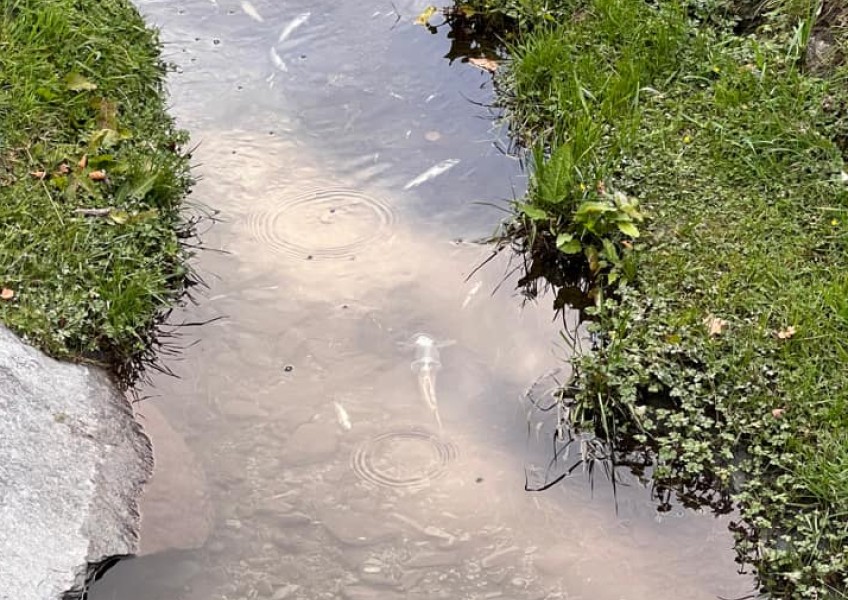 Long wait for results for clues to dead fish
---
Local pollution watchdogs are still at a loss as to what caused the death of approximately 150 fish in a Queenstown creek two weeks ago, as authorities continue to wait for results to testing done on water from the site.
Meanwhile testing on the fish themselves was never actually undertaken, despite initial indications this was happening.
The Otago Regional Council was alerted to the masses of dead fish littering Horne Creek by members of the public on Saturday, April 30.
The following day, ORC staff collected water from two locations along the creek, and these were sent for testing in the hope the results may shed some light on what killed the fish.
However, a fortnight later, results are still coming.
In a statement today, ORC compliance manager Tami Sargeant says the samples are with a Christchurch laboratory, which the ORC routinely uses for its standard water sampling.
Results "could possibly be back later this week" - the usual turnaround time for testing is up to two weeks, she says.
Earlier, the ORC had indicated autopsies of some of the fish were also being completed, and Crux has repeatedly asked for any results from these tests.
However, today, the ORC has clarified no fish autopsies have been carried out.
"Some of the fish carcasses are being held at the ORC's Queenstown office and advice is being sought on which laboratory is best to send samples to, if the ORC decides to have them tested."
Despite call-outs to the public for help to identify a potential pollution source, the ORC is none-the-wiser as to what went wrong in the creek.
Ms Sargeant says that's slowing the process down as the laboratory can't be asked to test for specific chemicals or substances.
"Possibly testing would be quicker if we knew the source of pollution or pollutant, but the tests being done are all standard tests."
The stream where the fish were found passes through a mix of rural and industrial land-use zones, she says.
"Lower down it passes through residential and commercial areas."
There have been no further reports of dead fish in Horne Creek, she says.
Anyone who may have seen anything in relation to the fish deaths, can report it via the ORC's Pollution Hotline on 0800 800 033, and information can be provided anonymously.
In August, members of the public also raised the alarm after a section of Horne Creek turned a fluorescent shade of green and a hunt began for the source of the pollutant.
The ORC wants to remind locals drains are only for rain, and local authorities can help with advice on appropriate ways to get rid of different types of waste. There's more information on the ORC's website.

---