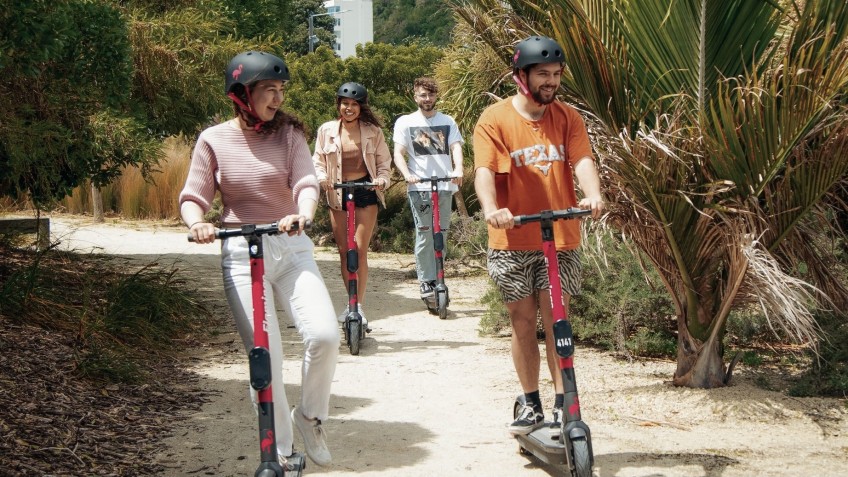 No e-scooters for Wānaka, for now
---
E-scooters are coming to Queenstown's streets, but not Wānaka's, for now.
Despite having go-ahead from the Queenstown Lakes District Council to launch its e-scooters in both locations, a spokesperson for "micromobility company" Beam says Wānaka's off the cards for now.
"At this stage we are focusing on our upcoming launch in Queenstown, after which we will seek to commence operations in Wānaka."
There's no other information about the Wānaka launch to provide "at this time", the spokesperson says.
Yesterday, representatives of Beam were in Queenstown attempting to woo more local businesses to get onboard.
Its business plan relies on partnering with local businesses, who agree to have the up-for-hire scooters parked up on their properties.
And, within a matter of weeks, Beam needs room for 300 of them.
A spokesperson for the company has confirmed hundreds of scooters are expected to be headed Queenstown's way this month.
For now, it's got 12 local businesses willing to host "virtual docking" parking spots for the scooters - among them, FreshChoice Queenstown, The Flaming Kiwi Backpackers and DoubleTree by Hilton.
But Beam says it still needs more.
The spokesperson isn't willing to share a list of what businesses it's already partnered with in town, saying "all partner businesses will be released closer to the launch date."
Crux has been told Beam scooters can be hired via an app, with options for users to pay-as-they-go or manage a subscription.
Partner businesses earn a commission per trip.
Kiwi rival aims for locals, not just tourists
Meanwhile, Beam may shortly have some competition from a Kiwi rival.
Flamingo Scooters has confirmed it's set its eyes on Queenstown and Wānaka too, and is promising its operation is geared for locals, not just tourists.
Its point of difference: it's asking straight up for its for-hire e-scooters to be parked up in public spaces - a plan it reckons allows locals to more easily use e-scooters to get to public transport stops and directly from home to work.
"We plan to position our service as a genuine alternative transport option for locals. Flamingo's deployment methodology is not solely demand driven and we focus on a wide distribution around suburban centres," a spokesperson says.
"This is the real benefit of micromobility…We believe this model better aligns with the Queenstown Lakes Climate and Biodiversity Plan to provide a transport system that is low-emission and better connected."
The company wants its scooters on local streets this year.
"We are in the process of preparing a proposal for council and hope to launch approximately 200 scooters."
There's things it plans do to help prevent the scooters becoming a nuisance in public spaces - onboard sensors to alert a response team to a scooter tipped over and lying on the ground or submerged in the lake, onboard GPS to enforce geofenced no-parking zones in areas such as those downtown with high foot traffic, and incentives for users who follow the rules, the company says.
Main image: Beam's been given go-ahead, but a Kiwi rival e-scooter company has it's eyes on Queenstown and Wānaka, and it says it offers a service aimed at locals.
Read more: QLDC gives thumbs up for two-year e-scooter trial


---