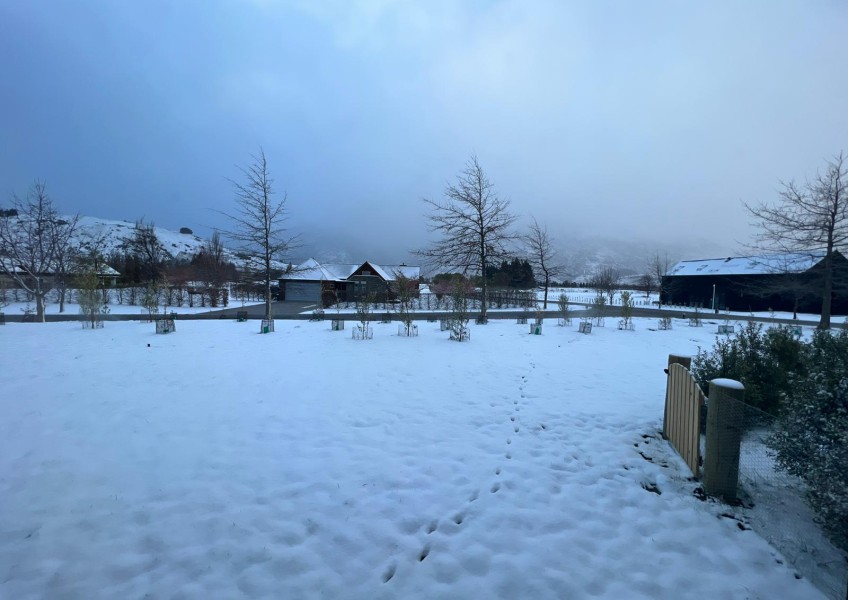 Antarctic blast: MetService extends its snow warning for the South
---
Wānaka has recorded a record cold temperature for October overnight as weather forecasters extend wild weather alerts for the region.
The temperature at Wānaka Airport dropped to three degrees Celsius overnight - the coldest October minimum since records began in 1992, according to MetService.
A heavy snow warning has been extended through until 1pm today - with a further five to 10 centimetres of snow expected above 200 metres, with lesser amounts down to sea level.
The warning is for Central Otago south of Alexandra and the Southern Lakes District south of Queenstown, as well as Southland, Stewart Island, Clutha, Dunedin and Fiordland south of Te Anau.
The previous warning was until 9am today.
It's a cold start for many as power remains out across the southern region, and while most roads have reopened throughout the morning, drivers are being advised to be cautious and avoid travel where possible.
Aurora Energy is advising customers to "rug up and keep warm" as power outages impact businesses and households across Wānaka and other areas in the Upper Clutha.
Planned outages have been cancelled today in the Southern Lakes, Central Otago, and Dunedin, it says.
Powernet is also reporting a power outage in Wānaka's Northlake.
First thing this morning the Queenstown Lakes District Council was advising residents and visitors to "reconsider travel" due to roads being "like skating rinks" due to black ice.
"If you must travel, slow down this morning."
As at 10.20am, the council says chains are no longer required to be fitted when traveling over the Crown Range, but carrying them is advised.
Queenstown Airport is open, but is advising anyone travelling to check the latest flight information online as some flights have been delayed or canceled.
NZTA says with a number of snow and ice-caused closures around Otago, Southland and further north on Banks Peninsula overnight, sunshine, grader drivers and grit truck operators are making a dent in getting key highways reopened and safer for drivers.
In a statement to media at 10.37am, Nicole Felts, NZTA's journey manager for Otago and Southland, says ice and snow are continuing to have an impact, however.
"Even when roads have reopened, there may be black ice which is hard to spot under trees and on bridges. Grit also requires drivers to slow down and avoid sharp braking."
The cold has Central Otago orchardists on alert and sprinklers are being used to douse trees in water to give budding fruit a fighting chance.
The warm pocket between the resulting ice and the bud is the orchardists' best defence against damage.
Main image: Spring snow blankets Threepwood, Queenstown, Thursday, October 6, 2022.


---