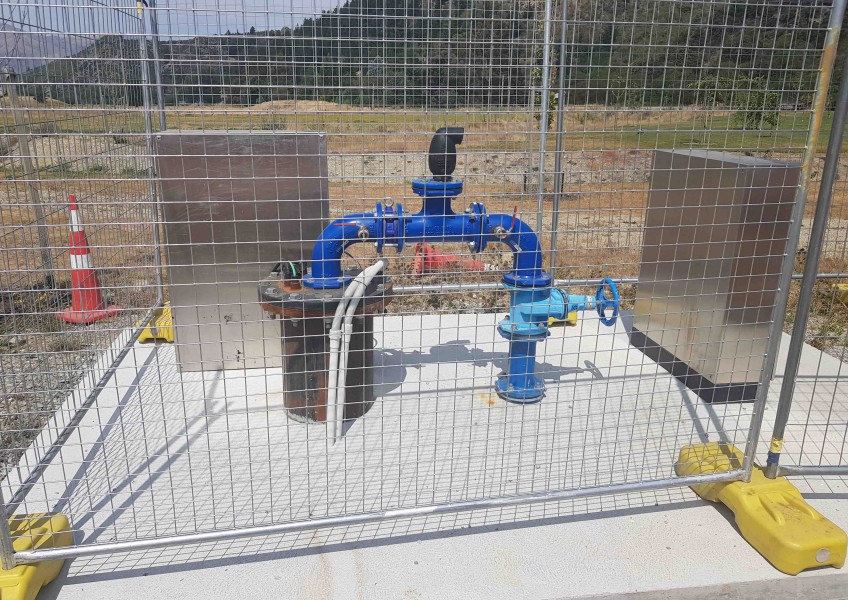 Luggate's water problems solved (hopefully)
---
These long hot days have taken an extra toll on Luggate residents, who have questioned the need for recent stop-start water restrictions. It appears that it has been a matter of bad timing though, and QLDC Chief Engineer Ulrich Glasner says they're hoping the latest (softened) restrictions should be lifted by the end of the week.
Originally told to restrict water (no outdoor hoses or irrigation) in early January, the community was then told the restrictions had been lifted on the 23rd, only to have them reinstated on the 24th and then reduced yesterday.
Glasner explains it from the beginning. "Luggate originally had two bores, one of which we couldn't get enough yield out of. So we found a new location and did the testing required to get resource consent from the regional council, which took about 12 months."
He says they received resource consent on December 20th, on the condition that there was a monitoring meter put in place nearby. "To do that we needed recording instrumentation, but over Christmas we couldn't get that!"
Glasner says most of the stuff need arrived last week, hence the restrictions being lifted on Thursday. However, when he checked the water levels in the reservoir that evening, it had gone down 36%, and he immediately put restrictions back in place to prevent another spike.
While Glasner says they are hoping to lift the softened restrictions (which you can read below) by the end of the week, everybody should continue to make an effort to conserve water, and that's the whole district.
"We still ask that people are diligent when they are using their water - like trying not to use irrigation between 6 and 10 in the evening when everybody else is."
Dave Hawkins, who runs the local irrigation scheme for those not on town supply, has been working closely with QLDC on the matter, and says he has been kept up to play on the whole unfolding drama.
Hawkins says when people were told they could go for it on Thursday, they really went for it. "Everybody put their irrigation on at once, and the fire brigade decided to fill up their tanks, all before the reservoir had time to fill up."
There were concerns voiced amongst the community that perhaps there was an issue between QLDC and ORC, but Glasner says that resource consent is always a lengthy process.
This is the latest information issued by QLDC
After first being introduced last week, water restrictions will be softened in Luggate today. However, in an effort to decrease peak demand we will be implementing the following:
Odd numbered street addresses are to use sprinklers and hand held hoses on odd numbered calendar days
Even numbered houses are to do the same on even numbered calendar days
On their allocated watering days, residents are asked to avoid using hoses during the peak demand period from 4pm to 10pm. On the intervening days water restrictions will remain in place. These are:
No sprinklers or outdoor hosing
All irrigation and automatic watering systems are to be switched off
Watering gardens and lawns is only permitted using a hand-held watering can or bucket filled directly from a tap.

After the initial removal of water restrictions last Thursday, water demand far exceeded supply and the existing and new bores were not able to keep up. With the dry weather and water restrictions it was understandable residents were keen to get some water on their gardens and lawns; however, although it remains hot and dry, residents are encouraged to adhere to the above restrictions and save water where possible.
Main Image: The new water bore at Luggate.

---