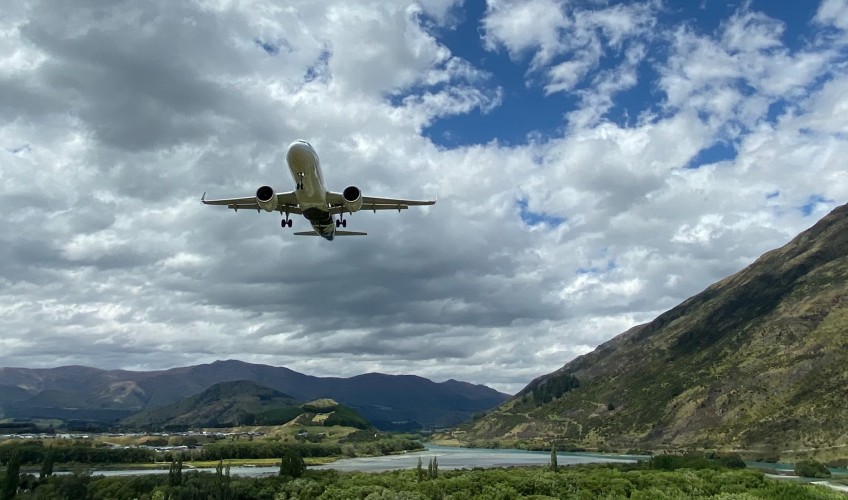 Jetstar to Q'town tower - "Large snake on runway."
---
** Updated with statement from Queenstown Airport Corporation and Airways.
Crux understands that a large python fell onto the runway of Queenstown airport last week, into the path of another incoming flight, posing both a safety and a biosecurity risk.
The snake, believed to be at least 2 metres long and up to 10 centimetres in diameter, fell from an Australian aircraft inbound from Brisbane on landing at Queenstown. The pilot of a following Jetstar aircraft saw the large snake on the runway and contacted the Queenstown airport control tower.
The Jetstar aircraft landed safely with fire and emergency crews coming out onto the runway to kill the snake with a shovel.
The Queenstown Airport Corporation issued the following statement: "A QAC spokesperson confirmed a snake stowed away on the undercarriage of an aircraft from Brisbane last weekend. The snake was removed by Biosecurity New Zealand (MPI). All aircraft were inspected and subsequently cleared before departing which meant some minor delays occurred."
Airways NZ provided Crux with this statement: "Airways' tower controllers were made aware of a foreign object on the runway and, following standard procedure, requested the assistance of airport fire and rescue services who cleared the object. One departure was delayed by around three minutes as a result and then normal operations resumed."
Crux has also contacted the Civil Aviation Authority to check if an incident report was filed.
New Zealand is snake free and has strict biosecurity laws to prevent new species entering the country and threatening our agricultural industry.
A Crux reader says that they have seen photographs of the incident which was also witnessed by a large number of airport staff.
The bushfires in Australia may have played a role in the incident as wildlife are driven away from the large number of fires burning in Queensland, New South Wales and Victoria.
There are records of a few similar incidents. In particular an Australian brown tree snake made it to Guam on an Australian military plane during World War 2, subsequently breeding and then wiping out the native bird population according to a University of Queensland study. Hitch-hiking snakes have also made their way from Guam to Hawaii.
In 2017 a large 2.5 metre Indian Rock Python was rescued from the undercarriage of an Indian air force aircraft at Agra Air Force base in a five hour operation.


---