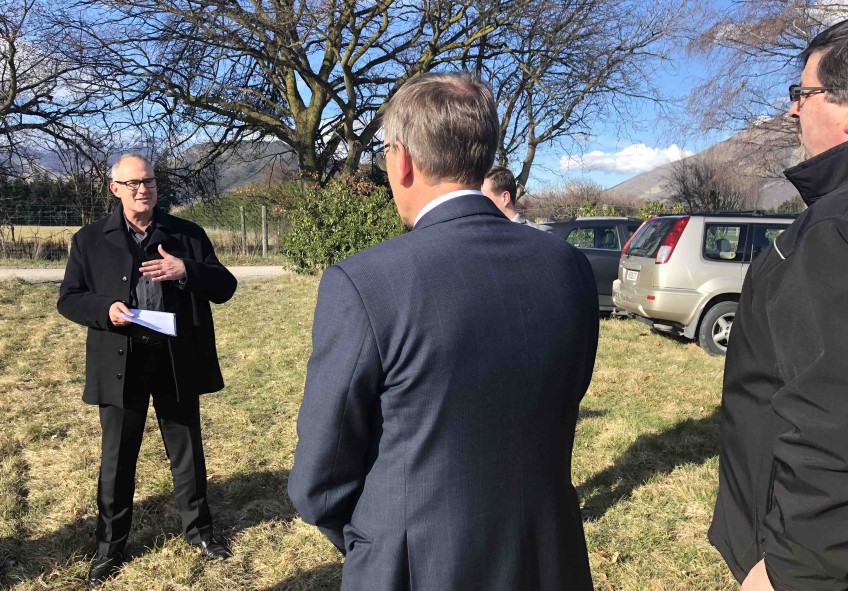 Housing Minister in Q'town with cash and a plan
---
Housing Minister Phil Twyford is in Queenstown with $24 million of extra housing cash and a plan that includes high rise, high density building in the CBD.
The new money was announced at the Ladies Mile site where most of the new money will be used to provide infrastructure for new subdivisions along with improved roading on State Highway 6. The Minister said the cash will bring forward by six years the development of around 1,100 new houses. He also announced a change to the HomeStart package, increasing the new home price cap from $550,000 to $650,000 for the Queenstown district, to reflect the higher cost of building here. The price cap for an existing home is to be increased from $500,000 to $600,000.
In an interview with Crux the Minister said that he saw the need to develop high rise, high density building programmes in the central Queenstown area in order to provide more worker accommodation. He said that this high density building needed to be connected to new, smarter transport systems like the new Orbus $2 bus system and proposed new ferry services.
Addressing the problem of Queenstown's poor quality rental housing stock Phil Twyford said that the Government is planning changes that would give tenants more power to complain about poor living conditions. He said this would be achieved by making sure tenants had greater security of tenure - in other words not having their tenancy terminated if they complain.
"We also need to improve the economic situation so that housing supply is improved generally. It's the lack of housing that gives landlords disproportionate power over tenants." he said.
The Minister praised the work of the Queenstown Lakes Community Housing Trust, saying the Government was looking at ways to extend the Trust's strategy to the rest of the country. The Trust is just completing the first houses where the land and house are separated. The house is sold to the home buyer but the land is kept by the trust, in effect cutting the cost of the property in half.
Phil Twyford also said that the Government now realised how serious the housing situation was in Queenstown where the cost of houses is now consistently greater than Auckland. In total $76 million of funding from the government's housing infrastructure fund has now been made available in Queenstown. The money is structured as a 10 year interest free loan.
Watch: The full interview with Housing Minister Phil Twyford.
Read: Overcrowding in Q'town rental properties.
Read: Housing Trust produces the near impossible - affordable housing.


---