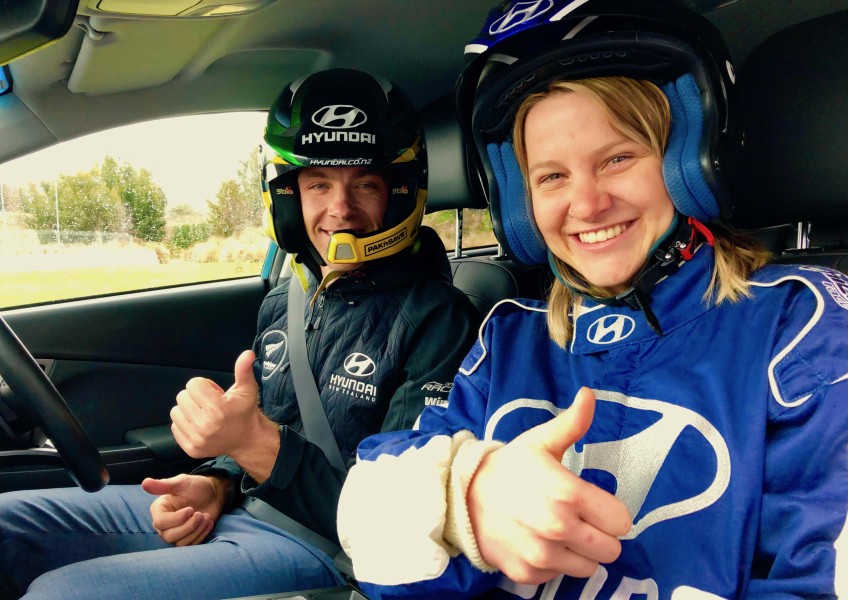 Hayden Paddon launches the age of electric rally driving
---
Crux Reporter Georgia Merton profiles Kiwi champion rally driver Hayden Paddon on the day of his announcement of the world's first electric rally car at today's media launch in Cromwell.
The world's first electric rally car is going to be birthed in Cromwell, and according to Hayden Paddon, it's going to be loud and fast.
"It's clear the automotive industry is changing, and changing quickly. Motorsport needs to be in line with this change - it needs to be innovative and exciting," Paddon says.
With humble beginnings in Geraldine, the 32 year old is New Zealand's most successful rally driver, and now runs his global base from Cromwell's Highlands Motorsport Park.
Paddon announced the Paddon Rallysport Group (PRG)'s new battery powered project today at the park's Innovation and Technology centre, where they are based. This is also where the car will be developed, as the first brainchild of PRG's new arm, AEMD (Alternative Energy Motorsport Development).
Paddon says the car's potential is mind boggling. "The way of thinking on all elements of it is completely different, but it's something that a young team are striving for and embracing."
They are working closely with University of Canterbury Motorsport project team to develop the aerodynamics, and they're hoping to have the electric rally car on the major competition stages by the end of Quarter One 2020 - which gives them eight months.
"We need to look at the big picture - if we don't act quickly, we'll miss the opportunity to remain cutting edge and current."
The rally car will be based on Hyundai's electric Kona. Paddon admits there will be massive engineering challenges, but urges motorsport fans not to be too quick to judge the car. "It's going to be seriously fast, noisy and spectacular."
Josie Spillane, Chief Operating Officer of Highlands, says the latest development is really exciting. "To have someone like Hayden choose Central Otago and Highlands as his base as he continues with his next phase has been further credibility for us. If we can play a role in supporting a young kiwi on the world stage, then we're absolutely right behind him."
While Paddon says the primary focus with the electric car is on the performance and the technology, sustainability is also a major motivation. "In this day and age, it has to be."
He's optimistic about the opportunities this could bring to Central Otago, too. "We're going to have to bring a lot more people into the industry and into the area. They're going to have to come from somewhere, so there are a lot of potential opportunities."
Spillane can vouch for this, saying Paddon is building a team around him. "They've moved to Cromwell, they're renting and buying houses, they're dining in our restaurants, they're using our supermarkets. From a tourist point of view as well, he's a global name. So people are coming to Cromwell because they want to see where Hayden Paddon, World Rally champion is based."
"He is a young man who is incredibly driven with tenacity and a sense of confidence in himself and his abilities and we're delighted to be standing behind him."
This strength and confidence didn't develop without its challenges, though, and sharing this was part of the motivation for Paddon's autobiography, Driven, which was also launched today. He admits he found the book, which was co-authored by Catherine Pattison, far more nerve wracking than the EV announcement.
"I'm not really one to talk a lot, but we thought it was a good time to actually share the journey. A lot of people don't understand the highs and the lows that come with this kind of success, and the amount of people that were actually involved in making it happen."
He says the book was an opportunity to share the realities of Motorsport life. "There are more lows than highs in Motorsport, but I think the positive moments make you embrace it all - when you're winning you come to love the feeling, and so you strive for it more."
"Rallying's always been a way of life for me, not just a sport. Over time it becomes subconscious - you learn to react to the down moments in the same way and you become more accustomed to picking yourself up off the floor and getting back on the horse."
He says he's learnt to fight tooth and nail through whatever obstacles that come up to get that feeling of success again. It's this determined attitude that he's bringing to the development of the electric car, and is under no illusions of the hurdles that his team faces.
"I'll be the first to admit that it won't be able to do a World Rally Championship event with the current technology, because of the big distances, but the technology is changing fast. And, at its peak and short style events, this 4 wheel drive car will be capable of over 600kw of power. It has torque levels that aren't even possible for an internal combustion car."
Paddon says the team wants to bring back the Kiwi ingenuity of New Zealand Motorsport. Having arrived back in the South Island at the end of 2018, he says New Zealand is the perfect place to develop technology like this.
It holds a special place in his heart, too. "I love Central Otago, we've always spent Christmas here and I just fell in love with the place. It's where I want to be - it's another world away from the world."
According to Spillane, Cromwell can make anything happen, and Hayden's project is a further example of that. "It's another reason to call Cromwell 'the little engine that could.'"


---