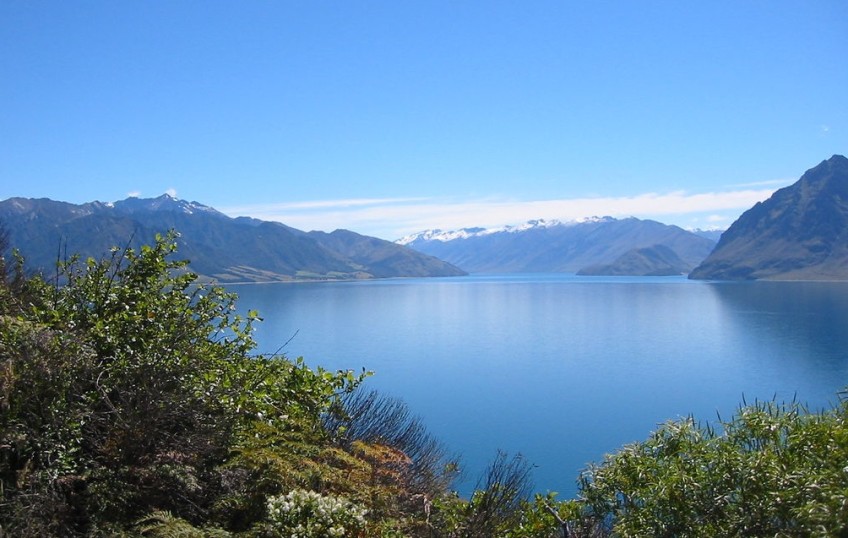 Hawea subdivision opponents: "Our community will be sacrificed"
by Carmen Howell and Tim Ryan - Jun 03, 2018
---
The Lake Hawea residents behind the "Keep Hawea Beautiful" movement give their views on Universal Developments Hawea's proposed 400-lot subdivision on the outskirts of Lake Hawea. The plan has been downscaled from 1000 sections…
The Upper Clutha's rural heritage and outstanding landscape is rapidly being consumed by unsustainable, exponential growth, driven by private enterprise which seeks to garner financial advantage from our communities.

Within local government, there is a distinct gap and advantage bias towards those seeking material and financial gain over the general spirit, social needs, wellbeing and environment of our communities.
How else do we explain the entirely inappropriate Expression of Interest (EOI) in using the Special Housing Area (SHA) policy to fast-track development of rural land at Lake Hawea?
Universal Developments proposes rapid urbanisation of 32ha of rural Hawea land (approximately 25 percent of the 122ha site), which was recently acquired by the company. Not only are the proposed small section sizes at odds with the rural heritage of the Hawea community and its support of maintaining sensible land parcels, they also undermine the effective management of changes to the use of rural land.
Compact urban design locks out efficient, truly sustainable and healthy land development, and does not solve affordability issues. If speculation and lack of regulation of property investments continues, further frustration of housing affordability will also continue, alongside the irreversible negative impact on our environment through the loss of rural land and heritage.
Some members of the Hawea community are concerned Universal Developments is trying to use the SHA policy to gain acceptance of its proposal. The SHA accord would fast-track the development by side-stepping land use change and remove all formal community consultation. It does not fulfil the normal protocols or obligations under the Resource Management Act (RMA).
It is use of this contrived policy which has created a community backlash. Our community has worked sensibly over time to provide for the situations we are now faced with, by creating strategic, shared, community-aligned visions for Hawea, and it is our intention to continue to do so for the next thirty years.
It is inconsistent and alarming to suddenly override the important practice where land is slowly released in larger parcels, to effectively manage land use change, population growth and the impact on the existing community. We have examples of this type of growth already, where, under the new proposed district plan, the rural residential zone within the township area has been allowed to be subdivided to half-acre lots.

Some Hawea community members believe Universal Developments is seeking financial gain by taking advantage of legislative policy which stifles normal procedures. These procedures, when operating under normal RMA practice, would take more time, thus allowing other interested parties the opportunity to consider the best outcomes for the township, the district and the community.

Universal Developments' proposal impacts the entire community. No matter how persuasive its agenda to develop land is, the fact remains that our community will be sacrificed. If this proposal goes ahead, our close-knit community will greatly increase in land area through the use of a contrived policy to exploit rural land.
Community growth is not something to be taken lightly. The EOI leads one to imagine a compact, gridlocked, tidy, profit-driven development, by using persuasive language in an attempt to mask the real issue: that unaffordability is caused by property development, real estate speculation, unregulated investment and unsustainable growth models.
This type of development is not supported in Hawea. The way it is described to us is not community-orientated nor aligned with the values of the Hawea people and land. We are yet to see evidential data to support claims that a SHA will benefit the community, or that the Hawea community supports the proposal. To date, the data we have seen is contrary to what we are being told by "outside experts".
The Queenstown Lakes District Council wants 1000 affordable homes, created from an affordable to unaffordable (1:10) ratio system. An oxymoron, when you use a deep vision and basic calculation to show what this actually looks like.
We agree that new paradigms to remodel our communities are required and that our communities are entering a new phase of growth and development. However, at this critical time in our history, we need progress that uses sustainable, sensible, smart-thinking practice and ideals that serve all areas and people.

Hawea has a clear focus to create a strategic approach to the future, starting with a moratorium on further development until the creation and implementation of a 2050 plan of guidance for all development and infrastructure procedures.
There is evidence that rapid urbanisation is not the best way forward for preserving and retaining the spirit and essence of a place, people and environment. Albert Town's growth over the past 10 years is a classic example of how town growth can explode into grid-lock, creating compact urban infill and connectivity with zero sympathy for its surrounding landscape.
Other solutions to growth and development must be sought, in this current economic climate of profit before nature. In a time where sustainability is paramount in all decision-making, there is a movement towards making rural landscapes available for producing organic food for local consumption. Currently 99 percent of the food available to people in the Upper Clutha, Central Otago and Wakatipu areas is brought in overnight via trucks from Christchurch, to the various supermarkets and stores.
In an effort to move towards local food production and away from the reliance on centralised logistics and fossil fuels, the Ministry for the Environment is expressing an urgent need to preserve rural land and end urbanisation of productive land.
Locally-grown food is imperative for sustainable local employment and economies. This is what our country was built on. The people of Christchurch understand this and are creating food forests and community gardens on red-zoned land. Hectares of open space are primed and ready for converting back to foodscapes. The next step is creation of community-supported systems for local food production.
With a five percent deposit and the balance to pay off at unreasonable interest rates for the rest of their parents' lives, what life will children have, growing up in a home where mum and dad work six days a week to cover the mortgage?
If there is no space or time for growing food, is this true self-sufficiency? Despite an attempt to upsell self-sufficiency and sustainability, citing incentives for solar power installation, the reality is that the development is proposing large houses on small parcels of land, with acres of concrete. It fails miserably at any attempt of true self-sufficiency.
Unless we adopt a smart-thinking, positive and truly sustainable approach to land management, using a house as a home rather than a commodity for profit, then this is what we are looking at: the development of a compartmentalised suburbia to house employees of tourism and construction-based enterprise, seasonal workers and families forced into an unaffordable "affordable" house-and-land "Kiwistart" package.
It's time to reverse the trend of exploitive and destructive urbanisation.
Lake Hawea residents Tim Ryan and Carmen Howell are the administrators of the KeepHaweaBeautiful movement. They say they stand for the trend reversal of urbanisation and development of rural landscapes. They support the creation of community-supported organic agriculture systems and true community living. They advocate the decentralisation of governance into community-based social enterprises. Their keephaweabeautiful.nz website is co-ordinating and supporting the spread of information for educating our communities about the facts of development through Special Housing Area legislation.
Read: Hawea developer says opponents are overshadowing local support
Wanaka Editor's note: Lane Hocking of Universal Developments Hawea will be given an opportunity to respond to this column.

---