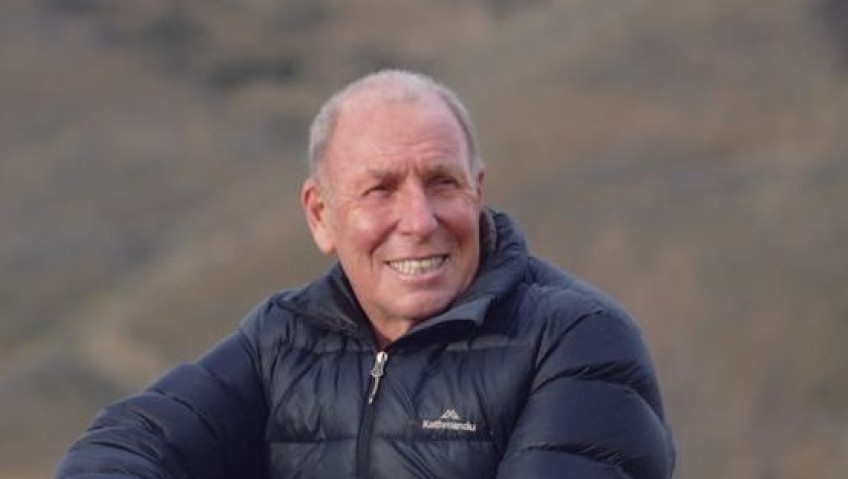 Grahame Sydney paints a new tourism strategy - "Let's play hard to get."
---
"If you're easy, no one wants you."
That was the hard hitting theme of a presentation in Queenstown from artist Grahame Sydney this weekend. "Let's make it harder to get here, not cheaper and easier."
Speaking to the 10th anniversary dinner of the Wakatipu Wilding Conifer Control Group, Sydney left no stone unturned in blasting what the renowned artist described as the corporate threat to the landscapes that New Zealand relies on for tourism and our own sense of place and identity.
"Our suburban sprawl is eating away the open fields, and from the air, turning what was natural grass into a uniform dark grey roofscape, a seemingly unstoppable devouring of the passages of peace and tranquility between settlements. We have traffic snarls, rampant irritability, and the magnificent Remarkables now boasting a foreground of an orange Megastore, the lurid sickly yellow of PakNSave, and the blood red Warehouse, where everyone gets a bargain."
Sydney also placed blame on the average New Zealander for not caring enough about what it being lost.
"Baldly put, most New Zealanders simply don't seem to care much about the big issues with which one might expect an intelligent society to be engaged : concepts of The Greater Good – the things which are bigger than our own private needs and greeds, the questions which will resonate far beyond our own lifetimes, the decisions which will affect not us in the short-term, but those unborn descendants who will inherit the legacy of our brief tenure."
"If you're easy to get no-one wants you. Well, the same applies when it comes to recognising what it is you've got in any one region, like here. What makes this different to the rest ? What is here but nowhere else ? What is it which separates us ? Makes us unique – and so desirable ? Certainly not ever more tourists, nor hotels and shopping mall precincts and commercial zones – they're the same in any town or city the world over. If you're inside any of them anywhere in the world you wouldn't know where you were by the way they look and feel and operate. They have no discernible regional personality. They're inseparable, neutral, characterless worlds unto themselves beyond the flavour of any nationality."
"Be hard to get, and the appreciative, high value customers will come, and they'll love it all the more."
"We all can and do moan about what has been lost. What matters is what we do next."
"This region is being buried in tourists, but that's not making the best of what we've got, or valuing it. Gross numbers don't tell the story of sustainable success."
Grahame Sydney also highlighted that his early landscape paintings were becoming visual records of what is no longer there.
"Unexpectedly, many of those early paintings have experienced an altered interpretation: so rapid have the changes been in this area, some of them are becoming historical documents, depicting a landscape and a rural culture now forgotten, dissolved in an acid solution of a very few years. Where then the visual palette was yellow and brown and brittle and dry, we now have irrigated, chemically-induced green, an artificially promoted lushness defying the seasons and Nature's intentions."
Crux has decided to publish Mr Sydney's speech in its entirety. It is a powerful commentary on the trends that are currently shaping both the physical and economic landscapes of the lower South Island. The contents are copyright Grahame Sydney and may not be published without his express, written permission.
Read the full Grahame Sydney speech here.
Read poet Brian Turner - "We need to wake up."

---