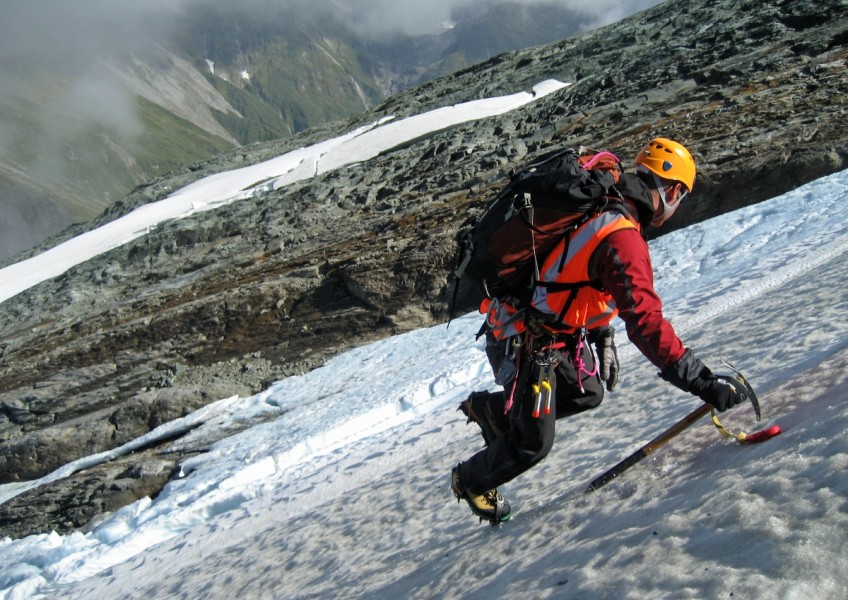 Departing LandSAR stalwart - rescued people shouldn't have to pay
by Kerrie Waterworth - Sep 03, 2018
---
Search and rescues in our back country are celebrated, while those that end in the recovery of a body are grieved, but there's often an underlying question – who's paying for this?
This question was raised again last month, when an estimated $150,000 of taxpayers' money and 500 hours of volunteers' time were spent rescuing 29-year-old Australian, Lieutenant Terry Harch, from Mount Aspiring.
The army captain's planned two-day solo summit of the 3033m-high peak turned into seven nights on the mountain, before the weather allowed Wanaka Land Search and Rescue (LandSAR) volunteers to rescue him. It was the second time he'd been rescued from a New Zealand mountain.
But Phillip Melchior, a former LandSAR national chairman and Wanaka search and rescue volunteer, says making people pay for all or part of the cost of their rescue would have adverse consequences.
Despite the high cost of helicopter searches and the lost wages for some of the volunteer rescuers, Melchior maintains climbers shouldn't have to take out insurance to cover the cost of a potential rescue operation.
"Not within the context of our current no-fault ACC system. We have a variety of things in place where the people who need to be paid, get paid. In those overseas environments (such as Switzerland) where you have to take out insurance, it is largely because you are dealing with full-time paid rescuers and I wouldn't advocate for that as far as New Zealand is concerned.
"If you said to people they needed to have insurance here and they didn't have it and then needed to be rescued, you'd get into a situation where you had to make value judgements. Was it a genuine accident or was it something that was caused by their stupidity? You would almost certainly end up with the situation where people would hide even though they were in trouble, because they didn't want to face the bill and then they would get much worse."
But Melchior suggests, if the number of rescues continues to increase, a "mix and match" arrangement could be introduced, with some paid rescuers and some paid to be on standby over the busy period, with volunteers continuing to make up the majority of the service.
"New Zealand organisations that depend on volunteers are under increasing strain for a variety of reasons. If you look at a workload like ours' where we have about 50 callouts a year, probably 80-85 percent of those come between November and March and there have been several occasions over the years where we have had three distinct operations going on at the same time, which places huge demands on our volunteers. We're not at that stage yet (of paying rescuers) and that's not where we're actively planning to be, this is just me surmising."
The keen tramper and former New Zealand Press Association, Television New Zealand and Reuters journalist is well-placed to comment on possible changes in mountain rescue.
Melchior has been a member of Wanaka LandSAR since 2004 and has held the roles of secretary and treasurer. From 2006 to 2012 he was also the national LandSAR chairman – impressive for someone who knew nothing about search and rescue when he joined.
Melchior was approached by former Wanaka police search and rescue co-ordinator, Sergeant Aaron Nicholson, to join the organisation to raise money for rescue equipment and – later - a new building, after Melchior interviewed him for a magazine article in 2004.
"At the time that I got involved, all we had - from memory - was a stretcher and a strop, and that was it. All the other gear was owned by the rescuers. So I talked to the guys, who looked at me with great mistrust, and I said 'look, I know absolutely nothing about search and rescue at all, but you tell me what you want and I'll try and get it'. The original list came in and it had one ice axe and I said to Aaron 'this doesn't make any sense' so I kind of multiplied everything by 10 and then we started to be successful in our fundraising and it all grew from there."
Melchior says a decision was made early on not to tap into the local community for funding, but to approach Central Lakes Trust which has been the organisation's major funder ever since, followed by the Otago Community Trust and the Lion Foundation.
"Our budget varies from year to year but, taking everything into account, it would probably average out at around $75,000 a year and the biggest single item of that would be training."
Melchior says it costs $1000 to put someone through pre-hospital emergency care and, while operational helicopter time is paid for by the police or ACC, training helicopter time comes out of the Wanaka LandSAR budget.
"We get a really good deal from Aspiring Helicopters in particular, but even so we would spend about $15,000 to $20,000 a year on helicopters, because every year everyone who goes out into the field has got to be trained getting in and out of a hovering helicopter, getting in and out of a helicopter which is on a one skid landing, as well as strop training. Now, with our own building (opened in March 2015), we've got rates, power, internet and ongoing costs that have to be covered."
When Melchior joined Wanaka LandSAR, it was operated from a desk in the former police station on Helwick St. The decision to build a new police station prompted Wanaka LandSAR to secure its own premises. By 2015 it had become a one-stop rescue shop on Ballantyne Rd, adjacent to the new fire station. Melchior says the service has grown from untrained search and rescue volunteers being dispatched in different directions, to teams of highly trained alpine, sub-alpine, river, marine and alpine cliff rescue volunteers. When in the field they are managed by an incident management team.
Melchior says the biggest change he has seen in his 15-year involvement is the proliferation of personal location beacons. "Generally, there is not as much searching and much more rescuing than there used to be. If somebody pops a beacon, you know pretty much exactly where they are and you go and get them. I think that technology will continue to change the way we do things.
Melchior says, despite the increasing number of beacons, they have had very few of what he would call "frivolous callouts.
"We've had a few where people have got a lecture for biting off more than they can chew and there was a callout when someone popped the beacon because he had an appointment somewhere the next day and he didn't think he was going to be able to walk out in time. The other one was an Israeli couple who were cold and wet in the shelter at the top of McKinnon's Pass and decided they needed rescuing."
Melchior says the "most traumatic" operation he has been involved with was, without doubt, the rescue of Dion Latta on New Year's Day in 2012. The 15-year-old had been exploring the Motatapu Gorge behind Glendhu Bay with a group of friends when his foot got stuck in the top of a waterfall and he was forced upside down by the strong flow of water. By the time rescuers could free him, he had suffered severe hypothermia and later died at Dunedin Hospital.
Melchior told Radio New Zealand's Summer Report programme at the time: "It was a 250 percent effort, really. When you've got a young life that had so much promise and you struggle so hard to try and save it, it's always kind of worse than other ones."
He says another memorable operation was the search for Irena Yun in 2009, which he describes as a "wholly avoidable tragedy.
"This was a 30-year-old woman who went over the Cascade against advice because she was on a deadline and got swept away into one of the side rivers and that was it. Absolutely unnecessary.
Through his fundraising, organisational and media skills, Melchior has been credited with establishing the LandSAR NZ brand and educating the media about what search and rescue is and how it works.
For two seasons from 2011 he was the media liaison between Wanaka LandSAR and television production company South Pacific Pictures when it made a hugely popular programme featuring Wanaka mountain rescues.
In 2012, three years after Melchior turned 60 and climbed Aoraki Mount Cook, he was diagnosed with amyloidosis, a rare blood disorder, and given six months to live. At the same time he was commissioned to write a book telling the stories behind some of the most dramatic search and rescue operations around the Southern Alps, which he says helped him get through chemotherapy. Cutting edge treatment and a "determination not to die" saw Melchior survive. Part of the proceeds of the book "Mountain Rescue" went to Wanaka LandSAR.
In a few weeks, Melchior and his wife are moving to Auckland. He says although he is still in remission and his emotional attachment to Wanaka hasn't diminished, he turns 70 next year and it's time to move on. "I can't do a lot of the things I loved to do, and that's a factor."
He'll take great memories with him and will be back for visits. "We've saved a lot of lives and I think that that in itself obviously is a reward, but it is nice when people you have rescued come back and say 'thank you'. Personally, I have been enormously enriched by the people that I have become friends and colleagues with through search and rescue, such as Gary Dickson - people who, in many cases, our paths would just never have crossed."
Melchior's departure from Wanaka LandSAR follows former Wanaka police search and rescue co-ordinator Sergeant Aaron Nicholson who stepped down in May this year, after a 30 year career with the police. Melchior paid tribute to Nicolson, saying it was his vision to create a world class search and rescue operation out of Wanaka.


---