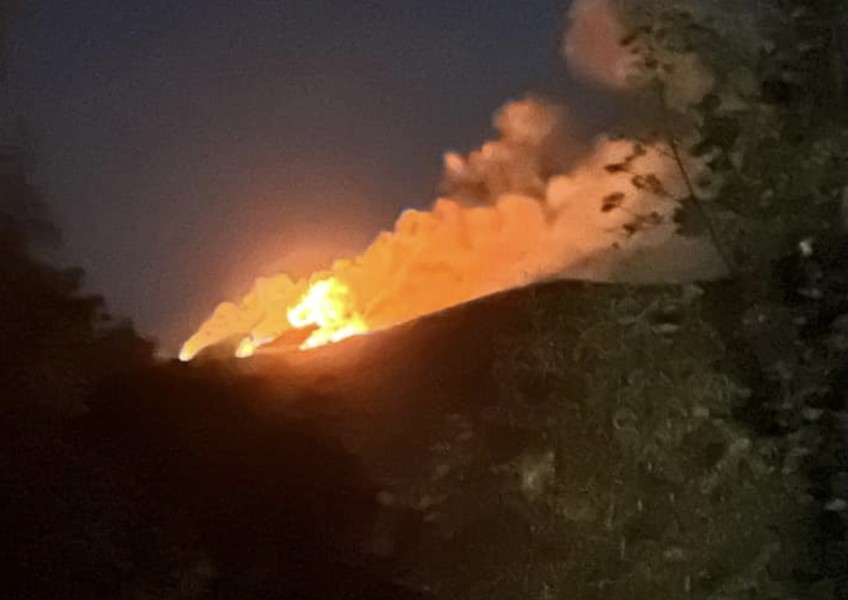 Dalefield fireworks fiasco: why it matters
---
Editorial/Analysis
As the smoke settles over Dalefield after the New Year's Eve fireworks fiasco there's plenty to digest in terms of the consequences and change that this disastrous party will prompt.
None of those consequences will be what party host Tony Malkin had in mind.
For a start, the window for a neighbourly apology or huge donation to the local fire brigades has well and truly passed. So too has the window for a carefully crafted media statement to potentially repair some of the damage.
Even a media open day to lay bare the secrets of the $20 million dollar hilltop "retreat" is an invitation that Crux would have no trouble declining.
The societal damage has been done and it is beyond repair.
The $10 billion dollar Tony Malkin, owner of the Empire State building, will soon discover that when you piss off a large number of Kiwis the results can be much more devastating than a high-rolling nasty New York law suit.
He's pretty much broken every rule in the New Zealand good citizens playbook. And here's his mistakes in the cold hard light of the fireworks fiasco plus two days.
Ignoring common sense requests for an ill-advised event to be moved or cancelled in order to save distress to hundreds of local animals.
Ignoring common sense local knowledge that suggests that exploding hundreds of high explosive fireworks in tinder dry tussock hill country may not be super smart.
Asking his neighbours to submit itemised receipts before he will fulfil his promise of meeting the cost of shifting animals.
Failing to apologise or show the least signs of humility or social awareness.
Adopting a media policy of delay, deny and defend underpinned by what has mostly been total silence.
Failing to front up and instead hiding behind his local event organiser (resigning would be the decent thing for her to do, Mr Malikin will find it tough hiring someone new.)
Showing little evidence of complying with the terms of his Overseas Investment Office purchase approval to create NZ jobs and use the property as a "classroom" to support local sustainable educational projects - unless creating jobs includes local police, vets and fire brigades and unless education includes how not to run a fireworks party.
The list could go on.
Media coverage has now exhausted any useful updates, descending instead into "black SUV's seen leaving the property as the fire took hold." Of course, people left.
Did we imagine Mr Malkin and his well-heeled, couture-costumed mystery guests, full of champagne and canapes, would somehow have rolled up their sleeves to form a bucket brigade, mucking in with the local volunteer fire brigade? Nope.
Crux can update you on some disturbing news from Fire and Emergency NZ - FENZ. This is the national firefighting organisation that signed off the Dalefield fireworks safety plan. We assume the safety plan was quite short, as in "if we set fire to Dalefield, dial 111 and run away."
FENZ has told Crux that it will take a couple of weeks for their investigators to complete their report and then we will need to file an Official Information Act request to see it after another 20 days – if they agree – and even then it could be heavily redacted.
We can save FENZ the trouble by concluding that the one hectare of burnt, scorched land right in amongst the "retreat" buildings was caused by Mr Malkin's New Years Eve fireworks party. Mr Malkin's party organiser has already thanked the police and fire brigade – so we know who and what caused the fire.
As to conclusions, we can also save FENZ the trouble of trying to bury this incident in delay and PR bureaucracy.
FENZ was mistaken in agreeing to the WorkSafe permit/safety plan for this event.
FENZ put the local volunteer fire fighters at risk as a result of this decision.
FENZ failed to consider the weather, dry vegetation, animal welfare, difficult property access, steep terrain and neighbouring properties.
FENZ then needed stretched local police resources to evacuate the area.
Sadly, both FENZ and Mr Malkin share two faults in common. Poor communication and a lack of intelligence.
We see this every day now as journalists. Empire State level budgets are being spent on a small army of communications "professionals" whose real job is to make the work of journalists harder, not easier. Councils, corporations, Government departments, billionaires – none of them really front up anymore. The truth is in retreat.
That's what is so encouraging about the Dalefield fireworks fiasco. It was such a monumental disaster, thankfully without loss of life, that no amount of puffery or PR will hide the truth. Mr Malkin is an arrogant, selfish man who can forget ever being welcome in this part of New Zealand again.
And FENZ won't escape the fact that their flawed systems actually caused a fire instead of preventing one.


---