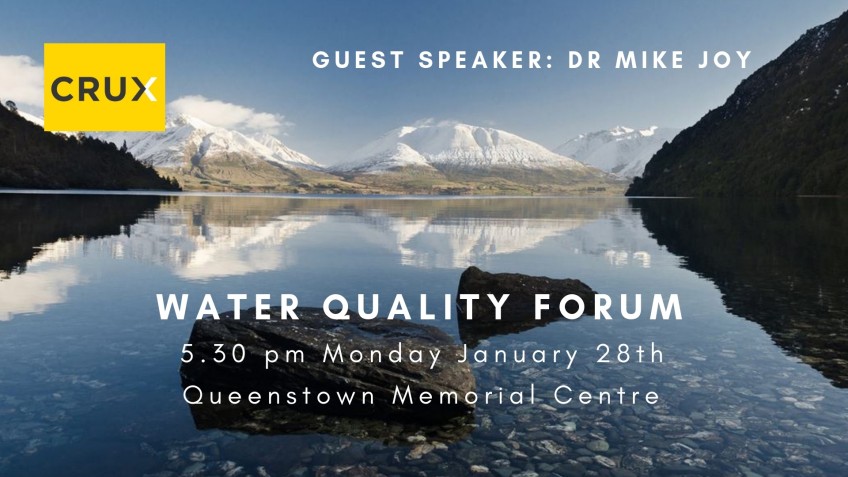 Crux Water Quality Forum - Reserve Free Seats Now
Jan 17, 2019
---
The first ever Crux Forum will be held in Queenstown at 5.30 pm on Monday, January 28th at the Queenstown Memorial Centre.
The forum will focus on the state of our local lakes and rivers, as well as what is being done to understand current problems, and what will be done to fix those problems in the future.
Admission is free of charge but you need to book your place now as capacity is limited. Make sure you attend and have your say.
Renowned water scientist Dr Mike Joy will join senior representatives from the Otago Regional Council and the Queenstown Lakes District Council to discuss the state of our lakes and rivers. Read the latest coverage of our national water quality problems here.
The forum will be action focussed so as to not only answer public questions but also share clear plans on how to understand and fix the problems we have. The event is free.
Mayor Jim Boult will be attending the event and there will be questions from the floor as well as from various Southern Lakes water quality advocacy groups.
Thanks to QLDC for supplying the venue.
Please register via the Crux Facebook event page or email [email protected] so that numbers can be managed. The Memorial Centre has seating for 422 people and we have already have over 200 people registered as attending or interested.
Seats will be reserved on a strictly first in, first served basis but the event will be covered by a Crux video team as the follow up to a mini-documentary on Lake Hayes water quality that we will publish on Thursday, January 24th.
The event will not be live streamed so we encourage everyone to reserve their free seats without delay.


---