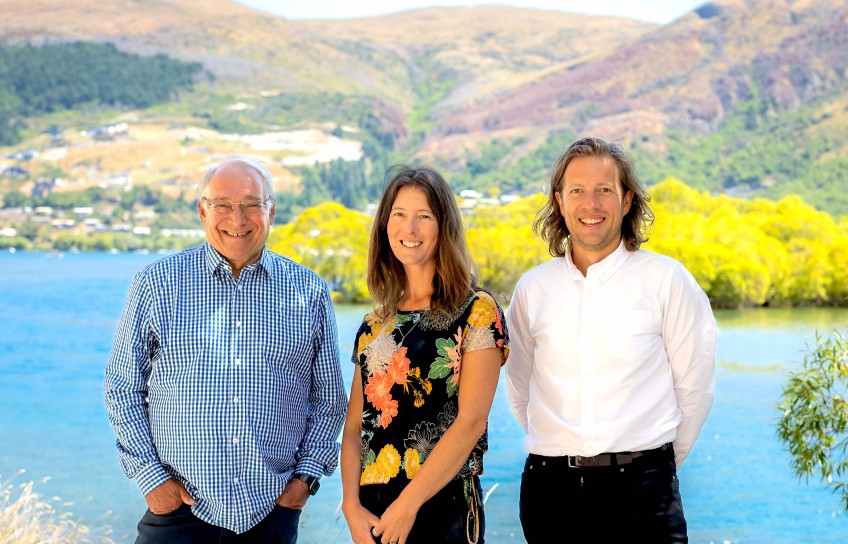 Crux expands with new editorial and revenue roles
Jan 17, 2022
---
Crux has entered 2022 with two new key members of our senior team – Kim Bowden and Grant Morgan.
Kim, who has been a regular Cromwell-based Crux reporter working on a contract basis, has now joined Crux as Senior Journalist/News Editor, covering Cromwell, Queenstown, and Wanaka. Kim's role is part-funded by the Public Interest Journalism Fund (PIJF), but unlike other media outlets Crux has made Kim's appointment permanent rather than being limited to the life of the PIJF.
With a post-graduate diploma in Journalism from AUT and a BA from Auckland University in Geography and Political Science, Kim has previously worked as a parliamentary electorate secretary and as a journalist for The Southland Times and Newstalk ZB. Kim has also produced web content for the Asia New Zealand Foundation.
Kim is married with three children and is building a new house just above Lowburn on Lake Dunstan.
As well as Crux news coverage across the district, Kim will be editing our new Community Bulletin that will be launched later this month. Kim starts work today (Monday, January 17) and can be contacted by email here.
Joining Kim today will be our first-ever Sales Director, Grant Morgan. Our last two annual reader surveys have made it clear our audience is ready to accept local advertising, as long as it does not compromise our editorial independence.
Grant joins us from a strong background in media sales including TVNZ, Australia's Multi-Channel Network, Key Media and recently the international video advertising specialists VDX.tv.
One of the reasons Grant was the successful candidate from a six-month, national recruitment campaign was his commitment to ethics in advertising. We plan to sell only directly-sourced advertising with no generic Google-originated or other ads that are not relevant to our local community.
Announcing his appointment on LinkedIn today, Grant commented:
"Crux is the right thing at the right time. Our huge audience growth reflects our community's desire to know what is really going on, as well as understanding the forces of change – positive and negative – that affect all our lives.

Crux is pro-community. Pure and simple. Be it the business community, the arts community, the sports community – all community.

We want our advertising relationships to be exactly the same. Pro-community."
Grant, originally from Dunedin, has a Bachelor of Communication and Public Relations from Massey University. He's a keen musician and cricket fan.
Grant starts work today (Monday, January 17) based in Wānaka and can be contacted by email here.
Peter Newport's role as Managing Editor
Peter will continue to manage the Crux operation supported by Kim and freelance journalists, as well as Grant on the commercial side of the platform. One of Peter's goals this year will be to raise the profile of Crux as well as increase the strength and depth of our local investigative journalism.
Originally from Wellington, Peter has worked as a journalist for all branches of New Zealand news media including the Otago Daily Times, RNZ, TVNZ and TV3 Mediaworks. More than 20 years of Peter's career was spent overseas with Channels 9 and 10 in Australia, the BBC and ITN in the United Kingdom, and documentary work for the Discovery Channel and the main broadcast networks in the United States.
Local, local and local
Our enhanced approach to revenue and a sustainable business model will involve using our ability to tell strong stories to support local businesses as they grow and thrive.
We'll avoid ad revenue from local councils and concentrate on community values and strong results rather than selling "space" and chasing clicks.
As we near the three million page view milestone, Crux now reaches up to 6,000 readers across Queenstown, Wānaka and Cromwell – each day. The average time spent on each of our Crux web pages is two-and-a-half minutes and we reach an additional 20,000 people each week through our very active Facebook posts and videos.
Most importantly, revenue from our local advertising will go exclusively towards supporting Crux local journalism and local community projects. Income will not be exported from the district to support external investors and shareholders.
And there's more to come…
In only a few weeks we'll be launching a new Crux website that will allow us to include a much wider range of local content. For our first three years we've concentrated on a previously much-ignored area of local coverage – public interest journalism.
Many people do not realise that there are two distinct types of journalism:
Journalism of Record. This is the most common form of local journalism that simply records what has happened and does not ask "why?" or hold power to account. This type of journalism is less controversial and generally is easier and cheaper to produce.
Public Interest Journalism. Crux is firmly in this category where power is held to account and journalists dig into why things happen. This type of journalism can take longer, and run into many types of obstacles, but it is closely linked to local democracy and the key role of a free press. The famous Washington Post motto sums it up: "Democracy dies in the dark".
Our new website will still champion our Public Interest Journalism while making room for community focussed, softer stories that are also a key part of balanced, healthy communities. We are also keen to celebrate the success of local businesses and support innovation as well as projects that make our community stronger.
We'll also shortly be announcing the team that will be producing the latest Crux documentary series – Deep South. Replacing the extremely popular Southern Lens series (50-plus episodes published over two years, with more than one-million views), Deep South will combine strong, local investigative journalism with the extremely high production values of our long-term production partners The Beards in Wānaka. Deep South is being produced with support from the Public Interest Journalism Fund.
And finally …
2022 is the year when we expect to take our first steps towards Crux being community owned and managed. That sale of community shares will only go ahead when we have achieved sustainable profitability.
We've been generously supported by local donations so far, but our new revenue model will make us both sustainable and profitable.
It is only logical that we will then start to sell our shares to the community that we serve and invite you, our audience, to help control the direction we take. That will be one of the world's first ever true marriages of local democracy and local journalism – something we've been targeting ever since our launch in May 2018.
Advance, discounted Crux shares are available to expert or wholesale investors – more details are available on enquiry here.
We'd like to thank our local audience for being so supportive during our first three years. We are sure you'll appreciate the wider, deeper coverage that we'll be publishing and welcome our new team members on board.
Stay tuned!


---