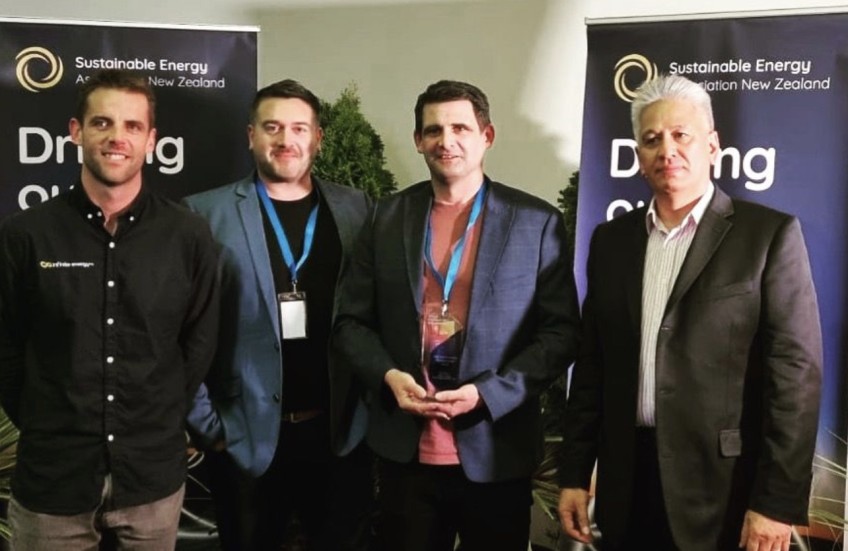 Cromwell 'disruptors' win national energy award
---
A Cromwell business has won a national award for a project proving the horticultural industry can ditch its reliance on diesel.
Infinite Energy's renewable electric system at Forest Lodge Orchard, a cherry orchard at Mount Pisa, was judged the best of its kind in New Zealand by the Sustainable Energy Association (SEANZ).
Orchardist Mike Casey uses the sun to power electric frost-fighting fans, an orchard vehicle, an irrigation pump, and tools, plus he supports the national grid, providing an additional revenue stream to his horticultural business in the process.
Infinite Energy general manager Regan Heal says the win is in a hotly-contested category that covers the vast majority of solar installation projects around the country.
It's consecutive wins for the family-owned business: It was "Best Small Business" at the same awards last year.
The awards recognise and celebrate businesses pushing the boundaries within the solar industry to provide cutting-edge technologies, deliver outstanding products and service, and create positive impact on communities and the environment.
Forest Lodge Orchard is proof the technology exists to run a horticulture operation in a more sustainable and renewable way, without a reliance on fossil fuels, Mr Heal says.
But the "clincher" is that it makes good business sense.
The orchard's set-up can control when power is taken from the grid and when power is pushed back to the grid, and there's another layer of cleverness that allows it to buy power from the grid and store it in batteries when the spot price or network congestion is low and then export if back to the grid when the spot price is high or the network experiencing congestion.
"It's turning the system into something quite transactive by integrating smart technologies and code with renewable products and solutions."
And, if clients can look at a renewable energy system and see a clear return-on-investment model, in addition to the obvious environmental benefits, it's easier to get them across the line, Mr Heal says.
The system gets a big tick from Aurora too – north of Cromwell there's capacity restraints on the network, so businesses with the ability to feed power into the grid, like Forest Lodge Orchard, are a bonus.
The recognition of the SEANZ award will help Infinite Energy attract further exciting and innovative projects, like Mike Casey's, Mr Heal says.
"Mike has a passion and hunger to disrupt the industry norm in the horticultural industry, which uses lots of diesel for production.
"It's certainly refreshing when that mandate for change comes from the client and you've got that drive to prove that it can be done a different way, a cleaner way."
Mr Casey says he'd like to see others – both businesses and households – take advantage of the power of the sun.
"Because Central Otago has got a heap of sunlight hours, it's a really good place to take advantage of solar and battery systems.
"Every bit of power that we export back from a battery when the lines are congested, means a few more litres stay in the lake, and everything that we can do to keep those lake levels a little bit higher means Huntly (Power Station) is relied on a little bit less."
The current government want to see 100 percent renewable electricity generation by 2030.
"So, the more people that want to come onboard and do this the better."
And, in case it's needed, there's a bonus beyond helping to save the planet, Mr Casey says: "You can save money on your power bills by buying power when it is cheaper and storing it for when it is more expensive. That's the no-brainer from a consumer perspective."
Watch Southern Lens. Cromwell orchardist Mike Casey profile his 100 precent renewable cherry orchard.
Main Image: Regan Heal and Craig Browne of Infinite Energy (left) with Mike Casey (centre) at the awards ceremony.


---