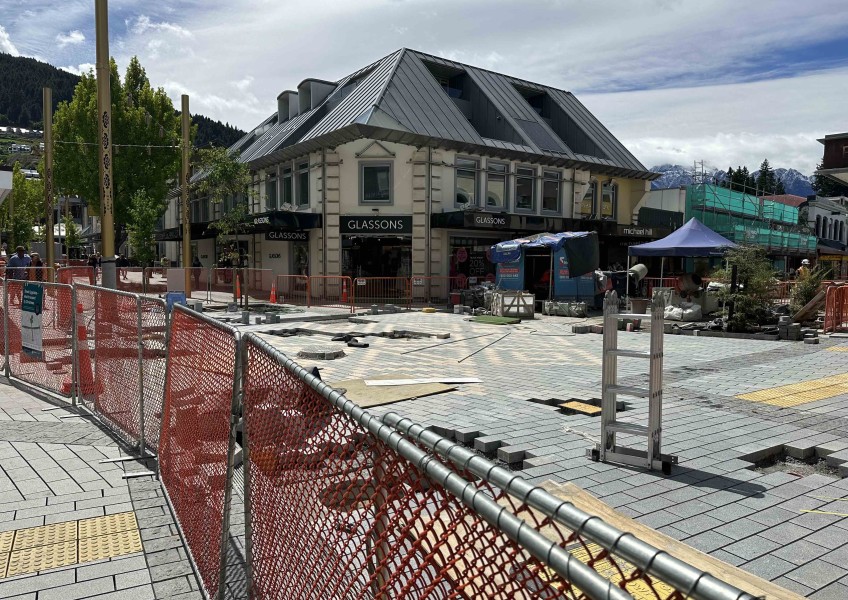 Cars to give way to bikes, pedestrians as Lower Beach opens for Xmas
---
Lower Beach Street's set to be open in time for Christmas and, when it does, visitors can expect the former road and carparks to be gone - a redesign that's part of a multi-million-dollar spruce-up of Queenstown's downtown.
Instead, pedestrians, cyclists and vehicles will all share the same open, paved space.
Plus users will get the chance to make up their own minds about some controversial new "bespoke" lights.
Previously, there'd been 13 30-minute spots up for grabs on Lower Beach Street, sandwiched between the retail shops and restaurants and Earnslaw Park.
The council tells Crux they're now all gone.
However, while construction's been happening, more downtown carparks have opened up elsewhere.
There's the new carpark off Hay Street near the Lakeview project site, which has 130 spaces, and a new carpark on the former QPACT site in Ballarat Street, which has 20 spaces, should be open before Christmas, the council says.
In a written statement, Queenstown Lakes District Council property and infrastructure general manager Peter Hansby says visitors should expect Lower Beach Street to operate "quite differently" when it reopens to traffic, and that's slated for December 23.
"This street will become a low-speed, high quality shared zone prioritising access for pedestrians and cyclists."
While there's now no general parking in this area, people will still be able to pick up and drop off passengers and goods at any time and mobility permit holders will be able to park for up to 60 minutes.
And, CCTV cameras will be operating to help with enforcement.
The QLDC reckons shared spaces work well for retail, socially and for functions.
Further up Beach Street it's been pedestrian only for a while, although vehicle access is allowed for deliveries and servicing local businesses.
The most recent Beach Street upgrades include "bespoke lighting and street furniture" too, although the council says some of the furniture won't be ready for Christmas and will be finished in the New Year.
The council's already received some flak for its lights, with some residents on Lower Beach Street complaining the poles are too high and, painted gold, too obtrusive.
Plus, Crux has previously reported the word written in te reo Māori on the golden poles can have a number of translations – among them, gold (the intended meaning in this context), red, or backside/bum.
There's Christmas milestones elsewhere in the town upgrade project too:
All underground services (stormwater, drinking water, wastewater and other utilities) will be complete by December 23
All concrete ours, garden beds and street lights will be complete on Rees Street - but final paving and street furniture won't be complete until Easter
Paving and street lights will be complete on Lower Brecon Street
Meanwhile, elsewhere in the downtown, it's only tools down for Christmas, with construction set to continue again in the New Year.
Work on Rees Street and the intersection with Shotover Street will stop between December 24 and January 22
Rees Street will remain closed to traffic, with access to Lower Beach Street to be via Cow Lane
Work on Upper Brecon Street will stop between December 24 and January 22
Gorge Road will reopen to through traffic from December 24 to January 8
Beetham Street will remain closed other than for residential access
It's a feeling of déjà vu for many businesses - just over a year ago, Crux reported downtown businesses had received a "welcome Christmas present" from the council with the announcement construction crews would down tools and make Beach Street and surrounds presentable for last year's holiday visitors.
In today's media statement, Mr Hansby acknowledges the ongoing disruption in town and thanks businesses, locals and visitors for their patience and perseverance.
"The investment and construction happening in town right now is significant and it's no secret that reduced access to parking, road closures and other disruptions have been challenging. We're so close to completion and incredibly grateful for the support.
"We wish all local businesses a busy and prosperous summer trading season. And we hope our local residents and visitors enjoy the safer, family friendly and more accessible spaces in town."
The Queenstown Town Centre Streets Upgrade is jointly funded by the Government's shovel-ready fund ($35 million) and the QLDC ($25 million).
The QLDC has previously told Crux the estimated cost for the Upper and Lower Beach Street portion is $19 million, and this includes upgrades to underground water and wastewater services.
Read more: People power needed to save Queenstown CBD from sterility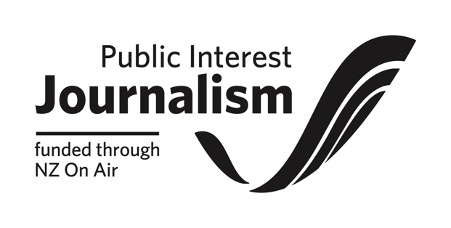 ---