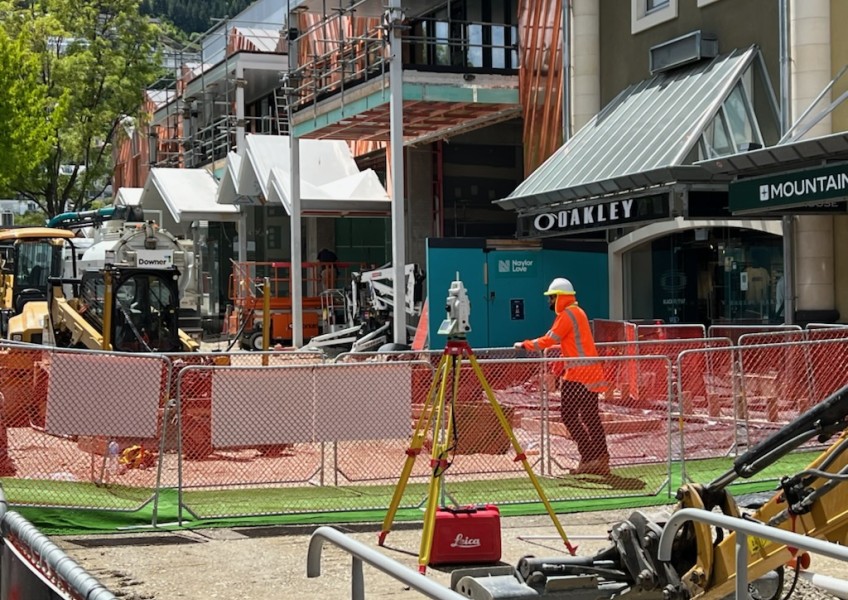 Beach St: tools down for Christmas
---
A welcome Christmas present for Beach Street businesses from the Queenstown Lakes District Council, construction crews will down tools and make the place presentable for the holiday season with let-out Aucklanders poised to descend on the town.
Months of dust, construction noise, fences and restricted routes for pedestrians is becoming too much for retailers in the path of the town centre street upgrade project.
It's been a double whammy blow to businesses already hit by pandemic travel restrictions.
Lucy Hunt, the co-owner of The Remarkable Sweet Shop, says foot traffic down Beach Street to her store has virtually stopped.
On the one hand, it makes sense to take advantage of the forced downturn in visitors to get things done, on the other, the added disruption from the works has made a tough time tougher, she says.
"What few people you have you kind of want to capture them."
At times, her staff have to near-shout to be heard by customers over the noise of machinery, and they've been cleaning the outside of the shop up to three times a day.
"There's just constant dirt, dust and noise."
The decision to press pause on the project is the right one, she says.
"We've watched it with a sense of impending doom that it will be right outside our door over this Christmas period.
"Now's our chance to get a bit of traction and hopefully get that summer traffic."
Fellow Beach St business owner Ian Caldwell, who has been operating The Jade and Paua Gift Centre for 46 years, says he's frustrated by what he sees as a lack of urgency with the upgrade project.
"How long does it take to get these streets ripped up?"
He's wary the easy boost of cash towards the project from the Government's shovel-ready fund may have made some local operators complacent.
"Somebody's making big money out of something that should have taken six months."
His turnover has slumped by more than 80 percent since Covid struck, and the ongoing construction disruption packs an added punch.
"Basically, it's going to be a messy Christmas for a lot of us…and we've had a very messy two years."
Across the road at sunglass store Oakley, store manager Sian Leitch doesn't mince words: "It sux."
It's taking a week or more to get the number of visitors the store used to easily attract in a day, and it's a mission for would-be shoppers to even make it to their entrance, she says.
"They've ripped up the whole pavement and we've got a little ramp up to the shop. Then, just beyond that ramp, is a big orange fence. Currently, I can see a digger, a big roller thing, a big hole and it's quite messy. It's not nice to look at."
Like Mr Caldwell, Ms Leitch has found progress outside her shopfront to be frustratingly slow at times.
"There's just so many days when you see not much going on outside.
"It's just the false expectations. When they tell us something is going to get done and it's absolutely not done for ages after that.
"That's why people get upset."
She's stoked to hear there'll be four weeks of undisrupted trade for Christmas. But, from where she sits, there's still a chunk of tidy-up needed to get to that point.
"We've got a month for them to show us that will be a thing. I guess we'll find out."
QLDC property and infrastructure general manager Peter Hansby says work on Beach Street (and Lower Brecon Street) will stop between December 18 and January 23.
"The streets will be cleared and fences removed…to make the town centre welcoming for business owners, locals and visitors."
Contractors have been working through the night to "maintain momentum" ahead of the summer trading period.
By Christmas, the plan is for lower Beach Street to be paved while, further up the road, an interim concrete base will be laid to allow clear passage for pedestrians, before construction crews vacate for the year.
They'll be back on tools on January 24, with both sections of road on track to be completed by April, on schedule.
More good news for businesses: Park Street will shortly reopen to traffic and approximately 50 car parking spaces will be back in action before Christmas. Plus, parking at the Recreation Ground was reinstated on Saturday.
Mr Hansby says QLDC has received just one complaint over the past four months in relation to its streets upgrade programme.
"The complaint was regarding having a number of active work sites at the same time, as well as a number of parking spaces displaced."
They acknowledge having multiple worksites operating simultaneously is challenging.
"But the goal is to complete as much work as possible while there are less visitors in Queenstown.
"The alternative of working on one work site at a time would have taken years longer."
The street upgrade programme includes works below and above ground, Mr Hansby says.
"This means for every street we upgrade, we spend time investigating and replacing the network of underground services before starting the above ground work. Some of this can be very complex."
A heads-up for Rees Street businesses: You're next.
An upgrade of Rees Street will begin in February, and Council is inviting business owners to talk through the construction programme in early December.
On Friday QLDC published the latest Kā Huanui a Tāhuna newsletter which includes updates on the town centre street upgrade programme.


---