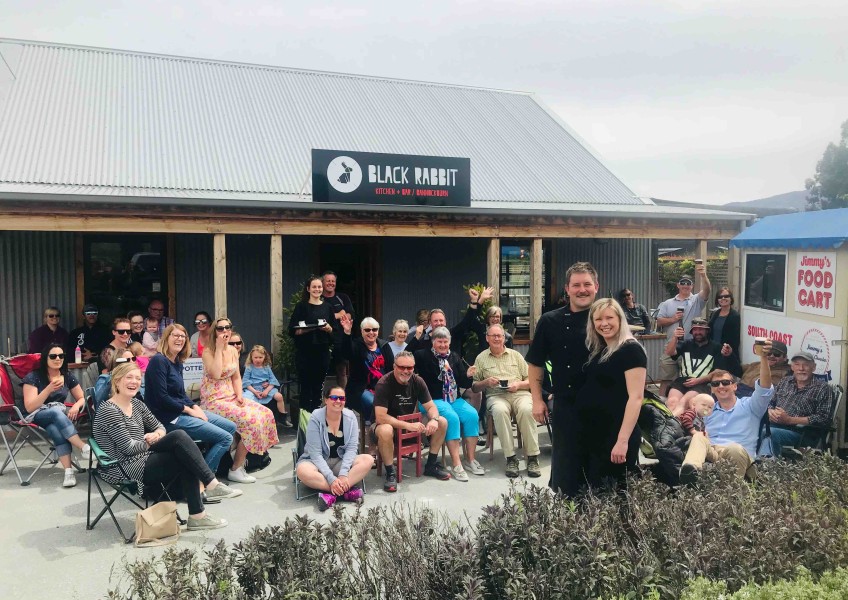 BYO Chair protest at the Black Rabbit cafe
Nov 02, 2018
---
The Bannockburn community continued to show support for their embattled local cafe this afternoon with a BYO Chair protest.
The Black Rabbit cafe was forced by the CODC over Labour weekend to reduce the number of chairs available to customers due to restrictions in their Resource Consent. The loss of capacity put the business at risk of going bankrupt, according to the owners.
An urgent application to increase the number of chairs to 36 was approved by the Central Otago District Council earlier this week. The owners however wanted up to 70 seats in order to run a viable business and argued that they had only applied for 36 on the basis that council advice indicated that was the highest number that would be allowed.
CODC Mayor Tim Cadogan weighed into the debate on social media yesterday, making the point that the council was "caught between a rock and a hard place" in terms of feeling sympathy for the cafe owners but also, as a council, being forced to apply the conditions imposed under the Resource Management Act.
The owners are currently looking at funding a new application for a higher number of seats. They say they have been overwhelmed by community support.
A petition urging the CODC to resolve the issue attracted 1,950 signatures and there has been widespread national media attention focussed on the plight of the cafe owners.
Main Image: Today's BYO Chair protest at the Black Rabbit Cafe.


---