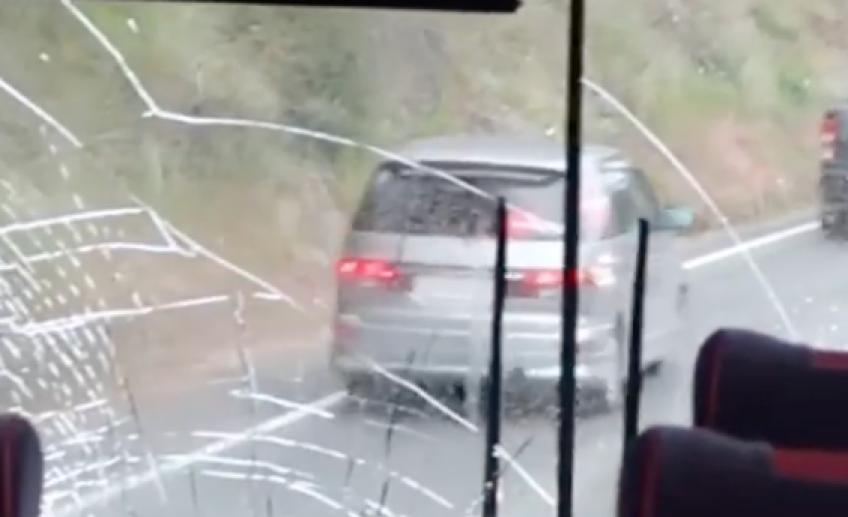 Blogger video of Queenstown fatal bus crash goes global
---
A global travel blogger, with over 580,000 followers, has posted dramatic video on Instagram of yesterday's Queenstown tourist bus crash in which a car driver died.
The video was seen around the world for around 24 hours before being edited a short time ago to include only police witness forms being distributed on the bus.
Crux has decided not to post the full video due to the sensitive nature of the content, but we have made the decision to post selected still images from the video as they show how New Zealand's tourist-related road safety challenges directly affect visitors, as shared with the world by blogger Kryz Uy, who is based in the Philippines. In addition to her Instagram account, with 580,00 followers, she also runs a high profile personal travel website.
The video praises the tourist bus driver for not swerving away from the oncoming car as she says "we would have fallen off the cliff." A police interview broadcast yesterday indicated that it was possible that the car hit the bus while it was being driven on the wrong side of the road.
The Instagram video post shows car parts from the accident strewn along the Queenstown to Kingston Road at the Devils Staircase, a notorious accident spot.
The video also shows passengers being evacuated due to fuel from the crash leaking under the bus and causing a fire hazard.
Posts on the Crux Facebook page yesterday documented local's concern that the tourist summer season was just starting, with fears of further fatal accidents as narrow roads carry more and more buses and rental vehicles.
The Devils Staircase is a very narrow and steep section of the Queenstown to Kingston road with high rock cliffs on one side of the road and a steep drop into Lake Wakatipu on the other side. Accidents frequently result in this section of road being closed. It is the only direct connection between Queenstown and Invercargill.
On You Tube another blogger posted video footage of fire appliances arriving at the scene of the accident, indicating how quickly news and images of New Zealand tourist crashes can be spread via social media.
Car rental companies and the Government have attempted to tackle tourist related road safety problems via education campaigns and improved road markings, but the measures have had a limited effect around Queenstown due to the challenging nature of the mountain roads and the lack of experience on the part of many visitors driving on roads of this type.
Our decision to publish these video stills is intended to highlight the harsh reality of the current Queenstown road safety situation and the effect it can have on our international reputation if answers are not found in terms of keeping tourists safe on our roads.
Read: Car rental company introduces driving simulator to improve tourist road safety.

---