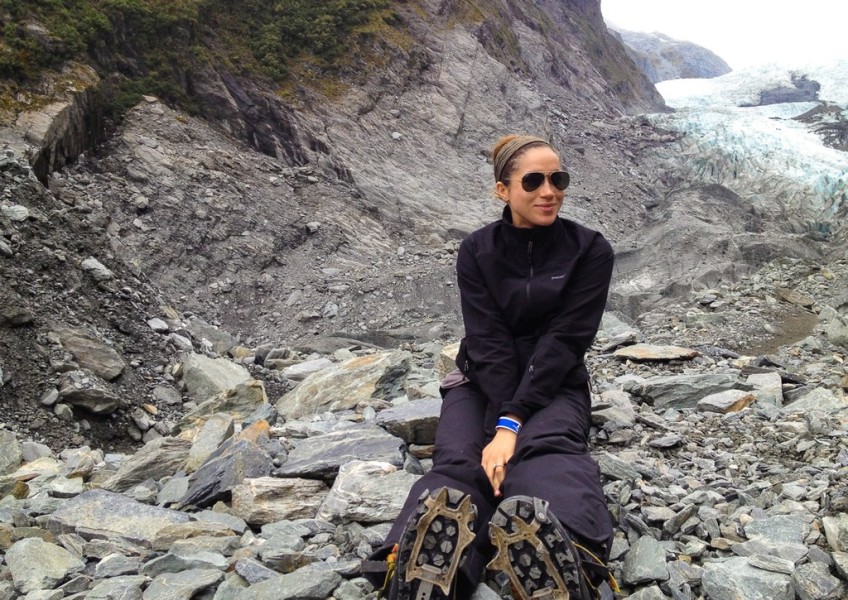 Before she was Royal. Meghan Markle's 2014 camper van trip to Queenstown and Wanaka.
May 20, 2018
---
Meghan Markle, now the Duchess of Sussex after yesterday's spectacular Windsor wedding, made a South Island road trip in 2014 and wrote a "love Letter to all things Kiwi."
The trip was recorded on her own lifestyle website, The Tig, before the site was shut down when things got serious with Prince Harry, seven months before their engagement was announced. Ms Markle wrote about many of the places she visited in the South Island, all in glowing terms.
She describes Queenstown as a place of "endless adventure with standout restaurants" and Wanaka as "less touristy with a precious and quirky little theatre, Cinema Paradiso, where I ducked in to see a film from a hodgepodge of sofas."
The account of the South Island road trip has now been republished by the upmarket Conde Nast magazine on their website, including the introduction to the NZ adventure.
"When my castmate and friend, Gabriel Macht, suggested that I camper van through New Zealand, I paused ever so slightly (thinking "Could I campervan? Should I campervan? Am I a campervanning girl?") before saying yes. Which quickly evolved into a resounding yes.
This would be an ode to the road trips I took with my dad, the years of being a girl scout under the helm of my mom as troop leader, and my gravitational pull towards what is said to be one of the most beautiful countries in the world. Turns out it really is. With a landscape that ranges from stunning lakes, welcoming wine country, glaciers, forest, farmland and beaches, New Zealand is undoubtedly spectacular.
With ten days camper-vanning through the South Island, and a 4 day side trip to the magical island of Waiheke off the coast of the North Island, I share with you my love letter to all things Kiwi."
On her original blog she posted a map of her full itinerary. She only spent one day in Queenstown but noted "In one day I relished the kindness of the people and the beauty of the land."
She later visited Franz Josef glacier.
"Along the northern coast of the South island, you'll want to sign up for a hike of Franz Josef glacier. Clamp some crampons onto your shoes and take in one of the most exceptional glaciers in the world – The Māori name for the glacier is Ka Roimata o Hinehukatere ('The tears of Hinehukatere').
According to Māori legend, Hinehukatere persuaded her lover to climb the mountain with her. Being a less experienced climber, he fell to his death, and the glacier was formed by the endless tears of Hinehukatere. Māori myth aside, the hike is adapted for all levels, and for those looking to take it all in from the top, helicopter flights are readily available.
Once you've finished your hike, continue up the photo worthy coastline to seal colonies, where you see handsome fellas like these within arms' reach."
The travel blog goes on to document swimming with dolphins at Kaikoura and a visit to Akaroa.
"When given the chance to swim in the open sea with pods of hundreds of dolphins, don't be scared. Just say yes. It is magical and other worldly, and you become acutely aware of how intuitive, engaging, and playful these beautiful creatures are. It was an unforgettable experience.
Further down the Southern coast, you'll find the small French town of Akaroa, which greets you with its beautiful seaside charm, cobblestone streets, and spots like Ma Maison to indulge in a cassoulet and bottle of their house plonk."
The two week trip finishes on Waiheke.
"After ten days in a campervan, maybe you'll want to end your trip with something a bit more spacious, as I did. Just a quick flight from Christchurch into Auckland, and a 30 minute ferry ride to the island of Waiheke, and you find yourself in a sleepy little beach island, peppered with wineries, quaint shops, and the nicest people you've ever had the pleasure of knowing.
The standout was Mudbrick Winery. Rent a "bach" (vacation home) on the beach, as I did, and run out to the sea for a swim. If you're as lucky as I was you will sink your hands in the sand to skip stones, and realize what you're holding are live clams.
My inadvertent catch of the day was quickly cooked into linguine with fresh parsley and white wine sauce for a perfect farewell dinner to beautiful New Zealand."
The Duke and Duchess of Sussex start their royal duties next week and plan a honeymoon later in the year. Could the South Island be on the list of potential destinations?
Featured Image. Meghan Markle at Franz Josef glacier in 2014. Image: The Tig.


---