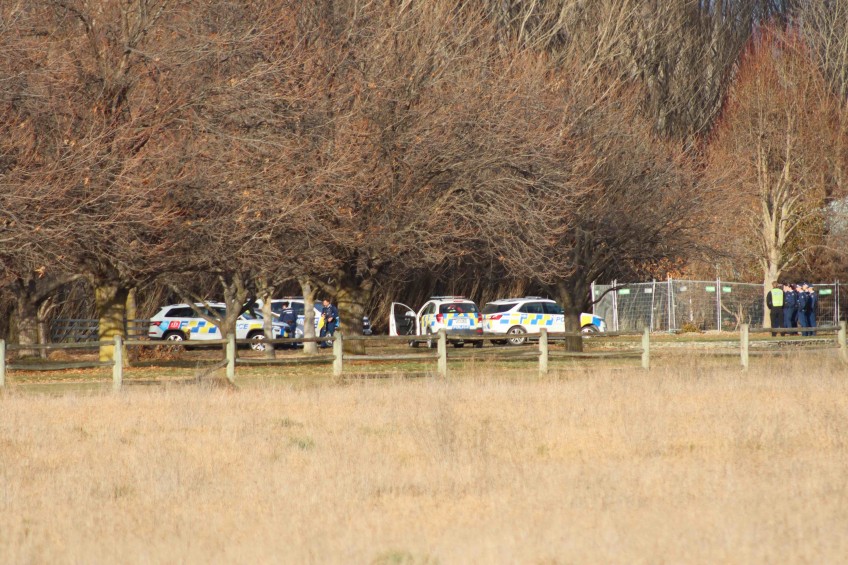 Armed police stage final exercise at toxic mould house
---
Armed police were at the Queenstown Lakes District Council owned property at 512 Ladies Mile today – also armed with a detailed safety plan to cope with "potential hazards on the site".
The tactical training for frontline officers is being staged at the empty house with the council charging police $200 per day for access.
Crux has revealed that the property is so infested with toxic black mould that the house will probably have to be demolished, even though the QLDC paid in the region of $6 million for the building as part of the $14 million (house and land) purchase in 2019.
Members of the public were invited into the house in March last year, in spite of the dangerous mould, in order to suggest future community uses for the building.
Documents received by Crux under official information requests show the council was alerted to the existence of Stachybotrys – a greenish-black mould that usually grows on fibreboard and GIB – in a report dated March 14, 2022. Stachybotrys is a highly toxic mould that has the potential to cause serious health problems.
The QLDC says the police exercise today was the last of twelve tactical training sessions staged since February this year.
Asked if the police knew about the toxic mould the council replied: "They are aware of the toxic mould and have a detailed safety plan in place for all potential hazards on the site."
Police today issued the following brief statement to Crux:
"The presence of black mould was declared by the council.
"A health and safety risk assessment conducted by police confirms that is it not a significant risk for police usage of the building.
"The safety of staff is paramount, and police are confident that the purpose for which the building is used, is safe."
The QLDC says the future of the site is still being discussed, although the intention is for it to be used for some sort of community facility.


---