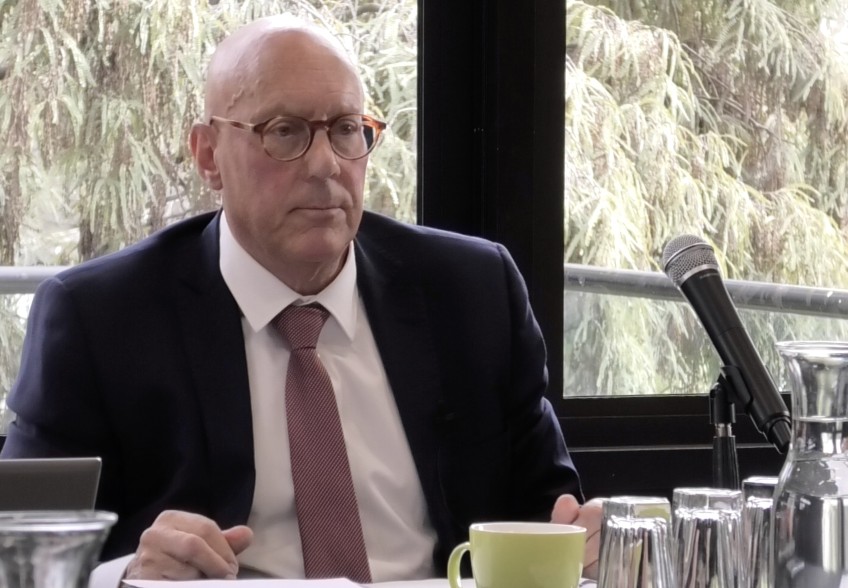 Analysis. Total honesty needs to be the new airport strategy
---
Analysis.
Today's showdown between Mayor Jim Boult and the people of Wanaka has been brewing for some time and a neutral observer would say that neither side so far has won the battle.
A communications strategy from the Queenstown Airport Corporation and QLDC has been characterised by a distinct shortage of hard facts. This has lead to community speculation and accusations of a lack of transparency.
Today Mayor Boult attempted to shut down the speculation and the rapidly escalating debate over airport expansion and tourism growth with a definitive message - "everything is on hold".
The pause will no doubt help and it also gives everyone time to figure out what has happened so far. It has not been a happy story.
The battle lines were drawn last year when an overwhelming majority of Queenstown residents voted against further airport expansion - first in a Crux survey and then in the airport's own survey. It was symptomatic of the QAC's approach they they did not even talk about airport expansion just "changing the noise boundaries". QAC CEO Colin Keel was quick to say, after the poll results, that the focus would shift to Wanaka. It was not subtle.
But then the silence set in. Everybody wanted to know how big Wanaka airport would become. How many flights a day? Jets or turbo props? International or domestic flights? And so on. Not unreasonable questions.
The silence was deafening. Under pressure we were eventually told that there would be a "handful" of flights a day from a new expanded Wanaka airport. Not a technical term and not very helpful to Wanaka residents who wanted facts not vague illustrations that did not seem to help shape or inform the escalating debate.
Then we learnt the new airport might cost $400 million. Not a small airport.
And so it went on - silence and speculation. It was hard to see where the communications strategy was coming from.  The Airport or the Council? Either way it was not going to win any prizes and just fueled increasing anxiety in Wanaka. The lobby group Protect Wanaka was born and soared to over 2,000 members in just a few weeks. That's a decent chunk of the entire Wanaka population.
Over in Queenstown the lobby group Flightplan 2050 had a head start over Protect Wanaka and figured out something did not add up with the QAC Two Airports Plan. They jumped to the conclusion that the best outcome was to sell Queenstown airport and fund a new regional airport somewhere else - but not Wanaka. Even Air New Zealand had hinted at something similar six months earlier because, after all, Queenstown airport can't expand much more as the runway is short with a river at one end, a lake at the other, and giant mountains on both sides - not ideal and without doubt a safety issue even now.
A look at the QAC's annual report suggests that Flightplan 2050 may have stumbled on something even though Mayor Boult called the airport sale idea "the silliest thing I have heard in a long time."
The current pause will allow us all time to figure out where QAC is going to find $400 million to build a new airport at Wanaka, even if the residents decide that they would accept such a project. The current turnover and profit from Queenstown airport would not appear to support such an investment. The QAC also needs to find around $100 million to buy the land to the east of the Queenstown runway - Lot 6 - for terminal expansion from developer Alastair Porter. That's half a billion of debt from a business that produces dividends to the shareholders (QLDC and Auckland airport) that total less than $10 million.
So how is QAC going to fund debt of an extra half a billion dollars? Some parties are already suggesting that the final game plan may indeed be for Wanaka to become the main airport for the region with Queenstown airport's mega-valuable land being used to finance the project and then leave change for some community-friendly investment.
This might be a good chance for everyone to also recognise that Mayor Boult is somewhat caught between a rock and a hard place. He needs to recognise the genuine alarm that residents are feeling about the social, environmental and economic consequences of Big Tourism while still keeping business owners, who pay commercial rates and provide jobs, satisfied that he has their back as well.
With the correct communications strategy - total honesty - he can have both.

---