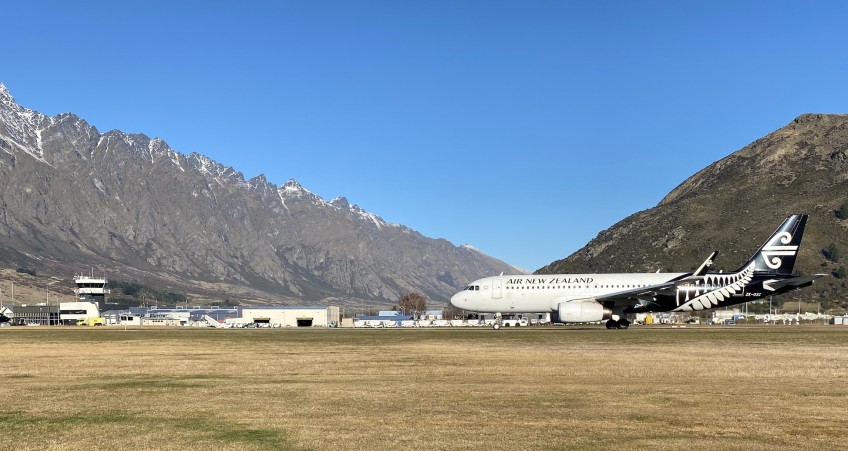 Air NZ cancels Wellington/Queenstown flights
---
Air New Zealand cancelled today's Wellington to Queenstown and Queenstown to Wellington flights (NZ 607 and 608) due to "crew sickness combined with full flights".
Air NZ's media team would not elaborate on this explanation nor respond to questions from Crux on potential compensation for travellers disrupted by the cancellations.
They did say "the aviation industry is working through rebuilding operations while facing soaring customer demand, staff shortages and high sickness levels and Air New Zealand is not immune to these impacts".
Wellington-bound passengers received a text from the airline cancelling the Queenstown to Wellington flight only two hours before the scheduled departure time.
Airline contact centre staff have indicated accommodation in Queenstown will be provided for non-residents, but nothing has been offered to Queenstown passengers who have pre-paid for accommodation or rental cars in Wellington or onward travel.
The Consumer website says the Civil Aviation Act offers clear rights for passengers.
Under the Act, if today's cancellation was due to reasons within Air New Zealand's control, passengers are entitled to reimbursement of up to ten times the cost of their ticket or the actual cost of the delay – whichever is lower.
"If Air NZ cancels or delays your domestic flight, in addition to getting your flight refunded, you may also be able to claim other expenses, such as meals and accommodation, and any additional costs you incur in getting to your destination. Similar rules apply for international flights, but vary depending on where you are, where you're heading and where the airline is based."
Source: Consumer NZ.
Crux will make enquiries with legal and consumer experts next week but it seems possible that "full flights and crew sickness" may both be within the airline's control due to the need to maintain a reasonable number of standby crew and not overbook flights.
Were you affected by today's cancellations? Please get in touch and let us know.


---