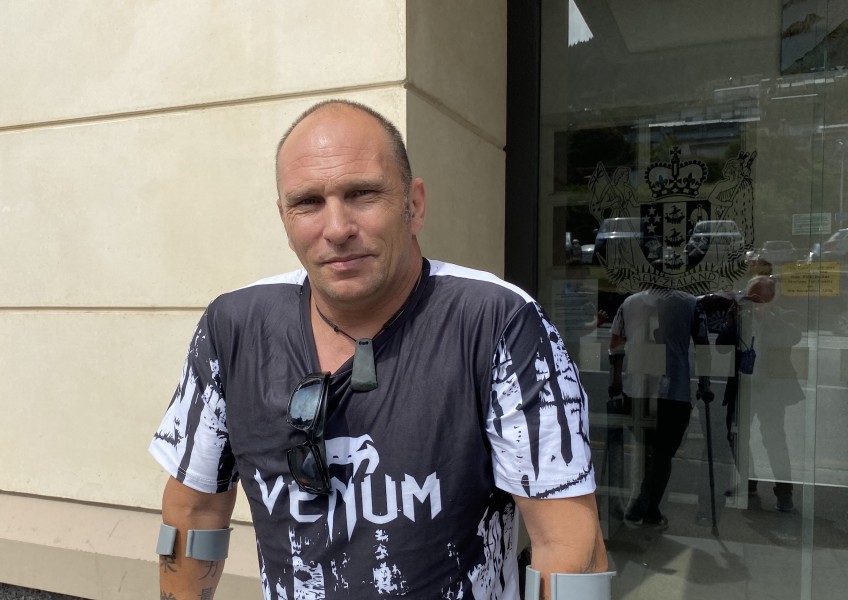 "A Kiwi life's not worth much" - crash victim on court guilty plea
---
"It makes me think that a Kiwi life's not worth much" crash victim Glen Cherry told Crux after a 29 year old tourist from Singapore, Dalbert Tin, entered a guilty plea for three charges of careless driving - one causing the death of Noelene Tait and other two for injuring Mr Cherry and Mr Tin's rental car passenger 30 year old Mei Chiee Koo.
Speaking to Crux outside the Queenstown District Court this morning after Mr Tin entered his guilty plea, Mr Cherry said "It makes me think that a Kiwi life is not worth much" referring to the maximum sentence of three months jail or a $4,500 fine on each charge. "What's the difference between using a car and using a gun?" asked Mr Cherry.

"The victim is still dead."
Mr Cherry's right foot was smashed in the crash requiring emergecny surgery in Dunedin hopsital. It will take up to a year for his foot to be repaired with stell plates and metal pins.
He called on the court to enforce a stricter penalty when Mr Tin appears for sentencing on February 10th.
Here's the full interview with Mr Cherry.
Local lawyer Louise Denton appeared for Mr Tin today and asked judge Russell Walker to set an early date for sentencing as Mr Tin wanted to return to Singapore "and would prefer money went to reparations and the victims rather than accommodation costs." Police are holding Mr Tin's passport until the court sentencing process has been concluded.
Mr Tin and his lawyer declined to answer any question on leaving the District Court this morning.
The driver of a bus that crashed last week, seriously injuring two passengers, on the Queenstown to Glenorchy Road did not appear in court this morning and is expected to appear next Monday.



---