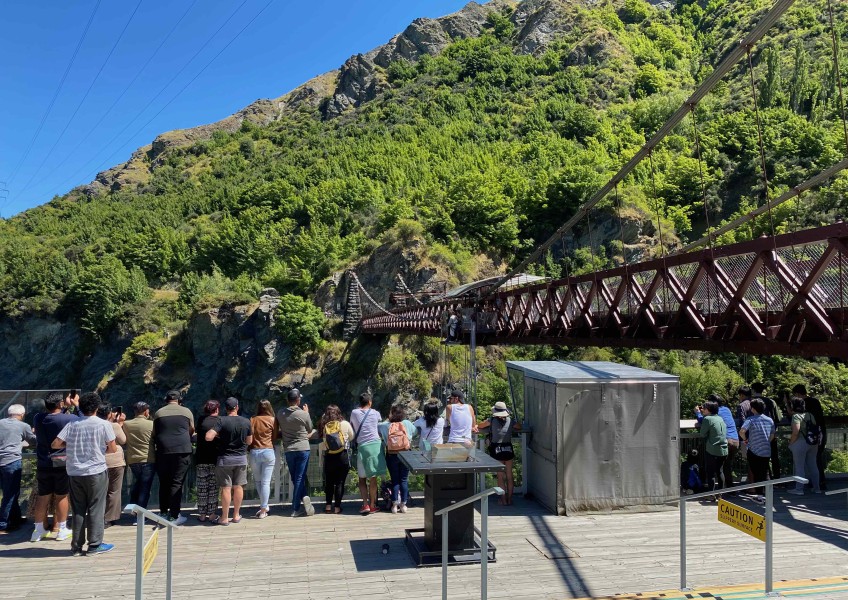 A J Hackett: no sign of Government audit following Minister promise
---
This holiday season has looked very much like business as normal for bungy enterprise A J Hackett with no sign of a Government audit linked to their $10 million mix of grants and loans from the taxpayer.
New Tourism Minister Stuart Nash issued some very stern warnings when he visited Queenstown late last year, promising a "knock on the door" for any businesses that had not played by the rules in applying for Government support in the wake of the Covid pandemic, adding that the Government would be looking carefully at the recipients of major funding. The Minister also said it was time to stop asking local ratepayers to subsidise the tourism industry.
A J Hackett benefited from both the Strategic Tourism Assets Protection Plan (STAPP) and the Government wage subsidy scheme.
We asked the company today if they had paid back any of the wage subsidy and what business had been like over the past few months. Here is their response via their PR agency:
"AJ Hackett Bungy New Zealand does not have any further comment regarding the status of STAPP funding or its business."
Crux accessed the funding application documents from A J Hackett under the official information act in 2020 that showed potential issues around two key undertakings:
Had A J Hackett exhausted all funding options with their bank(s)?
Had A J Hackett exhausted all funding options with their shareholders?
Company responses to these two key questions were not clear in the initial documentation but MBIE says that they have since received "assurances" on both of these points.
Here is information released to Crux today by the Ministry of Business, Innovation and Employment when asked about the A J Hackett Government funding, in the context of Minister Nash's "knock on the door" promise.
MBIE is currently planning its audit process for the STAPP funding. A full audit of the A J Hackett STAPP application has not been undertaken.
The original application was checked, and verification of several aspects was undertaken during the assessment process.
Payments to AJ Hackett have been made in quarterly instalments and on receipt of a supporting report and declaration that the business remains eligible for ongoing support.
A J Hackett has complied with these requirements.
It is further intended that a final reconciliation process will be undertaken with the company before the final payment is made.
So, for the time being, that is where matters stand.
A J Hackett shareholders include former Queenstown Mayor Sir John Davies (who also owns the Trojan Holdings conglomerate that runs NZ Ski and other major tourism operations), co-founder Henry Van Asch and local Queenstown businessman Andrew Brinsley. All three men have very high levels of recorded net worth.
Main Image: The A J Hackett bungy bridge over the Kawarau River on December 28th, 2020.

---